Veterans Day Message from Dr. Mike Haynie
By Dr. Mike Haynie, IVMF Founder and Executive Director and Syracuse University Vice Chancellor 
I've been authoring a 'Veterans Day Message' from my perch at Syracuse University and the Institute for Veterans and Military Families for each of the past eight years. Normally it's something that I start thinking about a few weeks before Veterans Day, and sit down to write well in advance of November 11th.
But not this year. I procrastinated. I procrastinated even beyond my own tendency to procrastinate.
Why? If I'm being honest, I found myself wondering 'what's the point?'
Wow. That's an admission and a question that cuts to the core of my entire belief system. I say that because I know as truth that the work I do on behalf of veterans will be the most important work I do in my lifetime. However, when I read back over almost a decade of my own Veterans Day rhetoric – essays I've written and speeches delivered – it's clear that I've consistently interpreted the significance of Veterans Day in a very specific way. What I mean is that for me, Veterans Day has always represented an opportunity to elevate and pay honor to this nation's shared ideals of citizenship and selfless service, as represented by those who have served our America in the cloth of our nation.
However, leading up to Veterans Day 2016 – in the shadow of what has been arguably the most divisive and polarizing elections for the nation's highest office in history – I've found myself asking the question, whose America is 'our America.' In other words, 'what's the point?'
And then Veterans Day 2016 arrived, and just this morning I was delivered from my own self-doubt by a few hundred 'future veterans,' who came together on a very windy and cold Upstate New York college campus, to run behind the American Flag and to honor those who have served 'our America.'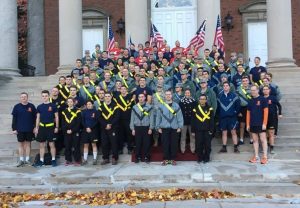 To see and speak with these ROTC cadets, you're quickly reminded that none of them are training and preparing to serve – and potentially go to war – for a political party or a political ideology. Instead, they will serve and sacrifice for their neighbors, their teammates, their teachers, and for their families. They won't shed their blood for a 'red state' America, or a 'blue state' America, but instead for 'our America' and on behalf of their fellow citizens.
This is not to say that these future soldiers and airmen don't have and deserve their own political belief systems and values. However, it is to say that the culture of the military is such that while individual differences are acknowledged and even celebrated, it is a higher purpose– the ideal of citizenship and service—that transcends what divides them in a way that unifies their purpose and their actions. I was reminded of this important lesson this morning by those 'future veterans' – and in their lesson I was able to answer for myself, 'what's the point?'
The point is this: Healing an ideologically fractured nation must represent an imperative for all Americans, and the shared ideals of citizenship and selfless service embodied Veterans Day are a means to that end.
It is my hope that our Veterans Day reflections on the selfless service and profound sacrifice of the countless citizens who have worn the uniform of our nation – through times of war and times of peace—will serve as an opportunity for all Americans to see a path to something bigger than 'red states' and 'blue states.' In other words, let the example of our veterans represent an illustration of how we can bridge our differences and unite as Americans. This is the best gift we could bestow upon our veterans, because it's how we best honor to their service.