2017 Annual Report: to Advance The Post Service Lives of America's Service Members, Veterans,...
2017 Annual Report: to Advance The Post Service Lives of America's Service Members, Veterans, and Military Families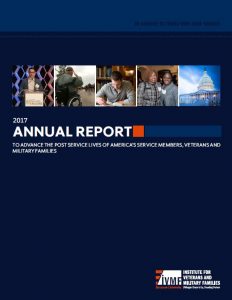 Below is a plain text version of the 2017 Annual Report. You can also click here to view the visually friendly PDF. 

WHO WE ARE
The Institute for Veterans and Military Families (IVMF) is the first interdisciplinary national institute in higher education focused on the social, economic, education, and policy issues impacting veterans and their families. Through its professional staff and experts, the IVMF delivers leading programs in career, vocational, and entrepreneurship education and training, while also conducting actionable research, policy analysis, and program evaluations. The IVMF also supports communities through collective impact efforts that enhance delivery and access to services and care. The Institute, supported by a distinguished advisory board, along with public and private partners, is committed to advancing the lives of those who have served in America's armed forces and their families. For more information, visit ivmf.syracuse.edu.
OUR MISSION
To advance the post service lives of America's service members, veterans and military families.
VISION
To be the nation's recognized leader in creating and sustaining innovative evidence-based programs and services for America's transitioning service members, veterans and their families; and the premier source of veteran and military family research expertise and performance measurement support for the public, private and non-profit sectors and the broader military community.
PRIORITIES
Deliver impactful, best in class programs and services that are informed by research, measurement and evaluation in the areas of career preparation and employment, entrepreneurship and small business training, and community-based support and care
Deliver insights that empower the advancement of the post service lives of transitioning service members, veterans and their families through objective actionable research, policy analysis, and measurement and
Ensure IVMF's long-term sustainability through increasing program participation and funding; improving operations; and enhancing communications, marketing and engagement.
---
Programs and Services
In 2017, the IVMF provided programs and services to more than 20,000+ service members, veterans, and their families with more than 90,000+ served since IVMF's founding.
Career Preparation & Employment
Onward to opportunity in partnership with Veterans Career Transition Program.
Entrepreneurship & Small Business
Entrepreneurship Bootcamp for Veterans (EBV)
Entrepreneurship Bootcamp for Veterans' Families (EBV-F)
Boots to Business
VetNet
Veteran Women Igniting The Spirit of Entrepreneurship (V-WISE)
IGNITE
Veteran EDGE (Engage, Develop, Grow, Elevate)
Coalition for Veteran Owned Business (CVOB)
Center of Excellence for Veteran Entrepreneurship
Community-Based Support & Care Coordination
AmericaServes
AmericaServes Practice360
MC101
Research & Evaluation
---
Programs and Services: Career Preparation & Employment
Onward to Opportunity
"The O2O-VCTP program is a great addition for any transitioning service member or their spouse. The perfect blend of networking, in class training and distance learning has given me the added comfort of jumping into the job market ahead of my competition."
—Maurice Snipes, Navy (working on title)
"The O2O VTCP Program provides that fighting chance for veterans, offers the opportunity for growth, and as veterans we do what we've done throughout our careers……fight! The only difference is this time it's for ourselves, our families and our futures."
—Dominic Evans, retired Military Police Officer
PROGRAM
Deliver end-to-end career preparation support for the military-connected community on installations and on-line by establishing/operating programs in 18 military installation communities by June 2018 and enrolling on average 700 online learners per month.
GOAL
Place 30,000 transitioning service members, veterans and/or their spouses in employment or enhanced employment by 2022.
HIGHLIGHTS
Expanded to 6 new
Now operational in 14 installation communities covering 63 unique installations to include the first location outside the continental S.
Moved from quarterly to monthly-online enrollment and now averages 700 online learners per
Employment/enhanced employment to 8,500 veterans, servicemen and military- connected
Added 90+ employer partners to complement the 500+ in the HHUSA
Secured an agreement with the Army's Installation Command to operate on all Army
New partnerships with Wounded Warrior Project, com, DoD's public private partnership program and others to increase participation.
OTHER ACCOMPLISHMENTS
Supported the Veteran Job Mission
Launched and support the Pittsburgh Area Veterans Employment Coalition
Supported the Commercial Club of Chicago – Veterans Employment Initiative
Published veteran employment report for the federal Office of Personnel Management— Implementation Assessment of Executive Order 13518— The Veterans Employment Initiative
ENGAGING HIGHER EDUCATION
Syracuse University Chancellor Kent Syverud and IVMF Founder and Executive Director Mike Haynie participated in the George W. Bush Institute's Stand To event in Washington, DC driving the national dialogue surrounding the imperative to support student veterans on campuses around the U.S.
---
Programs and Services: Community-Based Care Coordination
"This blew my mind regarding how quickly the providers reached out. All the assistance I needed was under one roof—One phone call did it all and I will forever be grateful."
—Theotis Carpenter, Veteran
"The Serves team went above and beyond… they were kind, respectful, and worked diligently to make my transition smooth."
—Timothy Jones, Veteran
AmericaServes
PROGRAM
Build, grow and support successful networks in 18 markets by 2018 and capture learnings and best practices through Communities of Practice at the local, regional and national levels.
GOAL
America Serves communities build coordinated networks of care and services ensuring the right person gets to the right provider in the least amount of time in the most efficient, effective way possible.
HIGHLIGHTS
Tripled geographic scope, client reach and service demand
620+ providers
22,736 total requests received
12,551 total clients
Launched networks in 4 new markets 
Operating in 12 communities in 7 states
Two additional markets in development
Two locations, NCServes Metrolina & PAServes celebrated their two-year anniversary
New networks in Washington State, Texas, Western North Carolina, and Rhode Island
Practice360
Located nationally with 12 networks in 7 states supporting approximately 620+ providers.
Launched Practice360, a program designed to organize networks at the local, regional and national levels to provide professional development, exchange learnings, insights and updates.
Offers recurring collaborative learning activities (gatherings, trainings conferences, etc.), professional development, and the sharing of meaningful content to stimulate our communities into higher, more sophisticated forms of service delivery.
---
Programs and Services: Entrepreneurship & Small Business
Boots to Business
"When I heard that entrepreneur classes were available, I had a strong desire to pursue that track. We knew we wanted to open our own business, and the doors of opportunity opened for us with this training to pursue the dream of business ownership."
—MSgt Daniel Schrubb
PROGRAM
In partnership with the Small Business Administration (SBA), Boots to Business delivers a 2-day introduction to small business ownership training globally, along with a recently developed follow-on program focused on business fundamentals and market research.
GOAL
Increase the number of successful veteran/military-connected owned small businesses by providing best-in-class training and resources.
HIGHLIGHTS
Secured grant renewal from SBA – $1.5 million/year for 5 years
Provided 55 Classes training more than 700 service members
Delivered program aboard USS Ronald Reagan while at sea
Conducted three 8-Week Foundations of Entrepreneurship classes with 135 participants; 78% graduate rate
Developed & launched new follow-on program of market research and 13 business fundamental specialty tracks
VWISE & IGNITE
"The memorable conference, supportive staff, and my fellow V-WISE sisters gave me the confidence needed to jump full speed ahead into my business full-time."
 —U.S. Navy veteran Laurie Reid
PROGRAM
Designed specifically for women veterans and spouses/partners, V-WISE and IGNITE are 3-phase training programs (online and in-person) with one focused on start-up, and the other on successful early-stage businesses.
HIGHLIGHTS
Conducted 2 V-WISE programs in Phoenix and Louisville
330 graduates from over 40 states
Launched First Business Showcase & Innovation Cup Pitch business plan competition
Awarded $35,000 in capital in Louisville to female entrepreneurs
Partnered with Warner Brothers and ThinkThin on national promotion to recognize successful female veteran entrepreneurs
Held one-day IGNITE event for aspiring entrepreneurs in partnership with AUSA's National Conference
EBV
Designed for post-9/11 veterans, EBV is a 3-phase intensive training program offered through a consortium of 10 universities across the country to prepare veterans to start their own business.
$145 million revenue generated by EBV graduate business in 2017 (and growing)
72% of EBV graduates have started their own business
92% of those are still in business today
EBV Consortium
Syracuse University – Whitman School
UCLAA – Anderson School of Management
UCONN – School of business
Saint Joseph's University – Haub School of Business
The Florida State University – College of Business (The Center for Veteran Outreach)
Purdue – Krannert School of Management
Texas A&M University – Mays Business School
LSU – E.j. Ourso College of Business (Stephenson Entrepreneurship Institute)
Cornell University – School of Hotel Administration
University of Missouri – Robert J. Trulaske, Sr (College of Business)
HIGHLIGHTS
10 programs completed in 2017 with 200 graduates; total number to date: 1,668
EBV-F
EBV-F @ FSU: 3 phase training program for family members and caretakers of veterans
HIGHLIGHTS
205 total graduates to date
CVOB & COE
"Thank you so much for an awesome event! I never thought I would be able to have that kind of direct access to such heavy-hitters! Wal-Mart, Johnson & Johnson, HealthTrust and First Data in the same day? It really is mind blowing. Thank you so much for doing this."
GOAL
Support procurement-ready military-connected small businesses and increase opportunities for them as suppliers in the private sector; in addition, conduct research/training around the needs of veteran entrepreneurs.
HIGHLIGHTS
Grew coalition to include 15 CVOB Partner Corporations and more than 530 Veteran/Spouse-Owned Businesses
Participated in more than 2 dozen events in 10 states reaching more than 11,000 participants
Launched VetSource—Daylong event in Hampton Roads, VA; training and networking for more than 130 procurement-ready veteran-owned small businesses
Held 2 networking events in Atlanta, GA and Minneapolis, MN for procurement professionals and more than 250 veteran-owned businesses
Held 1st Vet Small Biz Growth Challenge in Atlanta and awarded $75,000 in seed money supported by The Marcus Foundation
Completed Operation Vetrepreneurship, first of its kind qualitative study about challenges faced by veterans and employers alike
Highlighted veteran-owned businesses throughout the month of November with a "buy veteran" campaign
Developed "Access to Capital Guide" as a resource for both veteran-owned businesses as well as companies seeking to work with them
CVOB Participating Companies and Organizations
American Express
BP
Enterprise Holdings
Fleishman Hillard
IVMF
JPMorgan Chase & Co.
KKR
LaQuinta Inns & Suites
Lockheed Martin
SunTrust
USAA
The Walt Disney Company
The Spirit of Enterprise – U.S. Chamber of Commerce
Verizon
Walmart | Sam's Club
---
Enrollment, Advising & Post-Program Support
VETNET
In 2017, the Enrollment & Advising team realigned to include a focus on post-program support enhancing services to our participants and graduates.
GOAL
The Enrollment team offers customer-focused services to enroll individuals in the right programs efficiently and effectively; advises each learner through to program completion by providing individualized guidance and resources; and provides resources and solutions to IVMF program alumni.
HIGHLIGHTS
Hosted 13 VETNETwebinars, each with an average of more than 100 viewers per session
Processed more than 11,600 applications for IVMF programs
Advised more than 5,200 distance learners, with a 61% program completion rate
Launched eMentor to expand mentorship services, with 130 participants in the pilot launch
Secured three new resource providers this year: Sandler Sales Training, IT Skill Builder and LinkedIn Learning
---
Research and Evaluation
GOAL
To advance the practice and policy supporting America's military-connected community through rigorous applied and translational research, measurement and evaluation, and objective insights that empower action.
HIGHLIGHTS
Research
Completed 85 reports across wide variety of topics to include:

Entrepreneurship-Bridging the Gap: Motivations, Challenges, and Successes of Veteran Entrepreneurs
Education – I am a Post-9/11 Student Veteran to support higher education experience and needs assessment
Employment – Office of Personnel Management's Veterans Employment Initiative Report; Leading Practices in Retail for the National Retail Federation
2017 Blue Star Families Annual Survey

39, 450 Research participants
93 Presentations, engagements, interviews
8 New partners
Measurement and Evaluation
Built evaluation capacity for O2O-VCTP and AmericaServes to improve service delivery
Refreshed surveys and KPIs for Entrepreneurship portfolio to enhance outcomes analysis and programmatic impact
Improved data management strategy building upon a new partnership with SAS to provide consistent and secure data analysis informing programs and outcomes
Supporters and Partners
IBM Center for The Business of Government
SAS
Travis Manion Foundation
Resilience Center for Veterans and Families
Aglia Ruskin University | Veterans & Families Institute
NYS Health Foundation
CIMVHR | ICRSMV
MOAA
---
Operations & Financials
The IVMF is made up of:
89 professional staff
44% prior service
60% are military-connected
27 student employees
Employees located in 8 states
The IVMF is operating in:
45 states
2 U.S. Territories
9 Countries
The Institute's growth resulted in a 33% increase in new staff in 2017.
Allocation of Resources
2017

87% programs | 13% Operations

2016

86% Programs | 14% Operations

2015

79% Programs | 21% Operations
$18 Million in New Revenue in 2017 (includes multi-year funding)
53% Foundations
20% Corporate
14% Philanthropy
13% Government
$16.1 Million in Expenditures in 2017
46% Salary/Fringe
27% Subcontractor/Professional Fees
9% Conferences/Special Events
7% Equipment/Computers/Maintenance
7% Publications/Printing/Books
2% Supplies
1% Freight
1% Postage
---
National Veteran Resource Center
The National Veterans Resource Center (NVRC) at Syracuse University was conceived as a class-leading, national exemplar of academic, government, and community collaboration. The NVRC will leverage a public-private sector partnership model to nurture academic research, actionable programming, and collaborative thought leadership positioned to impact veterans and their families on the campus of Syracuse University, in New York State, and in communities across the U.S. Accordingly, the NVRC will create the conditions necessary to build upon and solidify this region's ongoing effort to position Central New York as the nation's hub for research and programming connected to the veteran and military sectors — helping make the region and New York State the best place in the nation for veterans. The NVRC will also result in hundreds of millions of dollars in economic activity, the creation of hundreds of high paying jobs and seed the conditions for future growth and new opportunity.
HIGHLIGHTS
2017 site preparation began
Approximately 115,000 sq. feet
750 seat auditorium, 240 seat banquet hall
LEED-certified building, incorporating sustainable materials and technologies
Will annually train and support 40,000 veterans through programs that have generated 4,000 new jobs and $225m in revenue
---
Development
Working with Programs and Services, Research and Evaluation, IVMF leadership and other staff, the Development team focuses on cultivating public and private partnerships to raise sufficient resources supporting the programs, services and operations of the IVMF.
HIGHLIGHTS
$481,000 New sponsored research/evaluation
$1M+ SAS pro bono support in data analytics
51 sponsored projects
9 gifts
FYTD HIGHLIGHTS
D'Aniello Family
Schultz Family Foundation
SBA
Accenture
SAS
Newman's Own Foundation
USAA
Prudential
Travis Manion Foundation
Wounded Warrior Project
NYS Health Foundation
Institute of Museum and Library Services
Individual Giving
CORPORATIONS/BUSINESSES/FOUNDATIONS/
FEDERAL AND STATE GOVERNMENTS
Accenture
Ariela & Associates International LLC
Autonomous Research US LP
Bank of America Charitable Foundation
Be the Change Inc.
Black Veterans for Social Justice, Inc.
Blue Star Families Inc.
Cannon Foundation
Catholic Charities of Onondaga County
Center for Spiritual Living Midtown, Inc.
Cornell University
Council for Adult & Experiential Learning
Dallas Foundation
Deloitte Consulting LLC
Department of Military and Veterans
DSF Charitable Foundation
EBV Foundation
Economic Opportunity Council of Suffolk
First Data Corporation
William Howard Flowers, Jr. Foundation
GHC Properties Inc.
Glanbia PLC
Goodyear Tire & Rubber Company
Hillman Family Foundations
Heinz Endowments
Hudson River Housing, Inc.
IBM Center for the Business of Government
IBM Corporation Matching Grants Division
Institute of Museum and Library Services Intercontinental Exchange
Ewing Marion Kauffman Foundation
Harold Lee Fund
Leon Levine Foundation
Lockheed Martin Corporation
Madison Performance Group
J.M. McDonald Foundation
JP Morgan Chase & Co.
Marcus Foundation
Military Officers Association of America
Morgan Stanley
Motorola Solutions Foundation
Nararo Foundation
National Society of the Daughters of the American Revolution
New York State Health Foundation Newman's Own Foundation
Orange Crimson Foundation
Pathfinders CTS Inc.
Pathstone Corporation
Pepsico
Prudential Financial, Inc.
Public Hospital District No. 2
San Antonio Area Foundation
Schultz Family Foundation
Silicon Valley Community Foundation
Small Business Administration
May & Stanley Smith Charitable Trust Springview Foundation
SRC, Inc.
Symantec
Third Avenue Management Private Foundation Travis Manion Foundation
Unite US
United Services Automobile Association United Way of Central New York
Veterans Outreach Center, Inc.
Walmart Foundation
Walmart Stores, Inc.
Westchester Community Opportunity Marie C. & Joseph C. Wilson Foundation Wounded Warrior Project
YourCause
ZogSportsNJ
INDIVIDUALS
Anonymous Alumni, Parents, & Friends
Mr. Robert F. Adams
Ms. Kimberly Aftergood
Ms. Cynthia Alston
Mr. Gregory L. Anderson
Mr. Joseph J. Andre &
Mrs. Erin M. Andre
Dr. Nicholas J. Armstrong & Mrs. Elizabeth E. Armstrong Mr. Roland Aut
Ms. Cindy Ayala
Mr. Scott M. Babbitt
Mr. Joshua M. Bain
Mr. Laurentz Baker
Mr. Shon Barnwell
Mr. Steven W. Barnes & Mrs. Deborah A. Barnes
Mr. Harvey Bass
Ms. Darlene A. Bates
Mrs. Helen R. Becker
Mr. Stephen Bewley
Mr. Frank Bisignano & Mrs. Tracy S. Bisignano
Mr. Louis S. Bookoff
Ms. Denise Bowers
Mr. Stephen J. Brady &
Mrs. Mary C. Brady
Mr. Larry Broughton
Mr. Henry J. Cadell
Mr. David Carlyon
Ms. Maureen E. Casey
Mr. William B. Cass
Mr. Stephen P. Cerminaro
Mr. Aron Chazen & Mrs. Mari Chazen
Dr. Robert A. Clark
Mr. Charles Clements
Mr. Ryan W. Colombo &
Ms. Elizabeth Colombo
Ms. Beth Connor
Col. Charles J. Costello USA Ret. & Ms. Anne Costello Ms. Beverly Crofford
Ms. Megan Crossland
Ms. Alexandra D. Curtis
Mr. Ronald H. Damrath
Mr. Daniel A. D'Aniello & Ms. Gayle V. D'Aniello Ms. Serbennia A. Davis
Mrs. Carol S. Decker
Mr. Edward Derby
Mr. Paul M. Dottle
Ms. Lynda D. Doupe
Ms. Nancy Edelen
Ms. Odella Edmonds-Higgins
Ms. Marissa Effman
Ms. Manaal Eisa
Mr. Michael Erwin
Mr. Matthew Feldhaus
Mr. Thomas J. Foley&
Mrs. Deborah Foley
Ms. Patricia Frame
Mr. John Galliano
Mr. Paul Garcy
Mr. John A. Genther II
CSM Gary I. Ginsburg USA, Ret.
Ms. Sandra Gonzales
Ms. Beverly Grandison
Mr. Justin J. Gravius & Ms. Sarah E. Scalese
Mr. Donald H. Grier
Ms. Anjum Hadwani
Ms. Star Hardison
Ms. Whitney N. Harrigan
Ms. Jamie L. Hart
Mr. Richard L. Haydon & Mrs. Helen F. Haydon Dr. James M. Haynie
Mr. Charles E. Holmberg & Mrs. Leslie K. Holmberg Mr. Ryan Hunt
Mr. Daniel J. Husted
Mr. Andre J. Ishac
Mr. Leonard D. Jessup
Mr. Jiacheng Jin
Ms. Bette Joe
Col. Casper P. Jones III, USA Ret.
Mrs. Wendy J. Jorgensen-Tarvin
Mrs. Tina M. Kapral
Mr. Casey J. Kerr
Ms. Michele Kessler
Mr. John Kittleson
Mrs. LeAndra L. Knicely
Mr. Paul W. Komanecky & Mrs. Ellie O. Komanecky Mr. Michael L. Kubala &
Ms. Elizabeth Kubala
Mr. Theodore A. Lachowicz &
Mrs. Cheryl H. Lachowicz
Ms. Margaret A. Lambrecht
Mr. James P. Lee & Mrs. Lou Ann Magnarelli-Lee Mr. John P. Malfitano
Dr. Jason A. Malikow &
Ms. Lisa G. Malikow
Mr. Louis R. Malikow & Mrs. Susan G. Malikow Dr. Max Malikow
Mrs. Evelyn A. Malikow
Ms. Patricia Malin
Ms. Vanessa Marquette
Lt. Col. Pamela A. Mason-Shearer &
Col. Thomas D. Shearer
Mr. Louis A. Mautino & Mrs. Patricia H. Mautino Mr. Christopher Mazzocco
Mr. Daniel N. Mezzalingua & Mrs. Kathleen Mezzalingua
Mr. Kenneth G. Miller
Mr. Joel Mjolsness
Mr. Steven R. Moeller
Mr. Robert C. Montgomery
Ms. Julie Mosteller
Mr. John F. Murphy, Jr.
Ms. Patricia Neleski
Dr. Amanda G. Nicholson
Ms. Doreen L. Noble
Mr. Claudio Noriega
Lt. Col. Michael Novakovic & Mrs. Phebe B. Novakovic Mr. Gregory O'Brien & Ms. Kimberly O'Brien
Mr. Jim Ockenden & Mrs. Mona Ockenden
Mr. Rashmin Pandya
Mr. Jose Patino
Ms. Patricia Piazza
Mr. Ronald Wisor & Ms. Kerianne Piester
Ms. Yvonne Pillmore
Ms. Margaret Pollard
Mark M. Pollitt Ph.D. & Ms. Jane B. Pollitt
Mr. Daniel C. Porcaro
Mr. Anthony Prado
Ms. Cynthia Pritchett
Mr. Kenneth L. Quaglio & Ms. Valerie H. Quaglio
Mr. Irvin D. Reichley
Ms. Melissa R. Reider
Mr. Carlos Rodriguez-Sanchez
Ms. Teresa Royer
Mr. Todd B. Rubin
Mr. Daniel Rudolph
Ms. Debra R. Russell
Ms. Stephanie Salanger
Ms. Elaine Schneider
Col. Thomas D. Shearer & Lt. Col. Pamela A.
Mason-Shearer
Mr. Emanuel Shemin *
Mrs. Rhoda Z. Shemin
Mr. Joseph V. Shields, Jr.
Ms. Katerina Shvartsman
Miss Ann A. Slachta
Mr. Young H. Sohn
Mr. Theodore F. Spall, Jr. & Mrs. Suzanne A. Spall
Mr. J. Christian Stallsmith
Ms. Celesta Taylor
Mr. Allan E. Thompson, Jr.
Ms. Paulina Thompson
Mr. Raymond M. Toenniessen
Ms. Irene Trowell-Harris
Mr. Charles C. Walden & Mrs. Margaret C. Walden
Ms. Joyce C. Williams
Ms. Nora Witt
Lt. Col. Robert C. Wright USAF Ret. &
Ms. Suzanne L. Wright
* Deceased
The Institute for Veterans and Military Families is the recipient of many gifts each year that honor or memorialize our friends, patrons, and loved ones. We are grateful to the following individuals who made such gifts between January 1, 2017 and December 31, 2017.
IN HONOR OF
Mr. Joel Mjolsness in Honor of Daniel Borgen Mjolsness
and Beverly Jean Mjolsness
United Services Automobile Association in Honor of
Dr. James M. Haynie
Ms. Anjum Hadwani in Honor of Mr. Jahad Hasan
Mr. Shon Barnwell in Honor of Vernice "FlyGirl" Armour
Ms. Beth Connor in Honor of Martin J. Whitman's 93rd
Birthday
Mr. David Carlyon in Honor of Mr. Martin J.
IN MEMORY OF
Ms. Marissa Effman in Memory of Bernard Handwerker
Mr. Todd B. Rubin in Memory of Donald Gene Ragan
Ms. Serbennia A. Davis in Memory of Linda Davenport,
US Army, SSG
Mr. Ryan W. Colombo & Ms. Elizabeth Colombo
in Memory of Mrs. Eileen C. Dwyer
Dr. Robert A. Clark in Memory of Mrs. Esther Baker
Clark
Ms. Elaine Schneider in Memory of Peter L. Schneider –
My Dad an Army Veteran
Mr. Joseph J. Andre & Mrs. Erin M. Andre in Memory of