IVMF Team Travels to Atlanta for America's Warrior Partnership Symposium
Earlier this month, University employees from Syracuse University's Institute for Veterans and Military Families AmericaServes and research teams as well as a representative from each of the IVMF's AmericaServes 12 coordination centers attended the 6th annual America's Warrior Partnership (AWP) Symposium in Atlanta.
AWP's annual symposium brings together hundreds of leaders from the private and public sector to share best practices, learn from inspiring speakers, and connect with resources available to empower military, veterans, families, and caregivers.
"AWP's annual symposium served as a great opportunity for our team to learn from key players in the veteran space and also share our important research and program experiences," says Beth Kubala, IVMF senior director for programs and services. "The collaboration AWP's event facilitates is a critical catalyst for change as we work collectively to better the services and programs offered to veterans, service members and their families."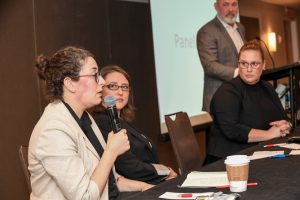 During the conference, IVMF's senior director for research and policy Nick Armstrong presented a session on state and regional services with Kayla Williams, senior fellow and director of the military, veterans, and society program at Center for a New American Security (CNAS). Gilly Cantor, IVMF program evaluation manager, also presented a session titled "Leveraging Diverse Data Sources. Cantor's presentation explored the types of data that inform knowledge about veterans' needs, highlighted data's profound impact of data and discussed intricacies of data use, sharing, and ownership. Finally, Michael Bianchi, IVMF's senior director of education and career training led a brief on the IVMF's Onward to Opportunity career preparation and employment program during the AWP Employer segment.
The theme of this year's symposium was "Empowered Veterans." Keynote speakers Major (Retired) Scotty Smiley, an Iraq War veteran and his wife Tiffany shared their family's story of overcoming adversity to inspire others to serve their communities. Smitty lost his sight during a confrontation with a suicide car bomber in 2005 yet continued to serve his country in the first blind active-duty officer in Army history.
In addition to its large presence in a variety of capacities., IVMF was a sponsor of the 2019 event.