Our Future Home
Syracuse University has a historic commitment to serving veterans and their families. The IVMF is proud to be a flagship institute on the SU campus to continue this mission. The National Veterans Resource Complex will be an enduring symbol of this commitment—and our future home.
The National Veterans Resource Complex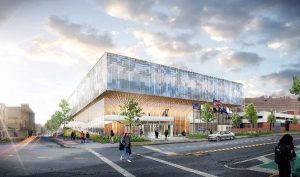 The National Veterans Resource Complex (NVRC) represents an unprecedented commitment by Syracuse University to cultivate and lead innovative academic, government, and community collaborations positioned to empower those who have served in defense of the nation. Specifically, the NVRC will function as a bridge to forging public-private partnerships, a collaborative space to nurture academic research and actionable programming, and a forum to facilitate collaborative thought leadership – all for the purpose of advancing the social, economic, and wellness concerns of the nation's veterans and their families. Finally, the NVRC will also serve as the center of veteran life on the campus of Syracuse University, in the local community, and across Central New York.
A multi-use facility, the NVRC will serve to anchor the Institute for Veterans and Military Families (IVMF) as a Central New York/Syracuse University institution, thus ensuring that the jobs and federal/private-industry funding currently directed to the IVMF and SU's other military- and veteran-connected programs continues to support the economic engine of the Syracuse community, the region and Syracuse University.
Additionally, the NVRC will house state-of-the-art vocational and educational programs designed to advance the economic success of the region's and the nation's veterans and military families. This site will serve as an incubator through which to seed, nurture, and coordinate veteran-connected academic research and technology commercialization consistent with the goals of Syracuse University's academic strategic plan – across the full breadth of the Syracuse University research enterprise – in a synergistic and strategic program of effort.
Learn More About the NVRC