Driving Community Impact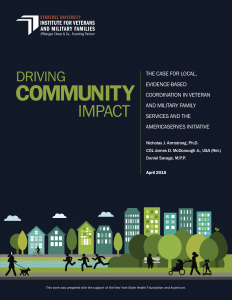 This paper addresses a prevailing view that a lack of coordination, collaboration, and collective purpose among veteran and military-family serving organizations—public, private, and nonprofit—poses a serious risk to long-term veteran and family well-being. The authors show that collective impact, an innovative approach to cross-sector collaboration on complex social problems, presents an opportunity for communities, in partnership with the VA, other government agencies, and private industry, to improve outcomes for veterans, transitioning service members, and their families. In addition, the paper outlines the Institute for Veterans and Military Families' (IVMF) ongoing collective impact initiative, AmericaServes, and highlights preliminary outcomes from its first pilot network in New York City.
Mapping Collaboration in Veterans and Military Families Services
AmericaServes
Innovation in State-Level Veterans Services
Improving Care and Service Delivery for Veterans
How Communities Collaborate to Support Veterans
Stay up-to-date on the latest resources from IVMF.