The Institute for Veterans and Military Families at Syracuse University is committed to supporting veterans and their families as they navigate their entrepreneurial journey. For more than a decade, the IVMF has served over 120,000 veterans and we are just getting started. Arm yourself for entrepreneurship success with the IVMF's ARSENAL of programs.
Entrepreneurship Research
National Survey of Military-Affiliated Entrepreneurs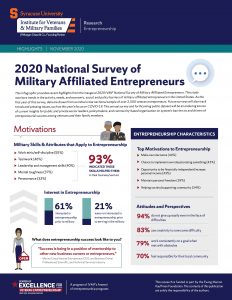 The IVMF National Survey of Military-Affiliated Entrepreneurs monitors trends in the activity, needs, and economic, social, and policy barriers of military-affiliated entrepreneurs in the United States. In its inaugural year, the intent was to draw from a cross-sectional sample of over 2,500 veteran entrepreneurs. Future surveys will also track trends and pressing issues. For example, in 2020 the survey was updated to focus on such COVID-19. All NSMAE surveys and forthcoming public datasets will be an enduring source of current insights for public and private sector leaders, policymakers, and community-based organization on systemic barriers to and drivers of entrepreneurial success among veterans and their family members.
Operation Vetrepreneurship
Veteran Entrepreneurship: What You Should Know
Veteran Entrepreneurship: Access to Capital Challenges and Opportunities
The State of Veteran Entrepreneurship Research
Stay up-to-date on the latest resources from IVMF.