Veteran Impact in the Workforce
IVMF program participants are making a bold business impact across the nation. Whether in corporations or starting their own businesses, our grads are finding ways to make an impact in the workforce.
We started these programs because of a need…
55% of service members do not want to pursue careers in line with their military career
Almost half of transitioned service members said that getting socialized to civilian culture was a top transitional challenge.
How we are making an impact:
EBV graduate businesses have already generated over $288 Million
Roughly 200,000 service members are transitioning from the military each year and just under 1 million have transitioned over the past five years.
Nearly 75% of transitioned service members indicated that they "agreed" or "strongly agreed" that employment-related considerations are central to decisions concerning transition.
Featured Impact - Nicole and John Mahshie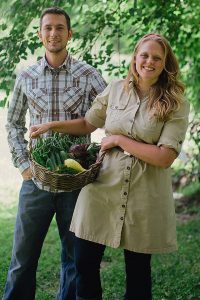 Nicole, a military spouse, and her husband, John Mahshie, who was honorably discharged from the Air Force in 2004, are no strangers to small business. They are prior students of IVMF's entrepreneurship training programs and the founders of Veterans Healing Farm, in Hendersonville, NC, which they started in 2013.
In addition to John's graduation from EBV at Florida State University in 2013, and Nicole's completion of the EBV-Families program at Syracuse University in 2014, the Mahshies attended the EBV National Convention in Atlanta in 2015, where they pitched their business plan and won Best Overall Venture and Best Venture Supporting Veterans … and $35,000 to put towards their business! "Those winnings allowed us to grow by leaps and bounds in 2015 … and, in 2016, we are hiring our first staff members (an Army veteran and a Coast Guard veteran)," shared Nicole.
Veterans Healing Farm fosters a thriving micro-community of local veterans and civilians who build deep friendships, implement innovative gardening techniques, and help cultivate emotional, physical, and spiritual health. The goal is to personally empower vets through the realization that their own efforts and contributions are important to our community.
Benjamin Norris
VCTP Graduate, 2013
"My PMP, ITIL, and CSM certifications played a huge part in my success as a candidate. I truly believe that without those accomplishments, I would have never been selected for the job [at Boeing]. Therefore, the VCTP program has been extremely important in my career."
Tia Copes
V-WISE San Antonio Graduate, 2016
Copes is a military spouse whose husband was killed in action. She deeply grieved from his loss and didn't know where to get support. That is when she was inspired to open Weeping Hearts and Wellness. She now serves as a Certified Grief Recovery Specialist through the Grief Recovery Institute, helping clients work through the pain caused by a loss.
Copes says it is important to have this type of support when grieving, which is why she was so inclined to help others dealing with tragedy. She said the V-WISE conference taught her more about entrepreneurship and she was able to apply the skills she learned to her business.
Clarissa Boening, U.S. Navy Spouse
O2O Graduate, 2015
"O2O is eye-opening and more 'real' world than any of the other transition programs that I have been to in my past. It is the only [transition] program that I have seen so far that helps you get real world, industry-specific skills that can be used quickly, and most importantly are backed by private employers."
After completing Onward to Opportunity, Clarissa interviewed and accepted a job as an SAP Associate with Accenture in San Antonio, Texas.