Onward to Opportunity 2018 Transparency Report
Onward to Opportunity 2018 Transparency Report
Onward to Opportunity (O2O) is an unprecedented public-private collaboration between the Department of Defense, Schultz Family Foundation, JPMorgan Chase & Co., and the Institute for Veterans and Military Families (IVMF) at Syracuse University that provides in-demand, industry-validated training and curriculum to transitioning service members up to six months prior to the point of separation, veterans, National Guard and Reservists, as well as to all military-connected spouses. After completion of the course, the program then links this population with the nation's leading private sector companies.

O2O brings together the long-standing curriculum development and program delivery expertise of the IVMF; the honed personal touch of service member coaching and mentoring of Hire Heroes USA; and the philanthropic resources of the Schultz Family Foundation and JPMorgan Chase & Co. O2O has the potential to fundamentally shift how the private sector engages and supports our service members and their families as they navigate the transition to civilian life.
Air Force, Major, PMP — Dinean Lang
"I gained a couple of mentors through the program. That was the biggest thing for me—meeting people and making connections in the community."
Air Force, MSgt, PMP — Alberto Cazares
"The O2O staff is motivational and thorough; they were with us every step of the way, making sure we were accountable and on top of the work."

James D. McDonough Jr.
Managing Director | Program and Services
To Our Onward to Opportunity Followers
I offer greetings and welcome you to another year's worth of performance within our Onward to Opportunity (O2O) initiative, a transformative effort underway in America addressing the employment situation of the nation's military-connected members and their families. Operating in partnership with the Department of Defense (DoD), the Schultz Family Foundation, Accenture, and other philanthropic interests, Onward to Opportunity represents the future of military transition, one whereby the private sector lends itself freely to the task of transition the nation's military-connected members in the complementary fashion to the efforts being led by our government.
We must begin by thanking you for your ongoing support, for without it, this would not possible; and we take none of it for granted. Our appreciation for you, our operational partners, our funders, and above all else, those we serve programmatically, remains foremost in our team's minds as we 'close the book' on one year and prepare for our next year in Onward to Opportunity.
And what a banner year it's been for the Onward to Opportunity team!
In this year's Transparency Report we share assembled insights and key takeaways to expand your understanding of the program's impact, with an eye toward ensuring our stakeholders remain abreast of our progress and learnings. This past year has seen many gains across the program, and we'll walk you through them in the next few pages in a slightly new way – as seen through the eyes of our program participants themselves.
Their faces and profiles throughout this report best tell the Onward to Opportunity 'story' itself, for it is our program participants who best understand how the program is impacting their lives following military service. See and listen to their stories in this report to get a true sense of context, scale, a peek into the transition journey, and the unfolding, impactful Onward to Opportunity narrative now playing out in support of our nation's military community.
Pairing key insights and takeaways with a select group of participant profiles, this year's report will guides readers through:
The diversity of the nearly 20,000 program participants who have been skilled through
Onward to Opportunity from across all 50 states and around the world,
Our expanding physical footprint, with quarterly in-person cohorts averaging 75-90 participants, across 18 major Department of Defense installations,
An online version of the Onward to Opportunity experience now serving more than 600 individual program participants monthly, eleven months a year,
Record setting program completion, employment, and retention rates far above the industry standard,
A set of universal positive outcomes representing the full range of our participants' goals– 'why they're participating' in the first place – to secure that first job post service; to be 'upskilled' into more meaningful employment; to 'bank' the credential or coursework itself for future use; or to go on and enroll in higher levels of education. All these we classify as elements within what we call 'Universal Positive Outcomes, or UPO's,'
Expanding curriculum offerings chosen to meet the hiring needs of the private sector, match long-term industry projections, and provide program participants with competitive salaries,
IVMF CORE: A custom built, integrated technology platform that seamlessly and intuitively integrates participant learning and engagement, both with peers and program staff. A full virtual learning ecosystem, the IVMF Community of Online Resources and Engagement (CORE) consolidates resources, facilitates communication, and encourages peer learning, representing 'next-gen' IVMF capacity to support our learners,
The theme of 'One IVMF,' our ongoing effort to align and, where appropriate, integrate the suite of IVMF resources and programming to support the full spectrum of our program participants' needs. Already underway, the coming year's efforts will feature direct access to IVMF's AmericaServes coordinated service delivery networks, now serving tens of thousands of military-connected members and their families, as well as centralized alumni services, and
An unfolding understanding and appreciation for employability, a term used to describe a lifelong approach to maintaining one's value and competitive edge in the job market over the course of a career. Involving access to ongoing training, credentialing, and education, employability is the new 'coin of the realm' within Onward to Opportunity. The term fully captures what we do and why.
Onward to Opportunity continues to generate a great deal of 'buzz' across the nation's veteran landscape as we continue to attract thousands of participants and build successful training, credentialing, and employment pathways from military service into the private sector. With hundreds of employer partners working with us for unprecedented scale and impact, our future is strong- driven by an incredible team of professionals who keep infusing excellence across the program's delivery model.
Importantly, we continue to learn from this work and apply lessons and leading practices across the enterprise of Onward to Opportunity, so that we uphold the moral and ethical responsibility to serve people best, the 'One IVMF' way.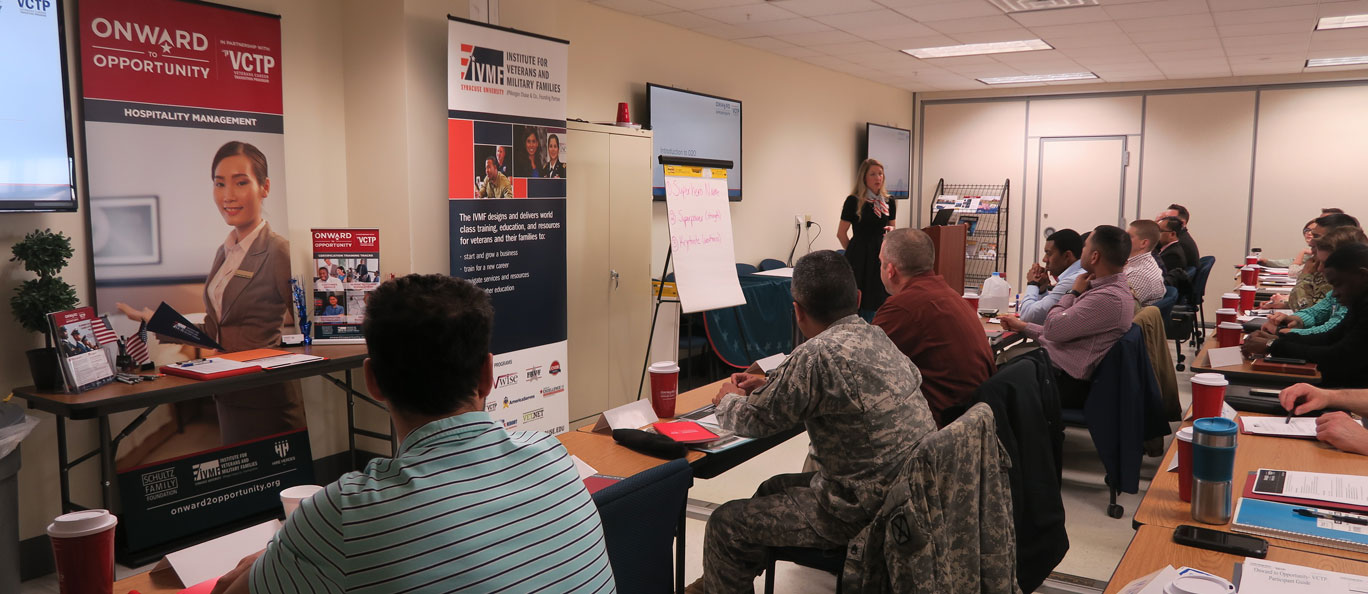 Fort Drum Cohort
BACKGROUND
In April 2015, the Schultz Family Foundation, the DoD, and the Institute for Veterans and Military Families (IVMF) at Syracuse University announced the launch of O2O, a first-of-its-kind initiative to fundamentally change how transitioning military personnel and their spouses are trained and prepared for civilian careers. This public-private-partnership model defined an essential operating framework for O2O; to integrate leading-edge learning pathways and supportive services
with key program locations to better serve the employment needs of military-connected communities, leveraging private and nonprofit sector resources to complement the ongoing work of the federal government.
O2O's primary focus is to introduce career pathways and supports aligned with meaningful career opportunities, so transitioning individuals can pursue high- demand, industry relevant skill development and employment appropriate for their experience level, interests, and career goals. In addition, it provides employers an unparalleled pipeline to military-connected talent.
ABOUT
Operating within the DoD's Skillbridge authority for active duty participants, O2O pairs industry-validated curricula and technical certifications with comprehensive career coaching and placement services to match program candidates with relevant civilian career opportunities before they separate from military service. Eligible participants include transitioning service members (up to six months prior to their separation or retirement date), members of the National Guard and Reserve, veterans, and military spouses (regardless of their partner's transition timeline).
Designed to complement the DoD's existing transition programming, O2O and its ecosystem of local, regional, and national partners, deliver "end-to-end" employment transition support for the military-connected community. This includes informing participants of civilian career opportunities in both the private and public sectors, developing in-demand skillsets and competencies, providing access to industry-specific training and certifications and connecting participants to individualized career support to successfully prepare them for their next career.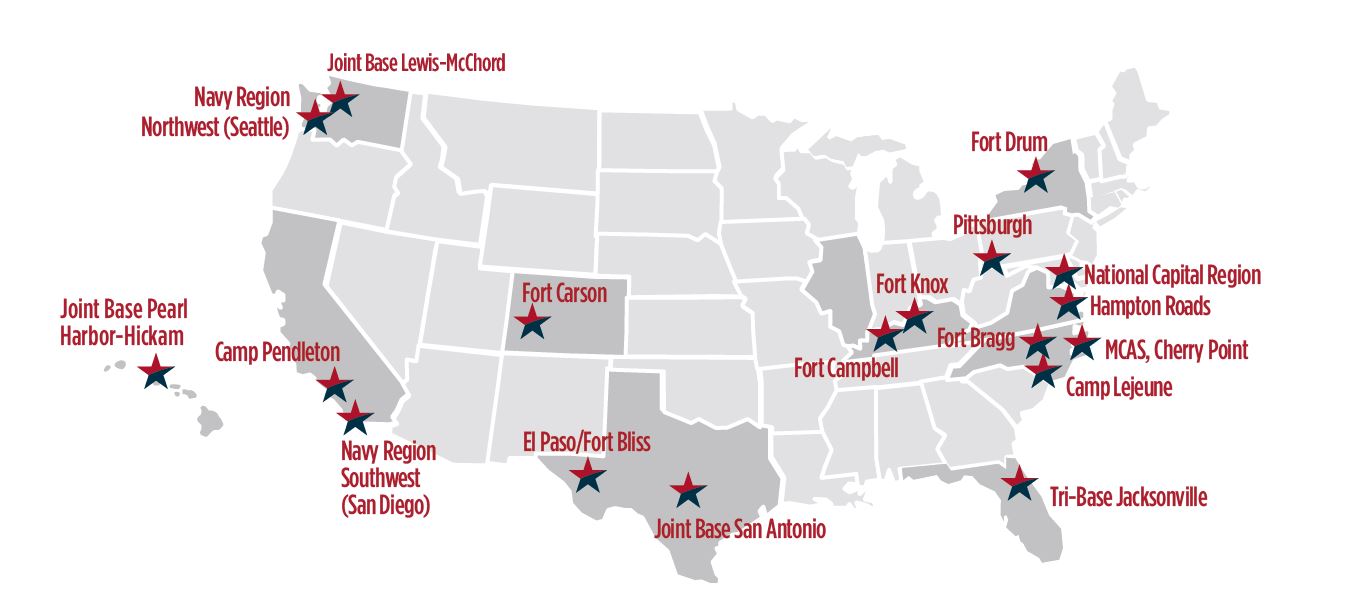 EXPANSION
Onward to Opportunity has undergone tremendous growth over the last few years, culminating in this year's completion of our on-installation expansion efforts and launch of our centralized enrollment, advising, and alumni services portfolio. The program now conducts in-person training at 18 Department of Defense installations throughout the United States, supporting over 65 installations and military communities in total. In addition to the in-person experience, O2O offers a distance learning (all online) version of Onward to Opportunity, conducting 11 virtual cohorts annually in support of military-connected individuals who are geographically removed from our in-person locations. This online capability, formally known as the Veterans Career Transition Program, was initially made possible through the IVMF's partnership with JPMorgan Chase & Co. This past year, a total of 69 cohorts- both virtual and in-person, were launched and integrated into the IVMF's national network of supportive services.
EXPANDED FOOTPRINT
Over the past 12 months, Onward to Opportunity expanded its in-person program offerings to five new installations and increased the number of distance learning cohorts from four per year to eleven in order to meet increasing participant demand.
In addition to last years 13 installation-based program locations, O2O has expanded to now include: the National Capital Region – serving the Military District of Washington, El Paso/Fort Bliss TX, Fort Knox KY, Joint Base Pearl Harbor Hickam in Hawaii, and the Pittsburgh military community at the 911th Air National Guard – serving the National Guard/Reserve and veterans in the greater Pittsburgh area in our first-ever targeted approach to meeting the needs of the nation's Selected Reserves. This expansion would not have been possible without the willingness of local communities and organizations to support and partner with Onward to Opportunity in their areas – the value of O2O to both participants and communities is becoming increasingly evident as we continue to scale up operations and communicate the program's impact.
Onward to Opportunity is present in communities in all corners of the continental United States – and beyond. From Upstate New York to Florida, Southern California up to Seattle – and at installations in between, we are extremely proud of the programmatic reach and accompanying community relationships and partnerships we've fostered since program inception.
EXPANDED REACH
Over the previous year we served just over 7,000 Onward to Opportunity participants in all 50 states and numerous overseas locations with an average of 75 in-person learners per quarterly cohort and 600-700 distance learners every month. We continue to see growth in
the number of National Guard / Reserve and spouses enrolling as participants in conjunction with our physical and virtual growth. Through our recent expansion efforts to the Pittsburgh area and increased outreach, we expect that these participant populations will continue to see growth.
EXPANDED SERVICE DELIVERY
While expanding Onward to Opportunity's physical and virtual presence horizontally, we have continued to develop and offer new pre- and post-program support services vertically– deepening IVMF's portfolios of services, resources, and care – to participants, including enhanced enrollment, advisement, and alumni services support- now centralized and grouped as a portfolio of supportive services. By empowering this new operational arm within IVMF we're able to centrally administer supportive assistance to all IVMF program participants and search for ways to meet our participants where they are, cross-referring participants between IVMF programs and enhancing our overall level of service to meet the needs of our customers more fully.
That means opening up our extensive AmericaServes portfolio of interconnected networks of care and services across the country and supporting individuals in need beyond the reach of our networks. Coming within the next year, the IVMF will broaden its services into what we're calling 'Support Services, essentially services that support ongoing learning, in a wrap-around fashion that help keep our learners on-track. Best seen as a continuum of support, the IVMF is poised to work at-scale and in-scale like no other time in its history.
EXPANDED PARTNERSHIPS
This has also been a significant year for the continuation and deepening of our partnership with other like-minded and impactful organizations. Borrowing from our founder's 'first, best use of resources' paradigm, we see our strength as being the organization that can assemble and integrate the contributions of the many to the few. Today's Onward to Opportunity movement appreciates partners who willingly and meaningfully put service to the military community above self.
Recognizing that strategic opportunity, the coming year will see the IVMF 'join forces' with the USO, itself a storied service provider to those who serve and their families, to combine 'arms,' in chain link fashion in a new, coordinated service delivery continuum where individuals can be served by either organization's strengths in a more seamless, accountable fashion. With pilot sites in Washington State, Texas, and Virginia, the IVMF and USO will team-up to strengthen the brand presence of Onward to Opportunity through better classrooms, signage and identity. Likewise, current USO clients will gain access to AmericaServes resources to best address their needs beyond those that can be addressed by the USO itself!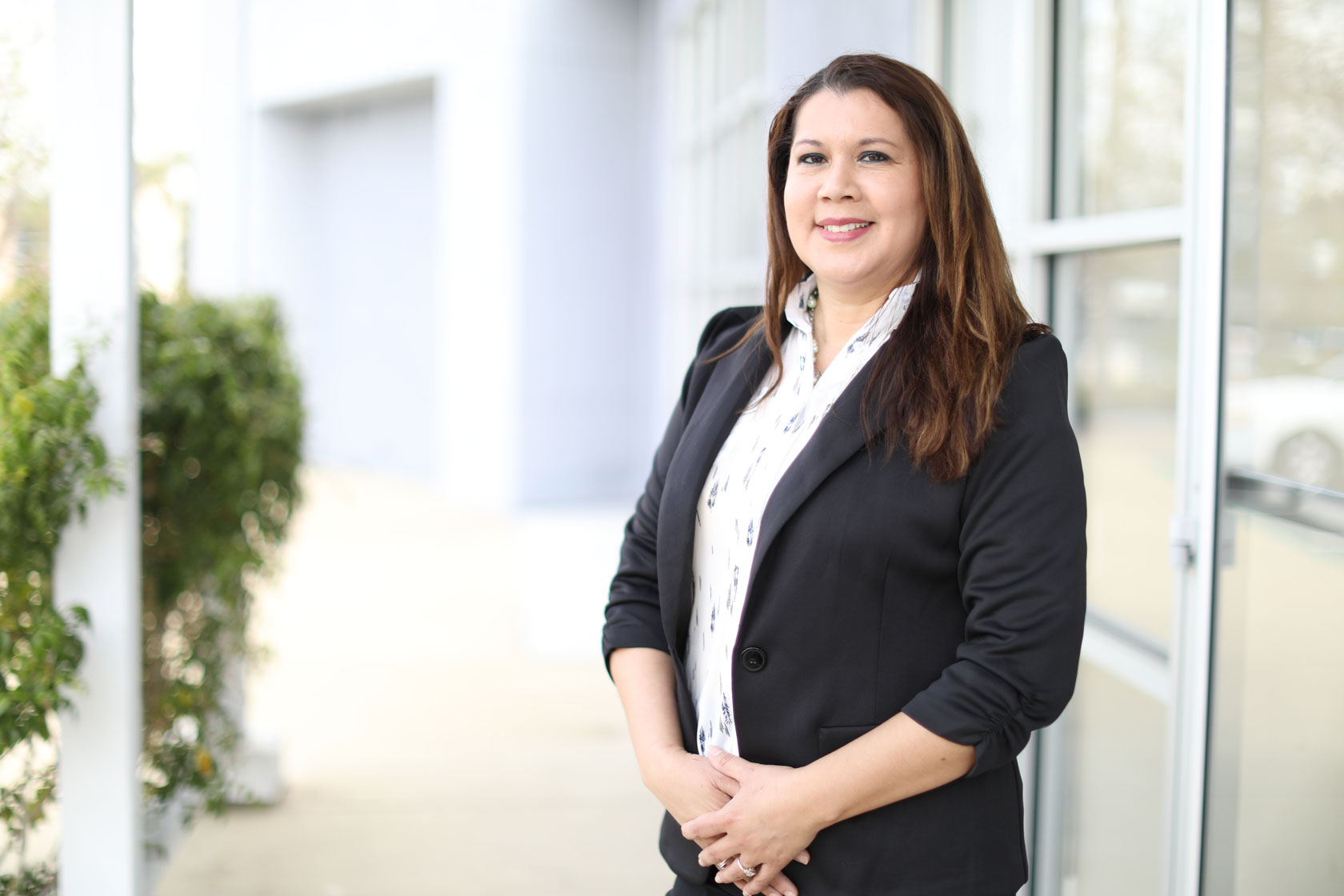 Marine Corps Spouse, CompTIA Secruity+ — Laura Torres
"If you are serious about establishing a fulfilling career, they are serious about supporting you."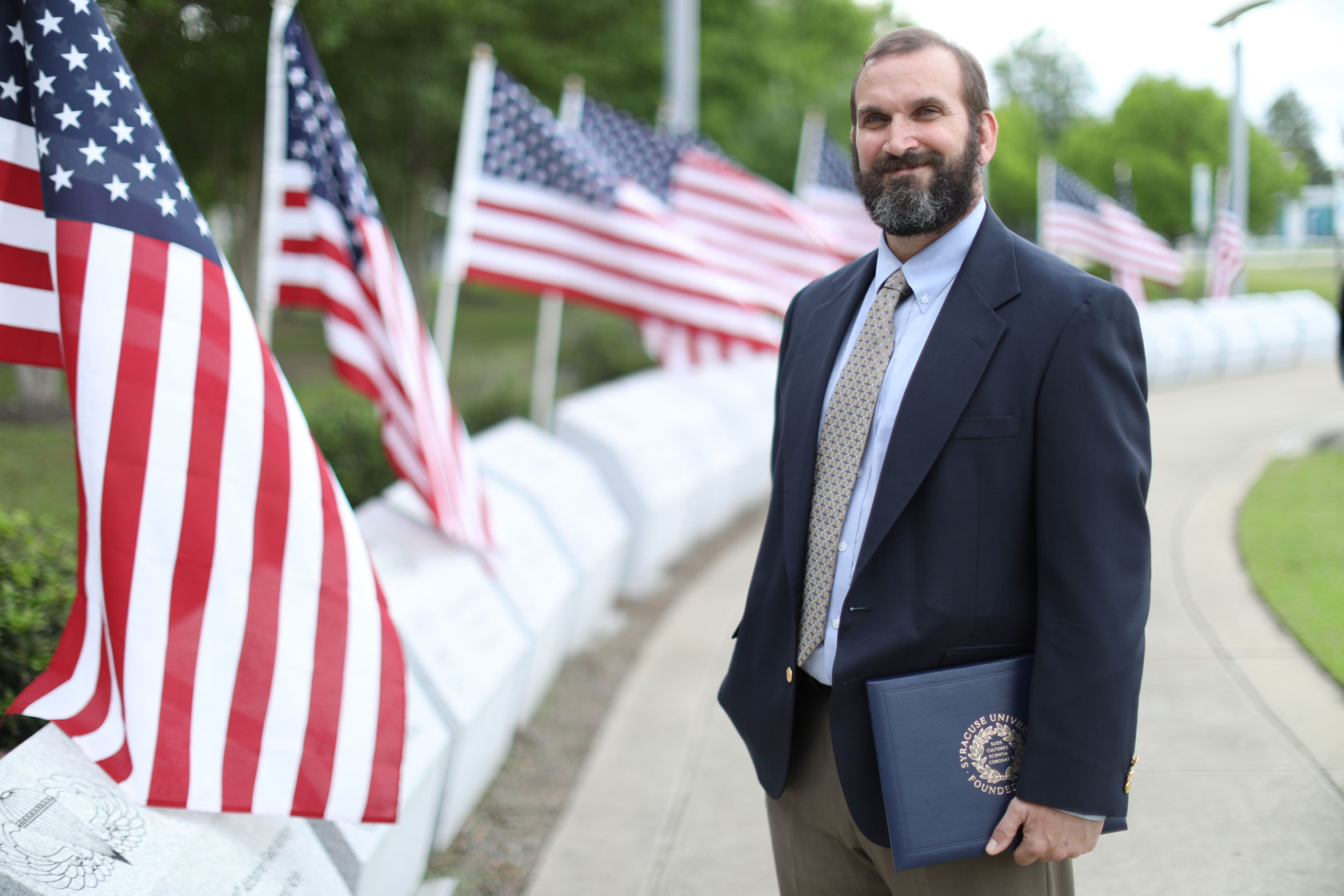 Army, Master Sergeant, PMP — Robert Tyson
"The Coursework was tremendously helpful and it was a very comprehensive program."
IMPACT
In addition to our physical expansion, we have had a noteworthy year of participant successes and programmatic impact. In this section, we will provide a detailed update on our program performance and stories of individual participant success that illustrate it.
Beyond program delivery, it has become abundantly clear over the course of our work that we need to take a nuanced approach to program measurement and storytelling in order to fully and accurately convey the work that we're doing. To that end, we repositioned our measurement activities around a set of Universal Positive Outcomes (UPOs) that encompass the range of programmatic outcomes tied to long-term participant success and employability: Employment, Entry into a higher education program, Upskilling (promotion / raise / title change at current job), and Certification/Course Completion. In recognizing the full spectrum of outcomes associated with participant goals and success, we are able to more accurately convey program effectiveness and impact.
Total To Date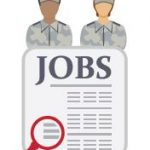 Date range:  October 2015 – August 30, 2018.
19,129 Skilled with 10,876 Employment Outcomes
Yearly Total – 7,093 Skilled
Date Range: October 2017 – August 30, 2018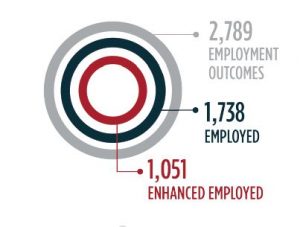 Total Universal Positive Outcomes (UPOs)
Achieved to date (through August 30, 2018)
20,084 Total unique UPOs
15,137 – Total Course Completions
2,959 – Total Hires
1,657 – Total Certifications
240 – Total Higher ED
91 – Total Upskills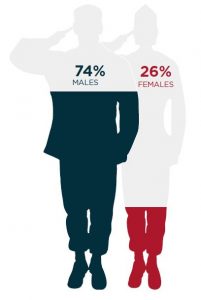 PARTICIPANT PROFILES
For those agencies and organizations doing work in the military space, it's obvious that the military-connected community is both unique and highly varied. From demographics and military experience to career goals and family considerations, our participants have different needs and goals for program participation. Through O2O's flexible program delivery model, high-touch advising services, curriculum development, and custom employment support services, we do our best to accommodate and serve these differences.
PRE-PROGRAM EMPLOYMENT STATUS
Unemployed – 63%
Full- Or Part-time – 35%
Enrolled in Higher Ed – 2%
MILITARY CONNECTION
Veteran – 57%
Service Member – 26%
Spouse – 13%
NG / Reserve – 4%
SERVICE BRANCH
Army – 41%
Navy – 17%
Air Force – 16%
Marine – 12%
NG/R – 12%
Coast Guard – 1%
AGE
12% – 18-29 YRS
36% – 30-39 YRS
37% – 40-49 YRS
14% – 50-59 YRS
<1% – 60-69 YRS
MILITARY RANK
23% – JR. NCOS
22% – SR. NCOS
21% – FIELD GRADE OFFICERS
18% – JR. OFFICERS
13% – JR. ENLISTED
2% – WARRANT OFFICER
.1% FLAG OFFICERS
PROGRAM GOALS
45% – Meaningful Employment
38% – Professional Upskil
17% – Training Only
Popular Learning Pathways
71% – Business Management
27% – Information Technology
2% – DTE
EDUCATION LEVEL
45% – College or professional degree
35% – Masters Degree or Grad School
14% Some College or Vocational School
5% – High School or less
0.4% – Doctoral Degree
Stories of Success
The stories in the following pages, illustrate the diversity of our participants as well as the diversity of their goals and successes. You'll find that many of these stories represent work we are doing to better serve certain populations, or highlight successful aspects of the program's multiple layered interventions. One size certainly does not fit all with our program, and we do our best to meet our participants where they are along the career spectrum to help them achieve their goals and deepen their employability.
We learn, grow, and improve programmatically because of our participants. Individually, they provide anecdotal information to staff that helps us develop new services and program offerings to meet emergent or 'invisible' needs. In aggregate, participant demographic, progress, and outcome data helps program leadership make decisions on where to target outreach efforts, seek partnerships, target resources, and improve program process and delivery. In the following section, we will outline the learnings we came away with this year, and the steps we're taking, or have already taken, to implement solutions and leading practices.
The future state of transitioning from the military itself is being redefined and better shaped by programs such as Onward to Opportunity. Ever cognizant of the fact that we are but one program supporting the needs of the nation's transitioning service members, members of the Selected Reserves, veterans, and their spouses, we believe that because of our reach, our scale, our team, the future of transitioning from military service better has arrived. The evidence is clear looking at the impact playing out upon those we serve such as Dakota, Cody, J.C., and Dodji – and the thousands who have served and supported them, just like them.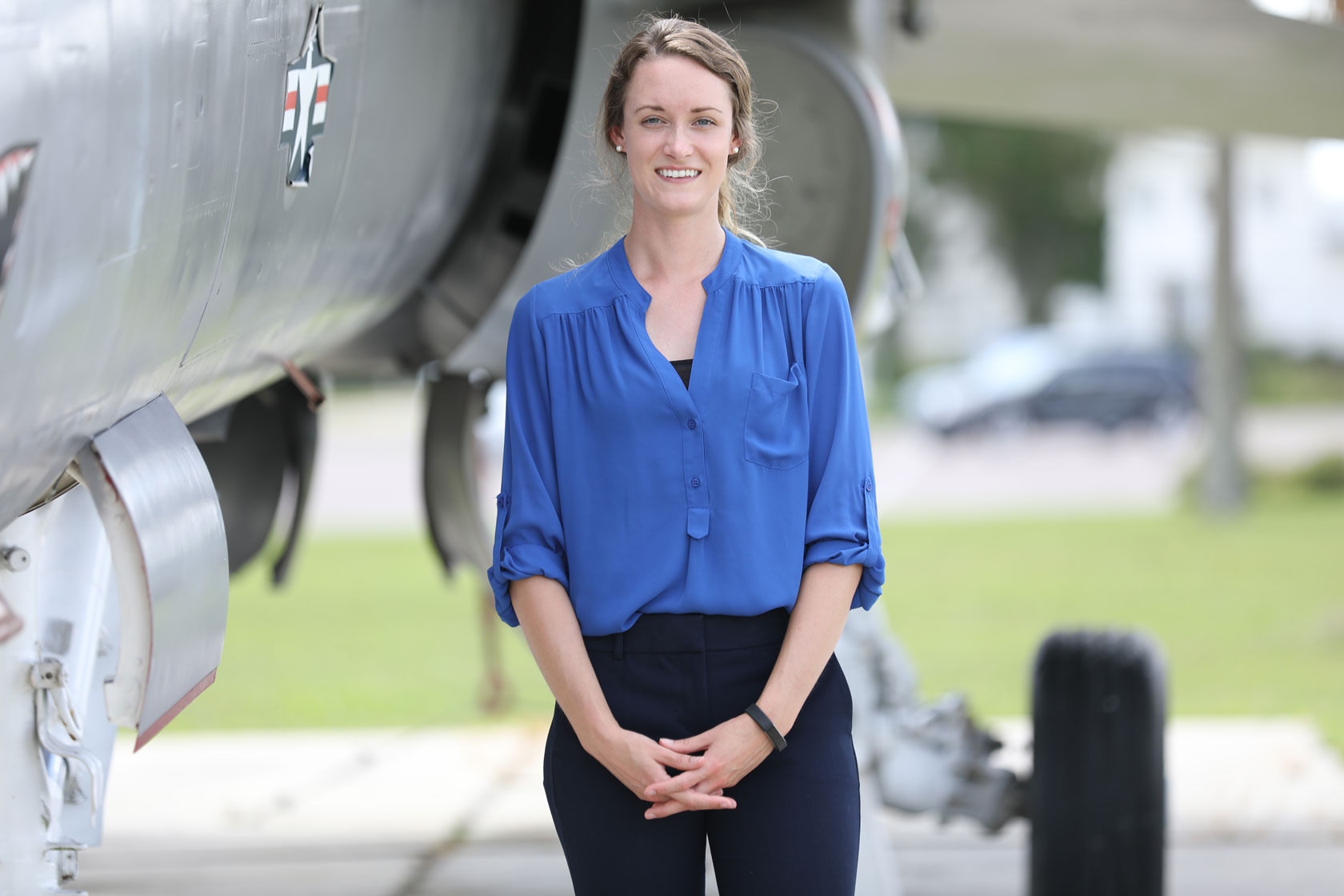 Navy Spouse: Jacksonville
Course: six Sigma Green Belt
UPO: course Completion & Employment
Position Hired For: Industrial Engineer, Boeing
Dakota Haines is a military spouse who participated in the program at Tri-Base Jacksonville, FL. Through her hard work, she was able to both complete the online coursework for Six Sigma Green Belt (SSGB) and get hired as an Industrial Engineer at Boeing. Dakota exemplifies many of our spouse participants who are highly educated and highly qualified – yet are challenged by frequent moves and often limited job markets. Onward to Opportunity was able to give her the edge she needed to stand out in the job market.
We are working hard to grow our military spouse outreach, recognizing that military spouses are still at an unfortunately significant disadvantage in the job market compared to their civilian counterparts. Unemployment remains high for military spouses – as much as four times higher than civilian spouses according to IVMF analysis of U.S. Census Bureau data– and those who are able to find jobs are often underemployed and underpaid. Onward to Opportunity aims to ensure that military spouses are able to find competitive, meaningful employment at higher rates through our curriculum and credentialing.
"For Military spouses like me, having the certifications that Onward to Opportunity helps you earn will give you a leg up on your competitions in each new city you move to."
– Dakota Haines
Cody Brack is a former Marine Corps Sergeant, now working as a Cyber Network Operator after completion of his Certified Information Security Systems Professional (CISSP) training. Cody is one of hundreds of Onward to Opportunity participants who have taken advantage of one of our cyber learning pathways, allowing him to transition out of the military into a civilian job that maximizes his military-conferred skills and provides a competitive salary.
Whether or not transitioning service members choose to pursue a similar career to their military occupational specialty (MOS), Onward to Opportunity has dozens of learning pathway options to offer participants – and we are adding new pathways each year.
As we will discuss in the next section, Onward to Opportunity continually reassesses our curriculum offerings to ensure that we are providing career pathways into emergent in-demand fields with competitive salaries. Cyber is one such field, with O2O offering five unique cyber pathway options.
"Onward to Opportunity gives you the knowledge and skills to find a well-fitting job that pays what you deserve."
– Cody Brack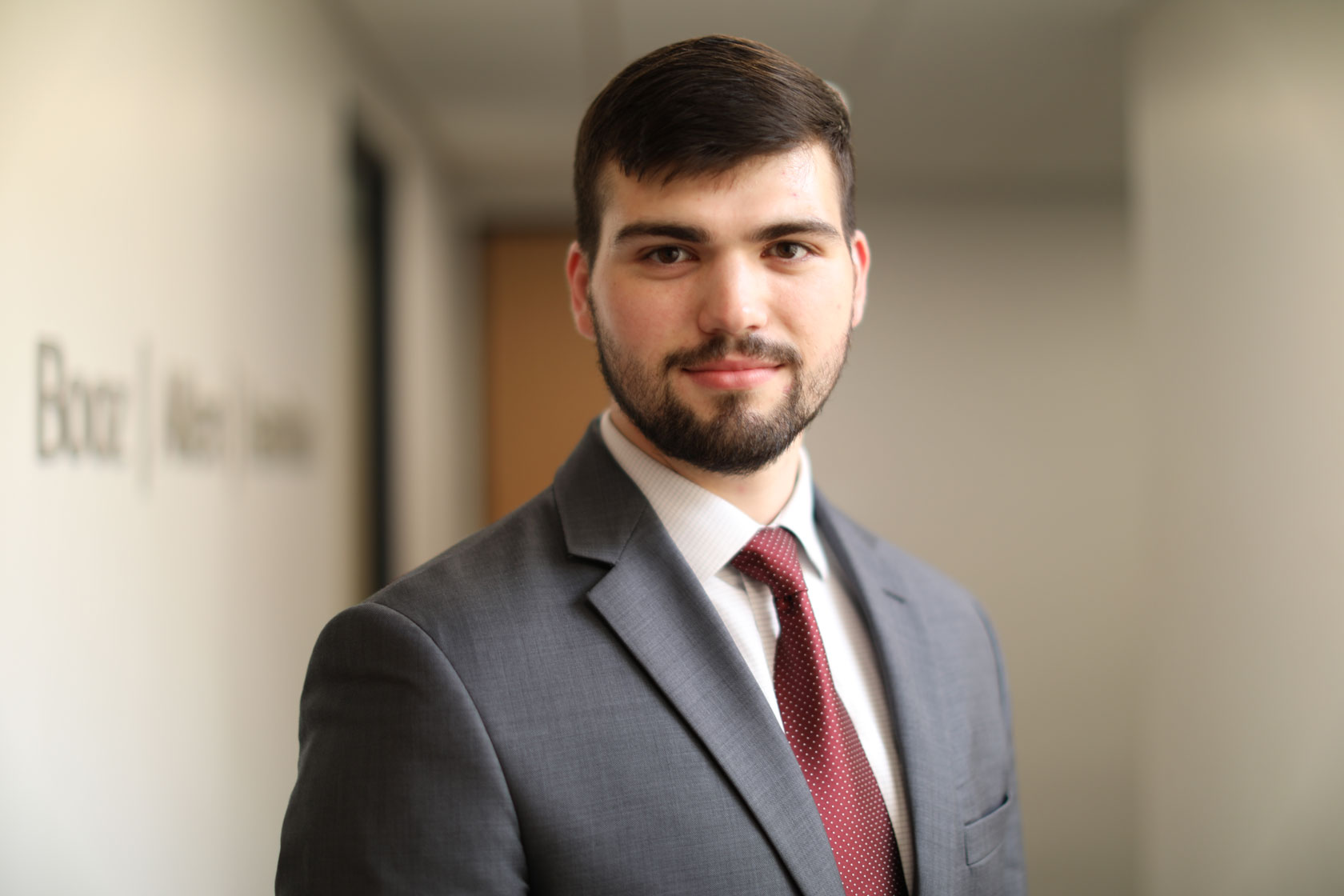 Marine Corps Sergeant: Camp Pendleton / San Diego
MOS: Cyber Network Operator
Course: CISSP – Certified Information Security Systems Professional
UPO: Course Completion & Employment
Position hired For: Information Systems Security Engineer, Booz Allen Hamilton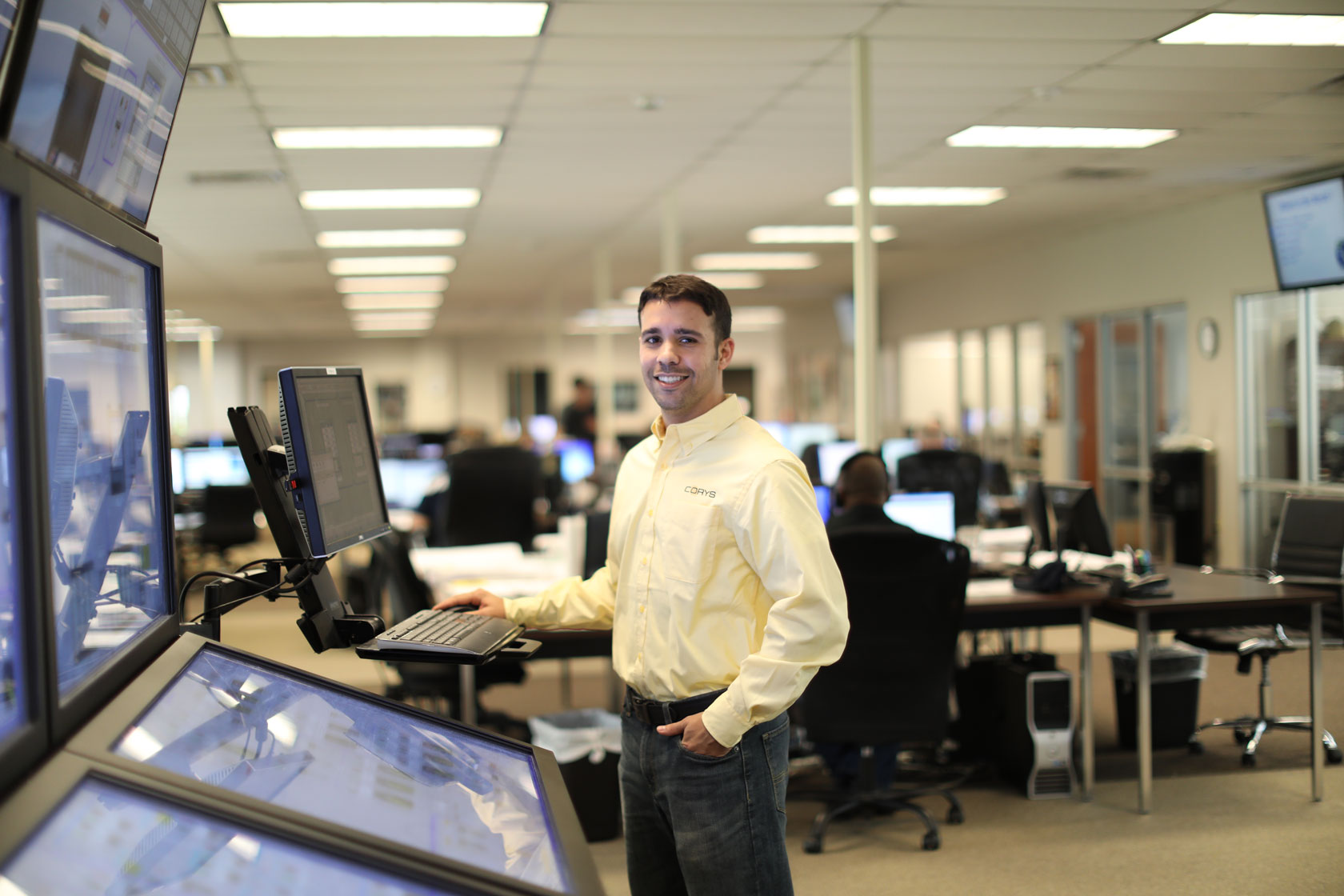 Navy: Lieutenant 03 (Jacksonville)
MOS: Submarine Officer
Course: PMP
UPO: Course Completion & Employment
Position Hired For: Project Manager, CORYS, Inc.
J.C. Hernandez has an amazing program participant success story – this Navy Lieutenant chose the Project Management Professional pathway, completed his coursework, and got  a job as a Project Manager at CORYS, Inc. What really makes J.C.'s story indicative of the Onward to Opportunity experience, however, was the value he found in the program's ability to help him decide what he was truly passionate about, and to design his career goals accordingly.
As you will learn in the upcoming section, O2O's Onward to Your Career curriculum underwent a redesign this year in order to focus more intently on this theme of career alignment and long term employability. OTYC modules prepare participants to better recognize their own skillsets, interests, and career goals, so that they can apply this knowledge to stay competitive throughout their careers.
"I believe the true benefit of the program is finding out what you would be happiest doing, which made the transition from the military much less daunting."
– J.C. Hernandez
Dodji Kuwonu represents an interesting but not uncommon type of O2O participant. He began the program with a goal to increase his technical competencies, potentially as a pathway to higher education, and achieved the Universal Positive Outcome of course completion in his chosen learning pathway – CompTIA A+. He ended up with an interest in starting his own business, discovering more about his own career interests and goals through participation in Onward to Your Career (OTYC) and planning his future accordingly. This is the exact purpose of the OTYC curriculum – to enable and empower participants to recognize their own skills and interests and to seek out careers in industries that are aligned.
"One IVMF" – Dodji knows that should he need it, the IVMF also offers a suite of entrepreneurship programs that he has ready access to in order to jumpstart his business goals, as well as a robust network of program alumni to connect with and seek mentorship from.
"O2O was a great opportunity to have an organization pay for me to get the certification I wanted." – Dodji Kuwonu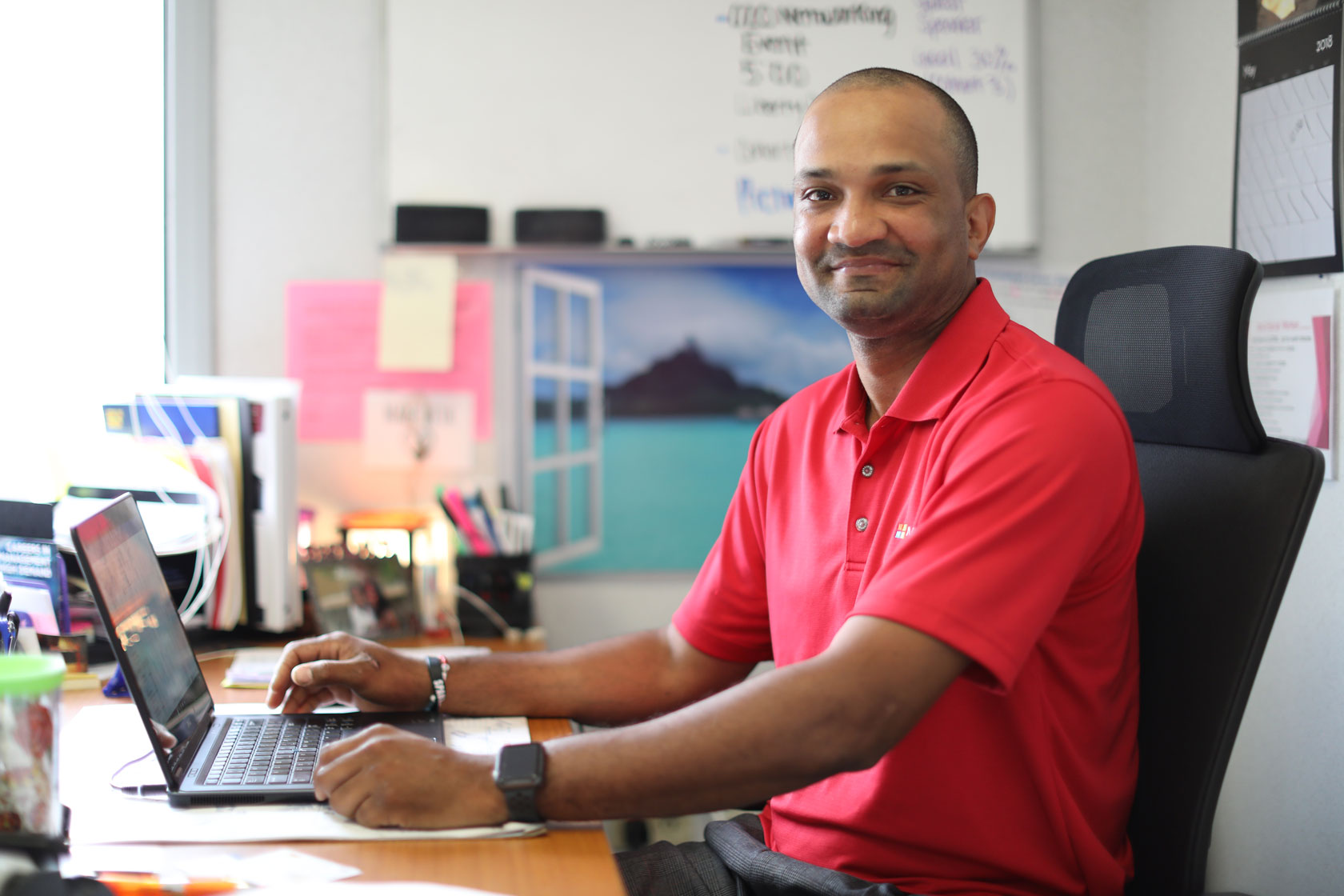 Army: Sergeant (Ft. Campbell)
MOS: 13 Bravo, Field Artillery
Course: CompTIA A+
UPO: Course Completion (goal = entreprenership).
THE YEAR AHEAD
Curriculum and Content
The ongoing success of O2O participants depends on the program's ability to continually improve and remain on the cutting edge of career preparation and skills training. O2O's Curriculum Manager and national team accomplish this through the evaluation and adjustment of the program's foundational curriculum components and current/new learning pathways using both program data and industry projections published by the Bureau of Labor Statistics. This annual review allows us to retire outdated, low-enrollment learning pathways to make room for emergent and high-demand pathways.
Continuous Improvement: OTYC V3.0
This year we launch our innovative new Onward to Your Career (OTYC) v 3.0 course, designed to complement DoD's transition curriculum and provide employment-centric content to all program participants. Version 3.0 marks a significant shift in focus from "getting a job ASAP" to employability – the ability to stay competitive in the ever-changing labor market over the course of one's entire career. Onward to Opportunity participants complete a 16-hour interactive course that teaches topics including: "Thriving vs. Surviving", workplace fluidity, creating a growth mindset, examining corporate culture, and more. The new content challenges participants to create a roadmap for their next career that sets them up for long-term success. By focusing on employability skills, the program sets participants on a continued path of success regardless of the industry or career they choose. Facilitation of this course leads towards mindful discussions amongst peers and the ability to integrate subject matter experts from the community and workforce.
General Pathway: Evaluation and Continuous Improvement
While keeping abreast of workforce development trends and leading practices for Onward to Your Career, the program also continues to expand its certification offerings to keep pace with labor market demands. To facilitate a continuous curriculum evaluation cycle, we take a three-pronged evaluation approach to reassess current and forecasted labor statistics and trends, current course offerings and prospective learning pathways, and learning pathways requested by program participants, and curriculum and employment partner requests. [Example: The O2O-Dell/Boomi partnership. Our participants asked for more opportunities and employment in the area of networking. At the same time, our partnership with HHUSA identified a hiring gap with the Boomi networking systems. Via an introduction through HHUSA, Onward to Opportunity and Boomi are able to collaborate to offer the proprietary certification and preferential hiring exposure to the Boomi hiring companies.]
Numbered Projections For 2019
Cohort Launches – 65
Enrolled – 12,500
Distance (online) – 7,700
Installation Based – 4,800
Number of projected UPO/Learning PAthway Outcomes – 8,500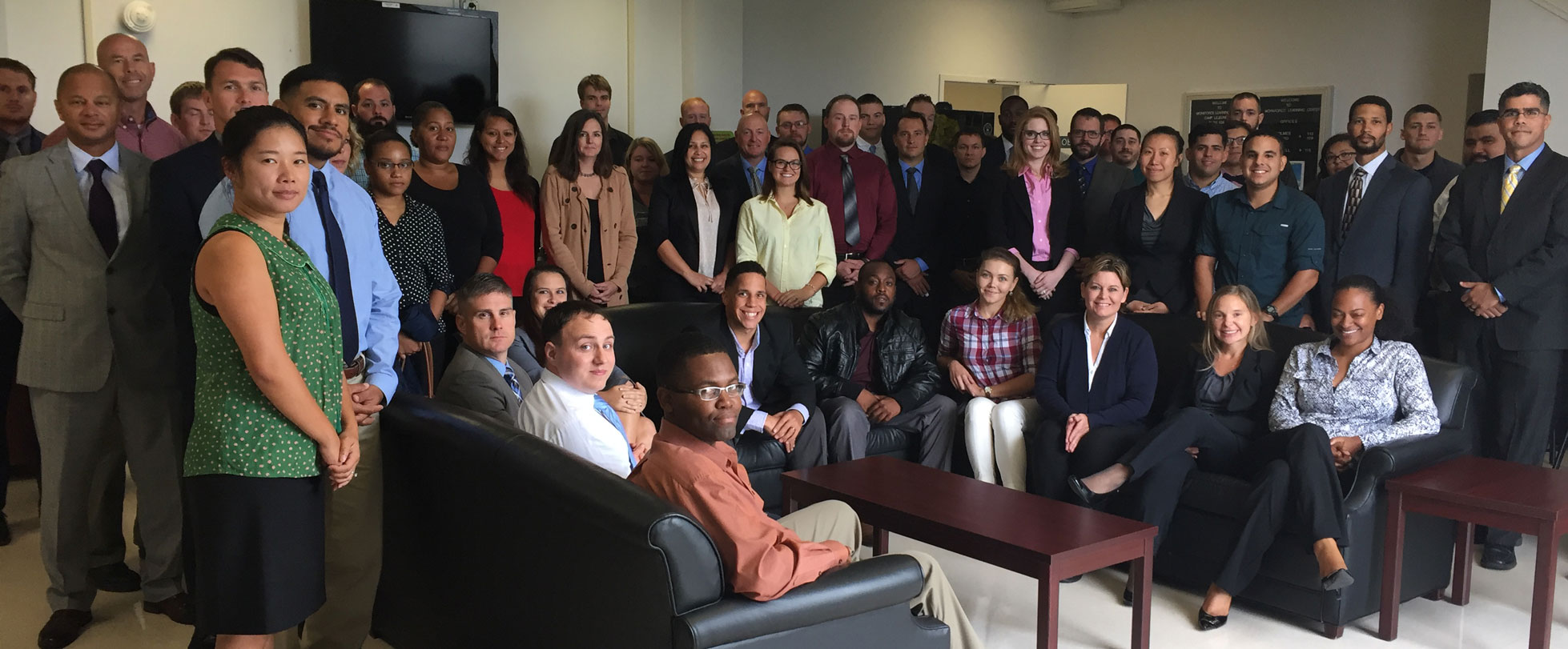 Camp Lejuene Cohort
IVMF Core: A Centralized Platform to Enhance The Learning Experience
The IVMF and Onward to Opportunity have made a serious commitment to enhance program participants' user experience, recognizing an increasingly undeniable need for a centralized solution to better enable communications, access, resources, and collaboration for program participants and staff alike. The IVMF Community for Online Resources and Engagement (IVMF CORE) is a one-stop  shop and platform for advisors, installation teams, and participants to   track participant progress, manage communications between staff and participants, increase collaboration between cohorts and installations, and create a connected, engaged community.
Developed in partnership with Accenture through the Accenture Global Giving Grant for 2018- 2019, the two teams worked closely to design and build-out IVMF CORE specific to the needs of program participants. Launched in August 2018, current and future participants are provided with:
A single sign-on point of access to their coursework,
Interactive course progress trackers through a participant progress dashboard,
A communication platform where they can chat and interact with staff and other participants,
Access to a comprehensive resource library, and
"Get help" options to connect with staff on programmatic and career-related questions.
Plans for future versions include the expansion of CORE access to more of the IVMF's program participants, both for the enhancement of their individual program experience, and to serve as a "gateway" for service members to gain access, in one centralized place, to other IVMF programs that support their transition. Moreover, we are building an online community of service members, veterans, and their families that are participating in IVMF programs worldwide.
Impact Story
Our August 2018 Online Cohort's initial onboarding into the CORE went very successfully, with 96% of the cohort (810 of 840 cohort members) utilizing the CORE even before the cohort actually launched. We brought the cohort onto the CORE two weeks prior to program launch.
In addition, three days after cohort launch, while O2O cohorts usually see about one in three participants signing into Skillsoft at this time, with the CORE's Skillsoft Single-Sign-on capabilities, one in two participants had logged into the CORE.
In October 2018, more than 5,000 O2O participants – both virtual and on-installation – will be on the CORE to engage with IVMF staff and each other, to access resources, and view their progress in the coursework.
More than 800 service members, veterans, military spouses, and family members have entered the CORE and are already collaborating, accessing resources, and preparing for their O2O cohorts to begin. In early August, our Accenture team trained 100+ IVMF staff from across the country at their annual all-hands event in Syracuse, NY. The training focused on how staff would operate in the CORE, what their participants' new experience would look like, and how this new platform fits into IVMF's new "One IVMF" strategy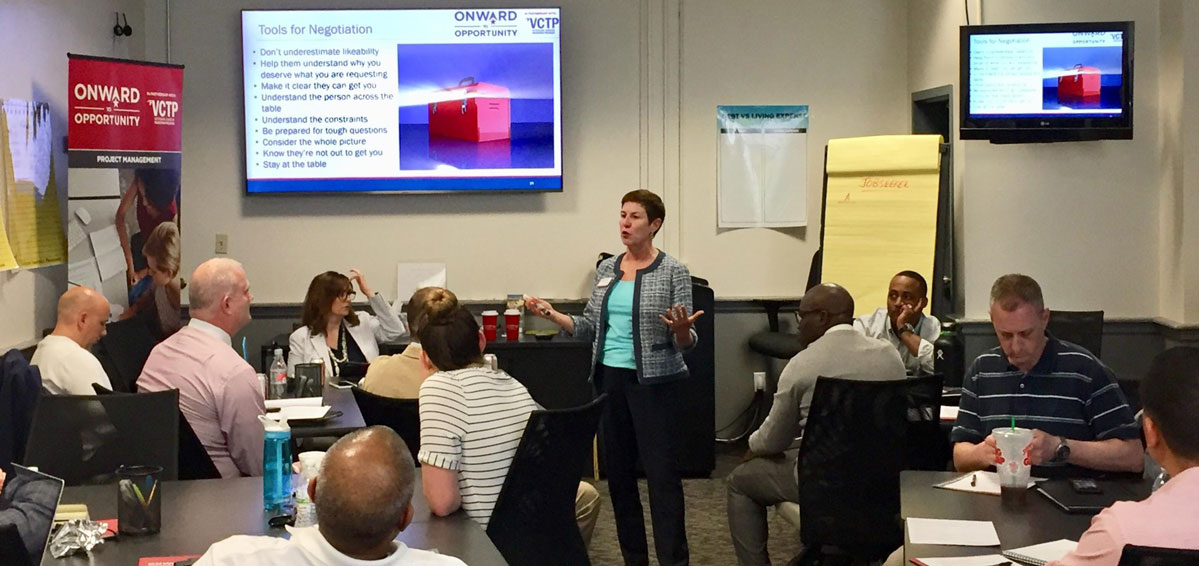 Cohort Being Held At Hampton Roads, VA
America Serves / O2O Integration
Did you know that AmericaServes has grown to 16 different communities nationwide, with additional networks in planning stages for Georgia and Texas this year? Six of these networks overlap with O2O installations, making the integration of Serves and O2O a natural next step. We began hearing from participants they had needs outside of O2O's program  offerings, and that often these needs interfered with their ability to continue with O2O coursework.
On-installation program staff began informally referring participants into AmericaServes networks for support, but it was clear that we needed to formalize and standardize this process across installations in order to fully serve our participants. To date, we have officially launched the integration at Joint-Base San Antonio with plans to integrate in all overlapping locations by next year.
Moving one step closer toward the concept of 'One IVMF' we will facilitate the integration using two distinct use cases, both of which allow O2O participants to be referred into adjoining or non-adjoining AmericaServes networks. Teams will have the ability to:
Send a discrete hyperlink to an O2O program participant that allows the individual to seek assistance from their adjoining/non-adjoining AmericaServes networks, or,
Make a referral on behalf of the O2O program participant directly into their adjoining AmericaServes network, or make a referral directly into newly-created capacity in the IVMF Enrollment, Advising, Support, and Alumni Services teams that they then 'action' into the appropriate AmericaServes network or non-networked provider (for areas uncovered by AmericaServes networks).
With these protocols being established by teams on the ground nationwide working with the central IVMF team, Accenture, and Unite Us, we have crafted the first, true integration of disparate IVMF interventions in continuum fashion, capable of meeting people 'where they are' and providing assistance.
The O2O and AmericaServes integration illustrate the strong connection between two life-changing programs, singularly focused on advancing the lives of the nation's military
veterans and their families. Participants will be able to begin their military transition journey through O2O, while accessing- if and where necessary, the coordinated network of veteran service providers through AmericaServes.
Implementation Case – Bexar County, TX 
At Joint Base San Antonio in Bexar County, Texas, two initiatives are clear illustrations of the powerful linkage to military transition coupled with community-based support. To address the need to empower transitioning service members, veterans and their families with the specific skills and proficiencies required to excel in growing industries throughout Bexar County, in February 2016 Joint Base San Antonio (JBSA) launched the Onward to Opportunity (O2O) program.
The second initiative addresses the needs of the inclusion of asset and resource mapping while developing effective partnerships with vetted service providers to enhance the transition and post service needs. In July 2017 through a partnership with the IVMF and the Alamo Area Council of Governments, TXServes San Antonio, a first-of-its-kind in Texas,
launched to provide a network of services for veterans, service members, and their families. San Antonio and its immediate surrounding area is one of the largest military and veteran communities in the United States. The Alamo Area Council of Governments in San Antonio sponsors TXServes San Antonio and serves as the coordination center. TXServes San Antonio provides a strong network of coordinated services to support veterans, transitioning service members, and their families succeed in the civilian community. In one year, TX Serves San Antonio has fielded 2,300 services requested of which 1,569 unduplicated cases have been established with 730 individuals requesting multiple service cases. Currently TXServes San Antonio has 84 coordinated community network providers with 230 users working together to improve service delivery for veterans, transitioning service members and their families through coordinated approaches to care.
The IVMF's commitment to linking community-based support for transitioning service members and their families prior to separation from the military has resulted in the integration of O2O and AmericaServes. Considered our pilot effort in San Antonio associated with integrating two life-changing initiatives to serve people best, JBSA O2O and TXServes San Antonio serves as our 'model site' to launch across all AmericaServes and O2O locations in America. The O2O and AmericaServes integration illustrate a strengthened connection between two innovative programs singularly focused on advancing the lives of the nation's military-connected members and their families. Through this groundbreaking integration, participants will be able to begin their military transition journey through the career-changing O2O training, coupled with the opportunity to be connected to the wide range of services and resources available through AmericaServes before and post-military service. The O2O and AmericaServes integration make the best use of each program's resources and strengths in communities like Bexar County, while supporting those and their families that have served our great country.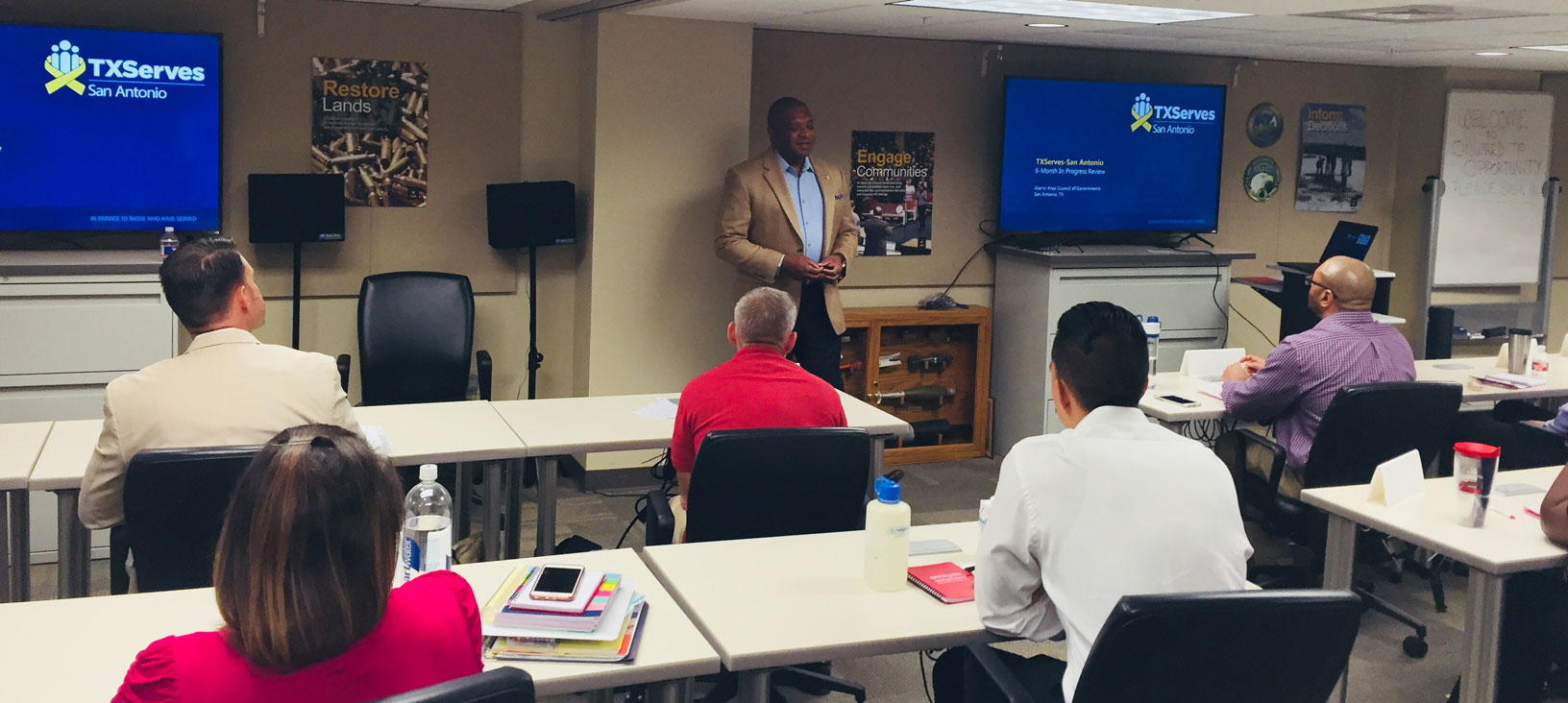 America Serves Classroom for TXServes
Thank You To Our Supporters and Partners!
O2O was launched in partnership with the Schultz Family Foundations (SFF) and as the program has grown other supporters and partners have joined in this effort to make a sustainable and long-term impact among the military connected community as they transition to civilian life.