Employing Military Spouses
Employing Military Spouses
This in-depth look at military spouse employment outcomes will expand the understanding of challenges faced by working spouses and parents and will identify areas for improvement in public policy that can benefit working families. These research publications will drive new policies and initiatives, benefiting all military spouses and families by providing them with resources to overcome the economic challenges of pursuing a career as a military spouse or a military spouse with children.
Paper 1: The Force Behind the Force: A Business Case for Leveraging Military Spouse Talent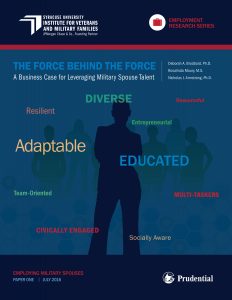 In the first brief of this series, we review the available research on military spouse employment and outline a business case for hiring military spouse employees. This case builds off of our previous research and Business Case for Hiring a Veteran.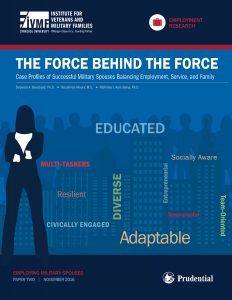 Paper 2: The Force Behind the Force: Case Profiles of Successful Military Spouses Balancing Employment, Service, and Family
The second brief of this series highlights eight successful military spouses currently employed in the corporate workforce. Through the detailed conversations, the reader begins to understand the employment challenges military spouses face, how these challenges impact their work histories and resumes, and how standard methods of finding and getting a job eliminate many military spouses even before they have had the opportunity to compete.