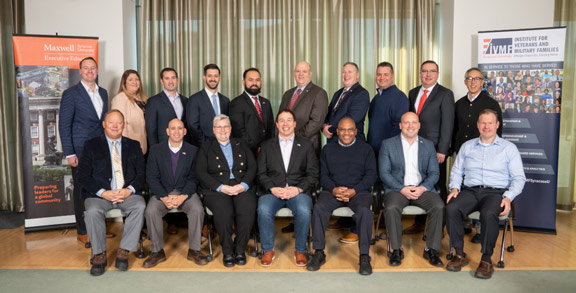 During Veterans Day week, 18 retired military service members convened at Syracuse University for the Veterans Program for Politics and Civic Engagement (VPPCE), created exclusively for veterans and military family members pursuing public office or political careers. A collaboration between the University's Institute for Veterans and Military Families (IVMF) and the Maxwell School, with support from JPMorgan Chase, the inaugural program included students from all five branches of the military.
Designed to address the declining number of veterans and military-connected individuals who run for public office, the program prepared participants to make an impact in the political landscape at national, regional and local levels. Since the 1960s, veteran representation in Congress has declined from more than 75 percent to just 19.1 percent today.
"This inaugural class's interest, passion and energy reinforced why we created this program," says Nick Armstrong, IVMF senior director of research and policy and a Maxwell School alumnus. "Veterans are a natural fit for public office comprising more than one-third of the federal work force and have been shown to be more likely to vote, contact public officials, volunteer, give to charity and work with neighbors to fix problems in their community. The veterans in the VPPCE class are no exception. They are now well-equipped to run successful campaigns and take on the responsibilities of public office."
The program featured both online coursework and a one-week intensive residency. The curriculum focused on the essential elements of running a political campaign, including political communication, fundraising, working with all forms of media, election law, leading campaign teams, mobilizing volunteers, effective use of polling, presentational speaking, ethics and citizen engagement.
Speakers and facilitators included Syracuse University faculty, former and current elected officials, and campaign experts. Maxwell Dean David Van Slyke and Vice Chancellor for Strategic Initiatives and Innovation J. Michael Haynie hosted the opening reception. Lead faculty were Professor Grant Reeher, director of Maxwell's Alan K. Campbell Public Affairs Institute, Professor Jennifer Stromer-Galley from the School of Information Studies and Professor Kristi Anderson from the Maxwell School. Multiple elected officials such as Syracuse Mayor Ben Walsh, Assembly member Pamela Hunter and Onondaga County Legislature Chairman David Knapp also spoke to the class.
The VPPCE program aligns with Syracuse University's commitment to be the "best place for veterans" and the military-connected community. Consistently ranked among the top 10 best universities for veterans, Syracuse was most recently ranked the No. 1 private school for veterans by Military Times for the second consecutive year, and the University is one of only 15 Pat Tillman Foundation University Partners. Now in its third year as a partner institution, Syracuse University was selected for its innovative veteran services, strong culture of support for military veterans and spouses, and its rigorous academic programs.
VPPCE marked the second collaboration between the University and JPMorgan Chase in support of the military community. JPMorgan Chase co-founded the IVMF at Syracuse University and is a major funder of Onward to Opportunity, a career preparation and employment training program, available online and operating in 18 military installation communities across the country. To date, the IVMF has impacted more than 125,000 veterans and members of the military community.
JPMorgan Chase's dedication to the military community is widely recognized and practiced in the firm's operations. Since 2011, more than 14,000 veterans have joined the employee ranks of JPMorgan Chase, and the firm has developed several supportive programs including the Veteran Jobs Mission—previously the 100,000 Jobs Mission—a coalition founded in 2011 with the goal of hiring 100,000 veterans. Now over 200 members strong, the coalition has collectively hired more than 500,000 veterans with a commitment to hiring one million.
The Maxwell School is home to the nation's No. 1-ranked school for graduate education in public affairs (U.S. News & World Report), offering graduate professional degrees in public administration and international affairs. It is also Syracuse University's home for innovative teaching and research across nine social science disciplines (anthropology, citizenship and civic engagement, economics, geography, history, international relations, policy studies, political science and sociology).