Alumni Services
As a graduate or participant of one of the Institute for Veterans and Military Families' programs, you are a part of an ever-growing network of IVMF alumni across the globe! As IVMF was founded at Syracuse University and is headquartered on their campus, completing an IVMF program also makes you a Syracuse University alum! This extensive network is here for you to stay connected and leverage for your professional/entrepreneurial journey.

Take advantage of resources, webinars, and a community of veterans and military spouses that share the IVMF bond through their post-service lives. Long after you complete your course or residency, you are connected to the IVMF team for follow-up resources and opportunities as your professional goals evolve. No matter if you graduated from Onward to Opportunity or one of the eight Arsenal entrepreneurship programs the Alumni Services team supports all IVMF graduates in realizing and accomplishing their professional and personal goals.



Graduate Testimonial
"Anyone I know that has transitioned or is getting ready to transition, I'm a big advocate for Onward to Opportunity, it's been great for me, and I've seen it work not just for me – I've seen the people to the left of me and to the right of me in my cohort getting jobs."
– Zekenyia Simmons
VetNet – IVMF's Free Webinar Program
Popular topics include
Job Search Techniques
Entrepreneurship
Personal Branding
Project Management
Learn More
Meet the Alumni Team
The IVMF Alumni Services team is here to support you throughout your post-service journey. Have a question on what benefits you receive as an alum or simply want to connect? Reach out to the team today via ivmfalumni@syr.edu
See The Whole Team
Graduate Testimonial
"During my 6-year engagement with the IVMF family, I've hired four IVMF program participants, built three partnerships with program attendees, and learned countless business skills."
– Michael Barbera: B2B, EBV-Purdue, & Veteran EDGE
Graduate Testimonial
"Available resources gave me the tools to successfully rethink and retool my Southern California business, now I am celebrating the opening of a second office."
– Parish Morris: EBV SJU
Graduate Testimonial
"We even had a very nice graduation ceremony, which made me feel very special and accomplished. Even after graduation, those of us in the cohort were well taken care of. On a near daily basis, we received e-mails of job openings that were relevant to our area of expertise, as well as information regarding upcoming job fairs."
– Kim Stirling: Military Spouse, O2O site – Puget Sound Naval Shipyard (Bremerton, WA)
Are you a graduate of a program and want to tell your story?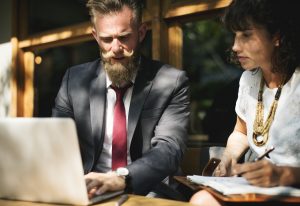 ACP: New Military Spouse Mentoring Program
May 23rd — 12:00 p.m. – 1:00 p.m. (EST)
ACP is a national nonprofit organization offering career counseling, mentoring and networking opportunities to post 9/11 transitioning service members and now active duty military spouses! Through ACP, Spouse Protégés receive FREE personalized guidance related to topics like career exploration, résumé review, interview preparation, networking, and overall professional development.
Register Here
Post Program Support
Post Program Support brings together resources to help IVMF alumni reach their professional goals. Click on the program you graduated from below to learn more about resources available to you via resources partners in industry, professional development, mentorship, and more!
Questions? Email us at ivmfalumni@syr.edu
Featured Resource
No matter if you are working for a company or you have your own business, LinkedIn Learning offers professional development opportunities for almost everything! IVMF Alumni receive free access for a limited time.
Click on the program you graduated from in the center column to learn more and sign up.
| | Description | Event Name | Date | Time | Location | City/State | Register |
| --- | --- | --- | --- | --- | --- | --- | --- |
| | Networking | Atlanta Alumni Event | 5/30/19 | 6:00 p.m. - 8:00 p.m. (EST) | City Tap House Atlanta | Atlanta, GA | Register here |
| | Webinar | Steps to Buying and Selling a Home | 5/16/19 | 1:00 p.m. (EST) | Online | Online | Register here |
| | Conference | Virginia Women Veterans Summit | 5/16/19 | 9:00 a.m. | Embassy Suites by Hilton Hampton Convention Center & Spac | Hamption, Virginia | Register here |
Other IVMF Programs
Interested in learning about what other programs IVMF has to help you succeed? Click on an icon below to learn more and contact our enrollment services team at ivmfeducation@syr.edu
Tell us your story
Have you been impacted by an IVMF program or initiative? We would love to hear your story – because at the end of the day – our mission is to serve you. And we know that your story may help one of your comrades take the next step to positively impact their future.
Tell us your story
Volunteer
Interested in giving back your time to speak to a current Onward to Opportunity cohort about your experiences, help out at one of our entrepreneurship residencies, or share your story on a VetNet webinar? These are just a few opportunities to support fellow transitioning service members, veterans, and their families.
Submission Form
Give to the IVMF
The simplest way to give is to donate to our mission. It provides IVMF with available funds immediately to further offer elite programs and services to the military-connected community.
If you are interested in a gift of any size, please follow the link below. You will be directed to a secure giving page labeled "Syracuse University". We thank you for your support!"
Make A Gift