Syracuse University's Institute for Veterans and Military Families (IVMF) has announced two new members to its advisory board with the appointments of Mark Elliott, Global Head of Military and Veterans Affairs for JPMorgan Chase—IVMF's founding partner—and Ken Fisher, co-managing partner of Fisher Brothers.  Mark will work with Daniel A. D'Aniello ('68), cofounder and chairman of the Carlyle Group, and replaces former JPMorgan Chase executive David Owen as IVMF Board co-chair.
"As we proudly welcome Mark and Ken to the IVMF Advisory Board, we thank David Owen for his tireless service and dedication," said Vice Chancellor Mike Haynie, the IVMF's Executive Director and Founder. "Mark's appointment speaks to the continued longtime support of our founding partner, JP Morgan Chase. His leadership of the firm's military and veteran affairs division ideally positions him to help further elevate IVMF's influence and impact in the veteran support ecosystem. And Ken's prolific experience and passion for veterans and military-connected families on behalf of the Intrepid Museum Foundation and his family non-profit will augment the Institute's training and policy efforts to an even larger national audience. We're excited to have the support and expertise of these world-class leaders as we work with them to further the IVMF's mission of serving those who have served."
Mark brings both corporate and military experiences and leadership to the IVMF board. A veteran of the U.S. Army, Mark oversees the Office of Military and Veterans Affairs at JPMorgan Chase, which carries out the firm's longstanding commitment to those who have served. Mark's team manages programs and philanthropic initiatives to support the diverse needs of the military community—including employment, workforce development and entrepreneurship. His strategic and transformational skills will make an immediate impact as he steps into the role of IVMF board co-chair.
Ken offers decades of strategic financial and operational management expertise to the IVMF advisory board.  In addition to his business acumen, he is a tireless advocate for service members, veterans and their families as the chairman and CEO of Fisher House Foundation. In this role, he oversees a network of 89 Fisher Houses throughout the United States, the United Kingdom and Germany. Fisher Houses are a home away from home for the families of service members and veterans who are being treated for an illness or injury far from home. Since its founding, the Foundation has provided more than nine million nights of lodging for military families. On any given night, more than 1,200 families will sleep at a Fisher House around the globe.
"The IVMF's work on behalf of those who have worn our nation's uniform is both innovative and inspiring," said Mark Elliott. "As a veteran myself, I have a tremendous appreciation for the role of cross sector partnerships like that of JPMorgan Chase and IVMF to support the military community. It is an honor to join IVMF's board of ambitious leaders and support the work they do for our country's veterans and their families. I look forward to serving in this new and important way."
"I assume my new role as a member of IVMF's advisory board with excitement and passion," said Ken Fisher. "Among my and my family's most personal commitments is that of service to those who have defended this country. This value is well-aligned with IVMF's mission to serve those who have served. I am proud to join this board and help make an impact alongside others who share this goal."
Ken and Mark join 18 other members of the board, all of whom are leaders in their industry, policy, research, higher education and veterans' affairs fields. They provide advice and counsel to Institute leadership, and confer insight and input focused on the Institute's strategic imperatives. The board also helps to assess the impact of IVMF programs and helps steer future opportunities, research and offerings.
Mark Elliott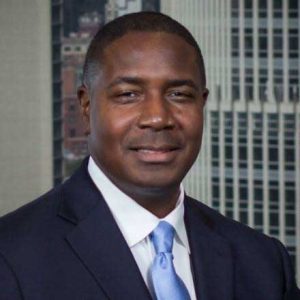 Mark A. Elliott is Managing Director and Global Head of Military and Veterans Affairs for JPMorgan Chase & Co. He oversees firm-wide, veteran-focused efforts around strategic pillars: employment, entrepreneurship, workforce development, and community engagement.
Over nearly three decades serving in the U.S. Army, Mark commanded units at the company, battalion and brigade levels. Retiring as a Colonel, his assignments in both conventional and special mission units took him around the world including two deployments to Iraq, with his last serving as aide-de-camp to the commander of all forces in Iraq. Most recently, Mark Elliott was the Director of the Army's Land Warfare Network at the Pentagon in Washington, D.C.
Mark joined JPMorgan Chase in 2015 as a senior strategist on Global Technology Infrastructure's Strategy and Transformation team where he supported the firm's efforts to create new ways of interacting with customers in a digital environment.
He holds a Bachelor's of Science in physics from the University of Alabama, a Masters in Telecommunications Management from Southern Methodist University, and a Masters in Strategic Studies from the National War College in Washington, D.C.
Mark's appointment marks an outgoing tradition of support from the IVMF from JPMC. The leading financial services firm co-founded the IVMF in 2011 with Syracuse University as the first national institute in higher education focused on social, economic, education and policy issues impacting veterans and their families. JPMC is well-known for its advocacy of military-connected families through its programs in employment, financial capability and small business. In addition to its extensive financial support of the IVMF and others in the military community, JPMC co-founded the Veteran Jobs Mission, a coalition of more than 200 companies dedicated to employing U.S. military veterans. To date, the mission has collectively employed over 500,000 veterans.
Ken Fisher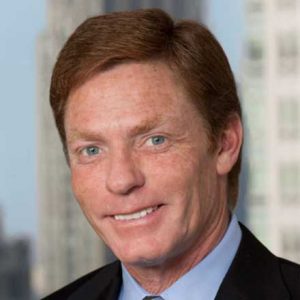 Ken Fisher has over 40 years of real estate experience as co-managing partner of family-owned Fisher Brothers, one of the country's most successful family-owned real estate development, management and financial companies, with a portfolio of more than nine million square feet of commercial, residential and retail space in New York City and Washington, D.C. and a market valuation of more than $8.5 billion.
Ken's advocacy and support of military veterans and families is well-recognized. In 2007, he was appointed by President Bush to the President's Commission on Care of America's Returning Wounded Warriors and has served on several policy boards in support of former U.S. Secretary of Defense Ashton Carter and former U.S. Defense Secretary Chuck Hagel. His family also founded the Intrepid Museum Foundation in memory of the well-known World War II aircraft career. Ken is active with the foundation as its co-chairman.
Ken attended Ithaca College and received an honorary Doctor of Commercial Science from the University in 2016. He has also received extensive distinctions, inductions and high civilian honors including being named one of America's Best Leaders by U.S. News & World Report in 2007.
The Intrepid Museum Foundation was founded by Zachary and Elizabeth Fisher to memorialize the distinguished World War II aircraft carrier, and to honor the men and women of the armed forces and their families. The Intrepid destroyed 650 enemy planes, sunk 289 enemy ships and lost 270 men to bomb, torpedo and kamikaze attacks. The Fisher family maintains seats on its board and is the museum's largest supporter.