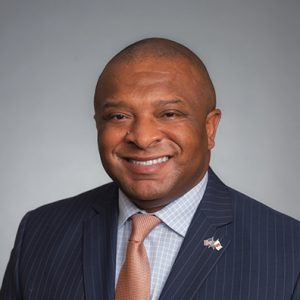 Anthony Cosby often starts his days at 4:30 a.m. with a three-mile walk—not to beat the San Antonio heat or enjoy the quiet pre-dawn hour, but because it's the only time left in his day to squeeze in fitness.
As an entrepreneur, dad to an aspiring tennis star and full-time employee of the Institute for Veterans and Military Families (IVMF) at Syracuse University, Cosby's days manage to be filled to the brim with hustle and bustle—which is exactly how he likes it.
From his home office in Texas, Cosby is currently director for employer outreach and co-director of the AmericaServes program, one of the eleven national training programs conducted by IVMF. He works with employers across the country to help them secure military talent, including veterans, transitioning service members and military spouses, and partners with public, private and nonprofit organizations to help veterans and their families access a variety of services that can help them achieve their goals.
After retiring from a 21-year career in the U.S. Navy in 2012, Cosby struggled with his transition back to civilian life. This experience inspired him toward a career path helping other veterans and military-connected folks transition smoothly and seamlessly into the workforce post-service.
"I was in talent acquisition toward the end of my military career, so I wanted to see if I could transfer those skills to the private sector," he says. "I got my career coaching certification and landed a job at the University of Texas (UT) at San Antonio as an alumni career coach and from there it was game on … I was able to assist folks and that's when I saw my true calling to help people."
Cosby worked for UT San Antonio and then Webster University, but he'd seen a "60 Minutes" interview in 2012 that had planted a seed in his mind. The segment featured IVMF Founder and Executive Director J. Michael Haynie speaking about the Entrepreneurship Bootcamp for Veterans, which not only put Syracuse University on his radar, but also sparked Cosby's interest in becoming an entrepreneur.
Four years later, in 2016, he would join the IVMF team as the program manager for Onward to Opportunity (O2O) at Joint Base San Antonio. O2O helps prepare service member and military spouses with industry-recognized certifications and skills training across high-demand sectors and occupations, like cybersecurity, project management and human resources.
"We started out with 32 people participating and now, fast-forward five years, and we've been able to help over 50,000 folks and change so many lives," Cosby says.