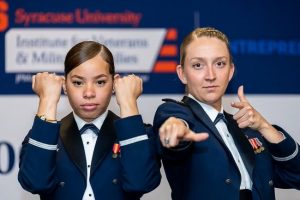 The D'Aniello Institute for Veteran and Military Families (IVMF) had the unique opportunity to gain two United States Air Force Academy (USAFA) cadets to assist in programs and research. Cadets Kamryn Olkowski and Mayra Quintana joined the IVMF through the USAFA Cadet Summer Research Program (CSRP). The CSRP is a highly selective program where the most academically accomplished USAFA cadets participate in an academic research experience via various partners across the country. Through this one-month experience in June, cadet Olkowski provided valuable insight to the entrepreneurship team and cadet Quintana helped the research team with a project serving student veterans.
Kamryn Olkowski hails from Colorado Springs, Colorado, where prior to attending the USAFA she served as a signal intelligence analyst for the U.S. Air Force. She always knew she wanted to go to the academy growing up because she attended local sports camps and programs there. When she applied the first time, however, she was denied. With a no-quit attitude, Olkowski applied twice while serving active duty and was finally accepted to attend the USAFA. As a rising senior, Olkowski is a management major, which covers topics such as accounting, finances and marketing.
Mayra Quintana was born in Fort Lauderdale, Florida, where a tough family life molded her into the person she is today. "My dad was arrested when I was 8 years old, and he's been in prison for most of my childhood," says Quintana. Her community is heavily impoverished and deals with constant violence and drugs. Quintana had her eyes set on college, and during junior ROTC in high school, she decided to apply to the USAFA and become a beacon of hope for others. Similarly, to Olkowski, Quintana is a rising senior also majoring in management and uses her experiences to speak with members of her community about the ways she has avoided becoming a statistic in her community.
Both cadets, as part of CSRP, gained insight on opportunities available to them in the workforce. Olkowski says, "When looking at what the IVMF was and the focus on entrepreneurship, as an aspiring entrepreneur I knew that it could provide me with some insight and maybe something that I could use in the future." While cadet Quintana says she initially found out about VET-SIM (a project focused on helping student veterans navigate collegiate study), she thought this would give her the experience and opportunity to help others, specifically veterans, through research.