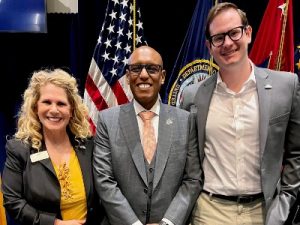 A Syracuse University student and staff member are among 50 scholars and professionals participating in the Stand-To Veteran Leadership Program from the George W. Bush Institute. Student John Nipper, completing his master in public administration (MPA) degree at the Maxwell School of Citizenship and Public Affairs, and Kathryn Warren, program manager for the D'Aniello Institute for Veterans and Military Families Onward to Opportunity (O2O) program in Southern California, are honored to represent Syracuse University as the best place for veterans.
The application process for the Stand-To Veteran Leadership Program is competitive and rigorous. The program attracts industry leaders from across the country invested in improving military transitions and outcomes for veterans and families. As veterans, both Nipper and Warren personally understand the challenges that arise during the transition out of military service. Nipper, a Navy veteran, was looking to leverage his military experience into something meaningful in the field of international relations. That pursuit is what brought him to Syracuse in the first place. From here, he connected with other Veteran Leadership Program alumni in many places who all encouraged him to apply.
Warren, a Marine veteran, has counseled transitioning service members for more than five years through IVMF's O2O program. She didn't want to let her Marine Corps service define her, then found herself continuing to fall back on military experiences after leaving service. Even with an executive MBA from Pepperdine University, she felt a loss of identity and purpose that many veterans experience in the traditional workforce. Her experiences have driven her to make it that much easier, especially for her fellow women veterans, going forward.
"I'll be eternally grateful for (IVMF Chief Operating Officer) Maureen Casey and her flat-out encouragement for me to pursue this program. She completely gets it and serves the military community through her work at the IVMF," says Warren. "Sometimes, seeing another woman mentor makes all the difference in the world. It makes me want to do even more."
Warren's project is researching ways to get more women veterans into STEM fields. She's already been able to apply some of the knowledge she learned from the Veterans Leadership Program to her IVMF work with O2O participants. For example, she encourages them to find strong mentors and to understand they don't have to take the first job that comes to them.
"I can already talk about things that directly tie to military transition and give them more than they bargained for," Warren says.
Now in its fourth cohort, the Stand-To Veteran Leadership Program is designed for rising veteran and civilian leaders who work with veterans and their families across the country. Program participants gather in person once a month over five modules conducted at the George W. Bush Presidential Center in Dallas and in Washington, D.C. They meet with distinguished professionals, nationally recognized for their expertise in veteran transition and leadership development. For example, the IVMF contributes subject matter experts to the program including Nick Armstrong, IVMF's managing director of research and data, to share insights. The IVMF has also been fortunate to send representatives to all four Veteran Leadership Program cohorts.