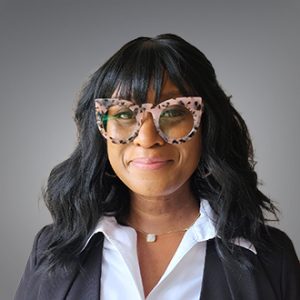 Two staff members from Syracuse University's military-connected community have been selected as scholars for the 2023 Stand-To Veteran Leadership Program (VLP). Quiana Abner and Jennifer Pluta, who work for Syracuse's D'Aniello Institute for Veterans and Military Families (IVMF), and the Office of Veteran and Military Affairs (OVMA), were selected as scholars by the George W. Bush Institute for the 5th annual cohort of the prestigious leadership program.
Located in the George W. Bush Presidential Center, the George W. Bush Institute is a nonpartisan policy organization focused on ensuring opportunity for all, strengthening democracy and advancing free societies.
Abner and Pluta will both meet the rest of this year's 34-person cohort on July 11 when they travel to Dallas, Texas, for their first in-person session. While some of the program is designed for remote learning, the scholars will meet in person in Dallas three times, and then a final time in Washington, D.C., for their last in-person session.
The institute developed the first-of-its kind Stand-To Veteran Leadership Program to support individuals serving our nation's veterans and military families. Particularly, the institute seeks those who are motivated to broaden their skillsets, knowledge and influence across the country in their individual efforts to support the military-connected communities they serve.
Abner is the Texas region program manager for Onward to Opportunity and works remotely from the San Antonio area. As the daughter of a U.S. Army soldier, the wife of a U.S. Navy veteran and mother of a U.S. Navy veteran, she brings valuable insight into the issues and challenges facing military families around the world.
Abner says her experience as a military spouse was frustrating at times. The lack of professional connections, or even the ability to develop such connections, was challenging for her. Like many professional spouses throughout the military, Abner didn't feel welcome in the spouse groups, and she often avoided the social events hosted by her husband's command. According to her, the Bush Center has rolled out the red carpet in accepting her to the cohort and supportive in her mission.
"I want to develop and cultivate a socially robust career development program that assists military spouses with identifying a meaningful career direction after active military service in a fun and connective way," says Abner.
"I thank the IVMF leadership for believing in my ability to participate in VLP while maintaining the highest level of service for the Onward to Opportunity program in Texas," she says. "I cannot wait to get started and I appreciate this opportunity to potentially build something that will bring value to our organization and for the military spouses we serve."