The ceremony will be followed by mock interviews and professional networking with over 20 Puget Sound area employers.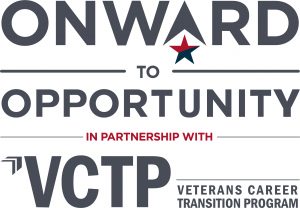 TACOMA, Wash. (May 23, 2017) – Sixty-two members of the Joint Base Lewis-McChord (JBLM) community will graduate Tuesday, May 23, 2017, after taking a six-week career training program designed to increase their employment prospects as they end their time and service at JBLM. Following the graduation ceremony at Goodwill of Olympics and Rainier Region (714 S. 27th St., Tacoma, Wash.), representatives from over 20 local employers will be on-hand to conduct mock interviews with the graduates, giving them on-the-spot feedback and tips to boost their interview performance.
Following years of dedicated service to their country, members of the military encounter many challenges as they transition from active duty to civilian life. Trouble landing employment that matches their level of education or experience is one of the biggest. Despite strong leadership, strategic and technical experience gained in the military, many veterans encounter prospective employers who struggle to assess veterans' military skills and how they translate successfully into the civilian workforce. This puts veterans at a disadvantage compared to civilian applicants.
O2O-VCTP sets out to erase the skill-gap with a free, six-week training course designed to position departing service members for in-demand civilian careers. Developed by the Institute for Veterans and Military Families at Syracuse University (IVMF), the program is unique in that it provides connections to over 400 brand-name employers and guarantees interviews with participating employers after successful completion of the course and internships. Participants can access the courses starting six months before they transition from service to civilian life. The program is also open to military spouses.
This graduation brings JBLM's history with the program full circle. The base served as the pilot site for Onward to Opportunity and successfully set the trajectory for the program's expansion to nine bases throughout the country, and soon to expand to the Navy Region Northwest this fall.  Tuesday's graduation ceremony at JBLM will mark the program's 1,000th graduate.
Participants have access to 30 possible career tracks in the areas of Information Technology, Customer Service, Human Resources and Project Management. The last two tracks were added to the JBLM curriculum based on input from local industry. Students graduate armed with sought-after credentials that put them on competitive footing as they re-enter civilian life. This can shorten lengthy job hunts and long periods of unemployment.
An essential element to the program are local and corporate partners that agree to make positions available for qualified applicants. The Washington Military Transition Council, Washington Department of Veteran Affairs and Commercial Drivers' School Employment Center are some of the organizations helping to support the O2O-VCTP efforts in the Puget Sound area. In addition, participants get help with their job search, interview and résumé preparation, skills that can make or break employment prospects, through Hire Heroes USA and Corporate America Supports You. These alliances increase odds of employment out of the gate—or even pre-separation—as veterans and military spouses transition. Employers benefit from high quality employees at a fraction of their traditional cost for recruitment. Employer costs per new employee can run about $4,000.  O2O-VCTP costs are approximately $1,600 for candidates with more advanced technical skills.
"Onward to Opportunity-VCTP takes two approaches—providing technical competencies employers are scanning the market for, as well as ensuring direct access to employment opportunities. And as prospective employers, we interact with candidates at many points throughout the course and are the first to interview them when they graduate. It's been a highly effective collaboration," says Jennifer McDaniels, Chair of Washington State Veterans Employee Resource Group.
"We are proud of the role JBLM has played in the progression of Onward to Opportunity in partnership with the Veterans Career Transition Program," said Dr. Mike Haynie, IVMF Executive Director and Syracuse University Vice Chancellor for Strategic Initiatives & Innovation. "Our military and their families deserve nothing less after their self-less and dedicated service to our nation than to have the extensive leadership and technical skills they bring to bear recognized as they transition to the civilian workforce."
Onward to Opportunity is funded by the Schultz Family Foundation and Veteran Career Transition Program is supported by JPMorgan Chase & Co. through its founding partnership with the IVMF.
###
MEDIA CONTACT:
Stephanie Salanger
Director, Communications & Media
Office of Veteran and Military Affairs
Institute for Veterans and Military Families
Mobile 315.378.8171; Email ssalange@syr.edu
About the Institute for Veterans and Military Families at Syracuse University
The Institute for Veterans and Military Families (IVMF) is the first interdisciplinary national institute in higher education focused on the social, economic, education, and policy issues impacting veterans and their families. Through its professional staff and experts, the IVMF delivers leading programs in career, vocational, and entrepreneurship education and training, while also conducting actionable research, policy analysis, and program evaluations. The IVMF also supports communities through collective impact efforts that enhance delivery and access to services and care. The Institute, supported by a distinguished advisory board, along with public and private partners, is committed to advancing the lives of those who have served in America's armed forces and their families. For more information, visit IVMF and follow the IVMF on Facebook, Twitter and Instagram.
About Onward to Opportunity-VCTP
Onward to Opportunity-VCTP is a cost-free (with no use of GI Bill benefits) industry-focused career skills program that connects transitioning service members, active duty military spouses, and members of the National Guard and Reserve to high-demand careers in customer service and information technology.  Delivered by the Institute for Veterans and Military Families (IVMF) at Syracuse University and supported by the Schultz Family Foundation and JPMorgan Chase & Co., O2O-VCTP partners with leading veteran service organizations and private sector companies to connect transitioning service members, military spouses and veterans with meaningful employment opportunities at companies across the country. For more information, visit Onward to Opportunity-VCTP and follow the Onward to Opportunity on Facebook and Twitter.