By Dr. Mike Haynie, Vice Chancellor for Strategic Initiatives and Innovation; IVMF Founder and Executive Director
On Memorial Day, I reflect and am reminded that this is a day to pay tribute to the men and women, past and present, near and far, whose service to our country has and continues to preserve our freedoms.
Memorial Day weekend has, and always will have, a special place in my personal as well as professional life. Last year I spent Memorial Day close to home and had the honor of speaking at Onondaga County Memorial Day Remembrance Ceremony, recounting the sacrifices made by a few of the great Central New Yorkers who have, across many generations, taken their last breath wearing the cloth of our nation.
This year I spend Memorial Day thousands of miles from Central New York, traveling throughout Italy on an overdue vacation. Yet, even though my journey takes me far from home, I continue to be reminded – in the most profound way possible – of the cost paid by the American Solider to defend freedom and democracy around the world. I come upon this message expressed through an inscription on a plaque, in the town of Ameglia, Italy.
The engraving was in Italian – I cannot read Italian, and thus was unable to understand any of the text. However, what caught my eye was that the plaque listed a group of Italian sounding names, but identified these men as soldiers of the United States Army. I was intrigued. I knew there had to be a story behind these names. As it turns out, there was.
Operation Ginny took place in 1944, during the Italian campaign of World War II. The Office of Strategic Services – the precursor to the present day CIA – conceived a sabotage mission to destroy a series of railway tunnels on the Italian coast, effectively cutting off communications between the German 10th Army positioned in northern Italy, and the German 14th Army stationed in central Italy. To carry out this exceedingly dangerous mission, the OSS recruited Italian-American soldiers from the ranks of the U.S. Army. Most of these men were first generation immigrants to America. Many of them fled Italy as children when the fascists took power in 1922. All of them were eager volunteers to serve on behalf of their new homeland when the U.S. entered World War II in 1941.
Ultimately, 15 men were selected for Operation Ginny, and under the cover of darkness these men took to rubber boats, several miles off the Italian coast, and headed for the village of Stazione di Framura. However, the soldiers were forced to deviate from their original course when they came upon German PT boats engaged in a minelaying operation. As a result, the OSS soldiers eventually made landfall several miles from their intended destination.  Realizing that they were miles from their target, and that sunrise was quickly approaching, the mission commander, 1st Lt. Vincent Russo, made the decision to hide the rubber boats on the shoreline and head to a nearby farm. The plan was to seek food and shelter at the farm until the following evening, when they would head out to blow the railway tunnels.
However, later that day a local fisherman discovered the Americans' rubber boats hidden on the shoreline, and he alerted the Germans. A massive search ensued and after a brief firefight, all fifteen soldiers were captured by the Germans and taken to the Italian town of La Spezia.
The German General in charge at La Spezia sought guidance from Berlin as to what to do with the American prisoners. The response that came back became known as Hitler's "commando order of 1944" – the Americans were to be executed. Specifically, on March 26, 1944, German General Anton Dostlor ordered the execution of all 15 solders, in clear violation of the Geneva Convention.  For this crime, General Anton Dostlor was the first Nazi tried and executed for war crimes at the conclusion of the war.
Obviously, I did not know 1st Lt. Russo – or any of the soldiers on his team – when I stumbled on an obscure plaque in a random Italian town. However, I wanted to share this story, so far from home on this Memorial Day, because I know them now.  Sharing their story preserves the memory of their bravery and sacrifice through our recognition and reflection.
Telling this story, and the countless other stories of this nation's sons and daughters lost to war, and reflecting on them as we celebrate, is the best and most fitting tribute to service and sacrifice that we can make on this Memorial Day – or any day.
The Soldiers of Operation Ginny, who lost their lives in service to our country on March 26, 1944: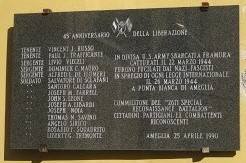 1st Lt. Vincent J. Russo, Montclair, NJ
Sgt Alfred L. De Flumeri, Natick, MA
T/5 Liberty J. Tremonte, Westport, CT
T/5 Joseph M. Farrell, Southport, CT
T/5 Salvatore DiSclafani, Brooklyn, NY
T/5 Angelo Sirico, Brooklyn, NY
T/5 Thomas N. Savino, Brooklyn, NY
T/5 John J. Leone, Poughkeepsie, NY
T/5 Joseph Noia, NY, NY
Lt. Paul J. Traficante, NY, NY
Dominick Mauro, NY, NY
T/5 Rosario Squatrito, Staten Island, NY
T/5 Joseph A. Libardi, Stockbridge, MA
T/Sgt. Livio Vieceli, Manor, PA
T/5 Santoro Calcara, Detroit, MI