By James Gilchrest, 2017-18 Newman's Own Foundation Fellow
I have proudly served in the military for nearly six years, initially in the Alaska Army National Guard to join the Military Police and then transferred to Alaska Air Guard located at Clear Air Force Station in personnel for a security forces squadron. I was part of a one-year OCONUS assignment from 2013 to 2014, where I served with a 30-person platoon in Guantanamo Bay working on security operations. While attending the University of Alaska and serving as the student veteran organization president, I was invited to apply for the Newman's Own Foundation Fellowship—which I was later awarded. The fellowship allowed me the opportunity to work at Syracuse University's Institute for Military Families (IVMF). As the IVMF exists to serve veterans and their families, I was excited to begin. I had seen firsthand the struggles that veterans in Alaska faced, and that motivated me to learn everything I could to help those back home during the difficult transition from military to civilian life.
While at IVMF, the fellowship afforded me so many opportunities. During my 12 months at IVMF I:
Completed the Udacity Digital Marketing Nanodegree
Received the IVMF Employee of the Quarter award
Received the Entrepreneurship Bootcamp for Veterans dreamer and doer award
Assisted in strategic communications for IVMF's AmericaServes programs
Traveled the country supporting the development and growth of various AmericaServes communities
Worked six events (Entrepreneurship Bootcamp for Veterans at Syracuse University 2017, V-WISE Louisville, V-WISE Pittsburgh, VetSource 2017, Veteran EDGE 2017, and IGNITE 2017)
Served on the Onward to Opportunity-Veteran Career Training Program (O2O-VCTP) team
These experiences cultivated a deeper understanding of philanthropy, engaged my sense of civic responsibility and connected my values and passions with my career aspirations.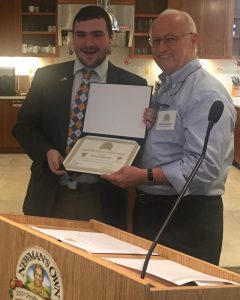 As I finish up and reflect on my time with the IVMF, it is clear to me that the most fulfilling part of this fellowship has been the relationships I have made with the team members here. I felt the compassion and drive to help veterans and military families every day and I plan to carry that compelling mission with me in the future. Seeing firsthand the way IVMF's programs help those in need makes me excited and even more passionate about implementing these programs into the mandatory transition processes.
I am excited to go forward and do my part to share the importance of IVMF's programs more broadly. I hope to utilize my experiences to reduce the stigma associated with asking for help, and in turn help more service members and their families. I will carry this experience with me as I return to the University of Alaska Fairbanks (UAF), to complete a Master's in Security and Disaster Management and eventually become a graduate teaching assistant for the UAF Homeland Security and Emergency Management Program. My ultimate goal of helping veterans and military families still proudly stands. It's been an honor and a privilege to be a part of a business that strives to help those who have served and I will strive to continue helping to the best of my ability.