Since 2011, IVMF has served over 100,000 veterans, military service members and their families. Their stories speak to the IVMF's dedication to delivering programs and services around the country, and the world that support those who given so much to our country.
Onward to Opportunity
Cody Brack
Cody Brack learned a great deal about computer networking and security as a cyber networks operator in the Marine Corps. He served as a site security officer managing physical and virtual access controls, configuring servers and maintaining switches and routers.
When Cody left the military after four years, he began evaluating jobs where he could leverage his IT experience. Looking to increase his focus on security, he decided to pursue the Certified Information Security Systems Professional certificate from the Onward to Opportunity (O2O) program.
"I was really motivated to get the (CISSP) after researching the possibilities it could open up, so that was what encouraged me to really commit to the program," Cody said.
Once Cody started O2O, he liked the way the program was structured and discovered many key insights about what to expect going into the corporate world.
Hire Heroes USA, an O2O partner, brought in a first sergeant who had transitioned two years earlier and described what to expect in the civilian sector and stressed the importance of keeping up military values such as showing up to work on time.
Cody appreciated the sergeant's guidance and the program's takeaways on researching employers and salary ranges for specific job titles to help prepare for interviews and negotiate salaries.
Cody is now putting his CISSP knowledge to use as an information systems security engineer for Booz Allen Hamilton, where he helps secure tactical networks for the Navy.
Chad Ewell
Once Chad Ewell decided it was time to transition out of the military he quickly became excited about the prospect of taking his career in a new direction. Still, the excitement didn't take away from the face that he was nervous to interview for the first time in 26 years.
As a personnel specialist in the Navy, Chad was responsible for taking care of many aspects of sailors' day-to-day lives, from pay to promotions and other administrative needs. When he learned that the Onward to Opportunity program offered the Professional in Human Resources (PHR) certificate, he thought it would be a great way to not only validate the HR experience he'd gained in the military but also learn how to describe his military roles in ways that private employers would understand.
"The military and the civilian world speak about the same things, but in slightly different languages," he said.
Chad found the PHR course material a helpful mix of familiar and new content, and found confidence through the program coordinators and mentors.
Chad began sending out resumes and interviewing with potential employers while he was in the midst of completing the O2O course, with the program advice on interviewing techniques and salary negotiation proving helpful.
The course material and Chad's hard work paid off and he landed a job as an HR business partner with Amazon in Baltimore.
Arsenal
Matt Butler
During downtime between deployments overseas in Iraq and Afghanistan supporting combat operations, Matt Butler conceptualized Rollors, a yard game that blended Bocce ball, horseshoes, and lawn bowling.
Upon returning to his native Minnesota, he developed a prototype in his garage that was an immediate hit at BBQs, parties, and other outdoor get-togethers. Around the time of the recession; Matt saw many local veterans out of work. As many had woodworking skills, he decided to hire local veterans to construct the wooden disks and wooden, cone-shaped targets used in the game in their home workshops.
After countless Rollors games were handcrafted, packaged and sold through Matt's website, church and craft fairs, he began distribution in brick and mortar retailers across America and outside of the United States. Today, Rollors is a unique, award-winning game revolutionizing beach and backyard fun across the globe.
To help get his idea off the ground, and then again to fuel the company's growth, Butler enrolled in two IVMF programs.
"I used the IVMF Boots to Business program prior to transitioning out of the Air Force. The program gave me valuable insights into programs that are available to veterans like getting accreditation from the SBA as a Service-Disabled Veteran-Owned Small Business"
"EBV's program allowed me to develop a better foundation for my company by giving my valuable education, resources and connections. I can definitely say that our company is now in a better position for success due to the program." 
David Sharpe
David Sharpe, a 6th generation veteran, was just 21 years old when two men in his unit in the Air Force security forces committed suicide. One of them had been recently married and had a one-year-old daughter. He found himself in a spiral of PTSD and survivor's guilt and couldn't find adequate treatment for either.
He would go out to bars and try to start fights with strangers. He started abusing alcohol and frequently fell into deep bouts of depression and questioned his faith in God.
One day, friend asked if he would go with him to a pit bull rescue. There were eight puppies, all rescued from a local dog fighting ring. One of them, a little five-month-old girl, paid him no attention. That was the one he adopted and named Cheyenne.
"I brought her home and immediately felt some type of different tranquility in my life. I just couldn't quite understand what it was," he said.
Still, Sharpe's symptoms continued. One day he finished of a bottle of Jack Daniels and went into his bedroom, removed his .45 pistol from his top drawer, put it in his mouth and began to cry looking at the wall. He started to squeeze the trigger. Cheyenne wouldn't let him.
"She started licking the tears off my face… I laughed – it distracted me. I took the pistol out of my mouth and laid it in my lap in my hand, and she flopped down on top of my hand," he said.
One month later, Sharpe found himself in the same spiral. This time, he shut and latched the door, ready commit suicide with the same pistol his father had used in ranger school. Cheyenne busted right through the door.
Twenty-two veterans commit suicide every day. One shelter dog is euthanized every eight seconds. Sharpe's mission became to pair the two together and allow them to save each other through Companions for Heroes, a service that connects veterans with shelter dogs and cats.
Companions for Heroes reimburses all of the adoption fees, offers free training classes, and provides a gift card for pet supplies. The veteran even gets to choose the pet – a choice Sharpe finds paramount.
"When you get out of the military, you're on your own. You're always used to being told what to do – you have orders. When you get out, you don't know how to order yourself sometimes."
Sharpe said the service dog allows veterans to develop positive interactions that build confidence and helps them feel more comfortable transitioning back into everyday life and find purpose after service, just like Cheyenne did for him.
To grow Companions for Heroes, Sharpe attended IVMF's Entrepreneurship Bootcamp for Veterans.
"The resources the organization provides and the people who work and support the organization all create a prolific, phenomenal experience that have helped me, and the company, reach the place we are today."
AmericaServes
Nathan Smith
Austin, TX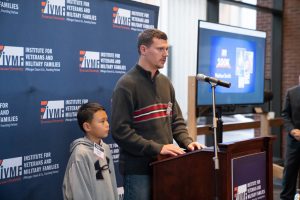 Nathan, a 90% disabled veteran of Operation Enduring Freedom and Operation Iraqi Freedom, contacted TXServes in July of 2018. Homeless and jobless, Nathan was struggling with his child's recent placement into sponsored care, all of which exacerbated his service-connected mental disability. Nathan reached out to the TXServes San Antonio team for expedited services to help him navigate the VA's intake and prescription services, temporary housing, and provided assistance in securing employment.
The TXServes- San Antonio team quickly located a temporary housing facility and helped Nathan secure employment with a local organization. However, such relief was short-lived. Nathan was soon homeless and jobless once again. He also lost his ability to coordinate support services from the VA for his disabilities.
He turned again to TXServes- San Antonio team and requested the same level of assistance he received the first time. The TXServes team connected him with housing, assistance navigating the VA health care system, and started an employment search.
With the assistance of multiple community partners and AmericaServes network of national resources, Nathan relocated to permanent housing Austin TX and is now employed at Dell Computer.
Sharod Wade
Washington DC
ServingTogether client (affiliate market)
Sharod, a veteran of the Virginia National Guard and father of four, contacted AmericaServes' affiliate ServingTogether in need of housing, employment, and food assistance. While Sharod had accepted a position in the D.C. area and was set to start work shortly, he and his family of six were living out of their car due to a series of post service-connected complications. The ServingTogether team worked with Sharod to move him and his family into an apartment and furnish his home with the essentials his four young children needed.
As Sharod was working with ServingTogether, he was involved in a multi-car accident. As the accident was due in part to a service-connected mental health issue, he found himself facing legal trouble and lacked the representation to communicate how his service-connected disability caused the accident.
Sharod reached out once again to the ServingTogether team and requested assistance. The national AmericaServes network was able to connect Sharod with the resources he needed to resolve his legal troubles with little financial impact.
Sharod now works in the D.C. mayor's office where he connects veteran and military-affiliated residents with entrepreneurial training courses and support opportunities.
Timothy Jones
Pittsburgh
Timothy Jones is a Navy veteran and survivor of military sexual trauma.  While stationed in Japan, he was raped by a Marine.  Timothy ultimately opted to report the assault as he feared his attacker would harm someone else. Word of what happened to him spread around the base and he soon found himself victimized by the taunts and hazing of his fellow service members. "I would walk into the chow hall and everyone would stop talking," he said. "The next 10 years were filled with drugs and alcohol because that was the only way I could cope with being raped."
In addition to becoming addicted to drugs and alcohol, Jones was also severely depressed, so much so that he considered suicide as a way to end his pain. Jones entered support programs offered by the Department of Veterans Affairs and participated in other veterans support groups in an attempt to emotionally heal from his ordeal. He eventually reached out to the PAServes team for assistance with navigating the employment landscape in Pennsylvania and to be connected with additional support services in the area.
Timothy has started and currently manages the Colorful Voiced training program, which educates and advocates for victims of sexual assault to better understand the stigmas associated with sexual assault.