Making the transition from the United States Army to the civilian sector was one of the more uncertain times I have experienced in my adult life. The military wasn't my first job, but it was my first profession after college graduation. It was an honor to serve with my fellow soldiers and carry on the family tradition, even if I didn't plan to stay until retirement.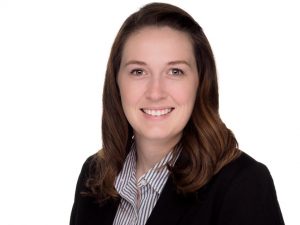 In 2018, a few years after I pinned Captain and started a family, I made the difficult decision to separate and apply for civilian healthcare positions. I was confident in my decision, but I had no idea where to start.  Although I had already completed my master's degree, I still wanted to ensure that my resume would stand out to a new employer. I attended a presentation for Onward to Opportunity (O2O) during my mandatory transition courses and knew it would be an excellent opportunity to gain some experience before my transition. The O2O program gave me the tools to study for a certificate in Project Management, and even sit for the exam without spending a dime.
What I didn't know going into the PMP program was just how fond I would be of Cliff Yager and Karen Douglas – the Onward to Opportunity team at Fort Campbell. They are passionate about preparing military members for the next phase of their career, and it shows in their students' success. I was given the opportunity to tour multiple businesses in town, attend networking events, and meet several guest speakers from various industries. I made friends with peers in my cohort that were experiencing the same transition process, and the shared comradery somehow made everything much less daunting.
During the program, Cliff connected me with Brian Johnson, an AVP with HCA Healthcare, and eventually I accepted a position in Clinical Informatics.  I was able to apply the skills and initiative that I developed during my military time to my new role as a Data Analyst.  By combining my past experience with my newly acquired project management training, I was able to be even more marketable to civilian employers.  I owe my successful transition and continued success to the O2O program and the mentorship I received from Cliff and Karen throughout the program.  A saying that we use often in my new company is that "Good People Beget Good People" and I absolutely believe it.  The training was excellent, but the people are what make it a program you shouldn't pass up!
Jacqueline Kell
Captain, U.S. Army – Medical Service Officer
Onward to Opportunity Graduate, Project Management Professional (PMP)
Fort Campbell, KY
Accepted a job offer with HCA Healthcare as a Data Analyst in Nashville, TN. Also received multiple competitive job offers from local Nashville healthcare companies!