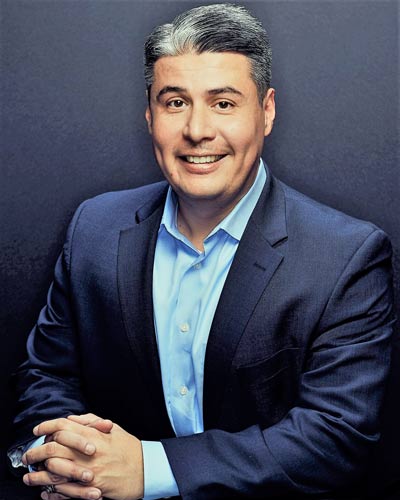 My time in the United States Marine Corps taught me so many things that it was difficult for me to even take stock of all the experiences. Military service was all a culture shock, to say the least. Over time I have been able to unpack all the memories and lessons.
I grew up along the southern border of the United States in a tiny south Texas town called Carrizo Springs. This poor, close-knit, Mexican American community — while proud — offered few opportunities for personal growth. I knew I wanted something more. I joined the Marine Corps.
After serving in Operation Enduring Freedom and Operation Iraqi Freedom, I returned home to Texas where I continued a life of service. I became a San Antonio Police Officer. My most notable police work was with the celebrated Mental Health Unit. There I used my story to connect with people. After all, I have a mental illness. That's right, I am diagnosed with PTSD. Helping people suffering from mental illness inspired me to do more. I became the first in my family to graduate from college earning both a B.A. and an M.S. from the University of Texas at San Antonio. I continued growing and sustaining the Mental Health Unit which later became a policing national model for the Department of Justice.
My business partner Joe Smarro and I eventually founded SolutionPoint+, a mental health justice reform consulting and training firm. Our company has trained hundreds of law enforcement officers, teaching them how to de-escalate and communicate with people suffering from mental illness. Moreover, the organization has helped many officers and veterans learn about mental wellness and resiliency. September is Suicide Prevention Month. The subject of suicide is at the heart and purpose of my life's work. Suicide awareness and prevention are among our nation's largest social issues, especially in veteran and first-responder populations.
In 2018, I was blessed to be accepted into the IVMF's Entrepreneurship Bootcamp for Veterans at Syracuse University. There my business pitch won the Captain Melvin T. Smith Pioneer Award. EBV has led to so many opportunities for SolutionPoint+ and the company is now set to scale. Trust me when I say EBV is life-altering.
Being Mexican American, I am proud to celebrate Hispanic Heritage Month. I am deeply proud of my Hispanic heritage and culture. I try to live my life in such a way that my family, friends, and community would be proud of.
So, what has the Marine Corps, IVMF, and serving others taught me? I have learned that no matter where you come from, you can do positive things in the world and provide for your family. All you have to do is believe in yourself, stay true to your values, and ensure that relationships matter to you more than profits. The profits will come. Without the IVMF, I may not have fully grasped the concept of social entrepreneurship and why pursing it was worth all the risk. For that, I will be forever grateful.