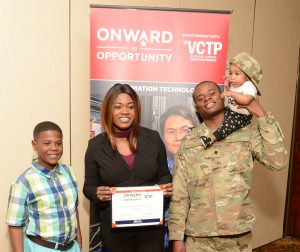 Syracuse University is marking Veterans Day with the announcement of $7.5 million in new funding to advance the Institute of Veterans and Military Families' (IVMF) work supporting veterans and military families in the face of the global pandemic. The new funding includes a $4.5 million signature partnership with Boeing, as well as an additional $3 million in renewed support from several longtime IVMF strategic partners.
The new funding from Boeing, the world's largest aerospace company and leading manufacturer of commercial airplanes, defense, space and security systems, will create a new workforce training, recruitment and placement program component within the IVMF's Onward to Opportunity program. The signature program will offer certification and training courses focused on the aerospace and defense industry, complemented by networking and employment opportunities for qualified transitioning service members, veterans and military spouses.
"At Boeing, we are committed to supporting members of the military, veterans and their families," said Boeing President and CEO David Calhoun. "Our commitment to veteran communities is especially important as we navigate the challenges of a global pandemic. Now, more than ever, it is imperative that we partner with leading veterans' organizations to bring the necessary workforce transition services and recovery and rehabilitation programs – with an emphasis on mental health – to our veteran communities and their families."
To date, Onward to Opportunity has impacted more than 50,000 transitioning service members, veterans and military spouses with training and certifications in in-demand civilian career industries.
"Boeing has a strong and storied history of supporting veterans during and after their time of service," said Boeing's director of Veterans Outreach Jason Pak. "Through our new, industry-leading workforce training program, we will help thousands of veterans and military spouses' transition into better jobs which in turn creates better opportunities for them, their families, Boeing and the entire aerospace industry."
"Syracuse University is grateful for this distinguished recognition of our dedication to veterans and their families," said Kent Syverud, Chancellor of Syracuse University. "Our strategic partners enable us to continue supporting and developing critical programs and services. They ensure we can deliver on our promise to serving those who have served, their families and those who will follow them in service to our country."
Vice Chancellor Mike Haynie said, "We are thrilled to partner with Boeing to establish the first aerospace industry learning pathway in our Onward to Opportunity program. The expansion of our curriculum and training will allow us to train even more transitioning service members, veterans and their families who are seeking employment in a high-tech career field expected to grow by 6% in the next few years."
Among the strategic partners committing to renewed support include USAA, Lockheed Martin, Bank of America, Cisco, the Heinz Endowments and Wounded Warrior Project. In addition to O2O, these new funds will also enhance and expand program delivery in the IVMF's community-based services and entrepreneurship portfolios.
"We are grateful to work alongside our long-time partners and our new supporters like Boeing, to train our workforce as we navigate a dynamic labor market and adapt to the ever-changing 'future of work'" said Maureen Casey, IVMF's Chief Operating Officer. "We continue to see an increased need among our military families as they transition back into the civilian world, or as veteran-owned businesses upskill or pivot as a result of shifting economic situations. This support will help to impact so many more lives – those lives that were put on hold while volunteering to serve our country."