My hero and role model happens to be my dad, Mel Rubenstein. He is a Syracuse University alum from the class of 1953. At that time, the draft was in effect, and he decided if he had to serve, he wanted to do it as an officer. He proceeded to join ROTC (Reserve Officer Training Course). After basic training at Fort Bragg, he received his commission. He and my mother (Syracuse University sweethearts) were sent to Fort Knox where they were set up in housing right on post.
Mel began as leader of the 2nd Platoon, Company C of the 8th Medium Tank of the 34th Armored division. He was also the Safety Officer of the firing range and then became defense council for courts martial trials, Officer of the Guard, and personnel officer of the battalion. He was always a natural leader which served him well when he took over the family business, Rochester Shoe Stores, after he returned from service. During their time in Fort Knox, my mother worked for a civilian company on post that produced training manuals. She was an artist and drew by hand several complicated pieces of equipment for the manuals.
Mel served 2 years of active duty and was then attached to the Vermont National Guard where he received a letter of commendation from the Governor of Vermont. My dad continues to be passionate about those who serve our country and community.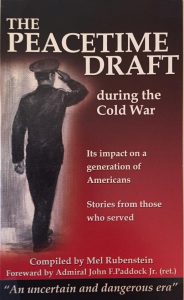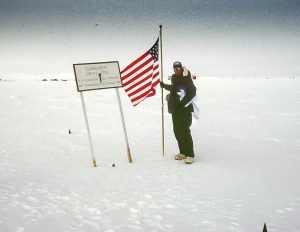 His passion motivated him to write a book called Peacetime Draft. The book is a compilation of stories from 19 Syracuse-area veterans who served during the Cold War between Korea and Vietnam. They each have their own chapter in the book, and their stories are in their own words. He and my mother have done several book talks throughout Onondaga county.
My family's military connection does not end there. My husband Mike Nellis spent just under 24 years in the Navy, obtaining the rank of Chief Petty Officer (E7).  His time with the Navy started in boot camp at Naval Station Great Lakes, IL in 1977, and ended with the last 3 years as a lead Navy instructor for the advanced Interior Communications technical schools, also in Great Lakes, IL.
Mike's general specialties were as an electronic combat systems technician specializing in broadcast television systems. He led a team of technicians maintaining radar systems, navigational systems, air traffic control systems, and shipboard interior communications systems, including various television systems. Mike has now worked for 20 years at the Syracuse News Channel 9 station as the Operations Manager, putting his Navy experience to good use.
A few of Mike's highlights in the Navy include:
USS Forrestal CV-59, making four deployments in support of various DOD freedom of the seas assignments.
Navy annex, Washington DC.  Rating assignment detailer.
1986/1987 winter-over crew, Operation Deep Freeze, McMurdo Station Antarctica.
Chief Engineer Navy Broadcasting detachment Harold E Holt Australia.
Chief Engineer, Navy Broadcasting Detachment Adak, Alaska.
Radar Division leading Chief, USS Constellation CV-64, Operation Southern Watch
Lead Instructor Advanced IC "C" schools, Great Lakes IL.
Mike experienced the coldest and darkest winters on earth, reaching the South Pole on Dec 27, 1986, to one of the hottest landscapes in the outback of Australia.
My dad and husband were both thrilled and proud when I began my career at the IVMF, taking my turn to serve those who have served.