This blog post is from 2020 but we are reposting it for its timeless nature and authentic insight into one of our staff members visiting Pearl Harbor.
---
by Vanessa Marquette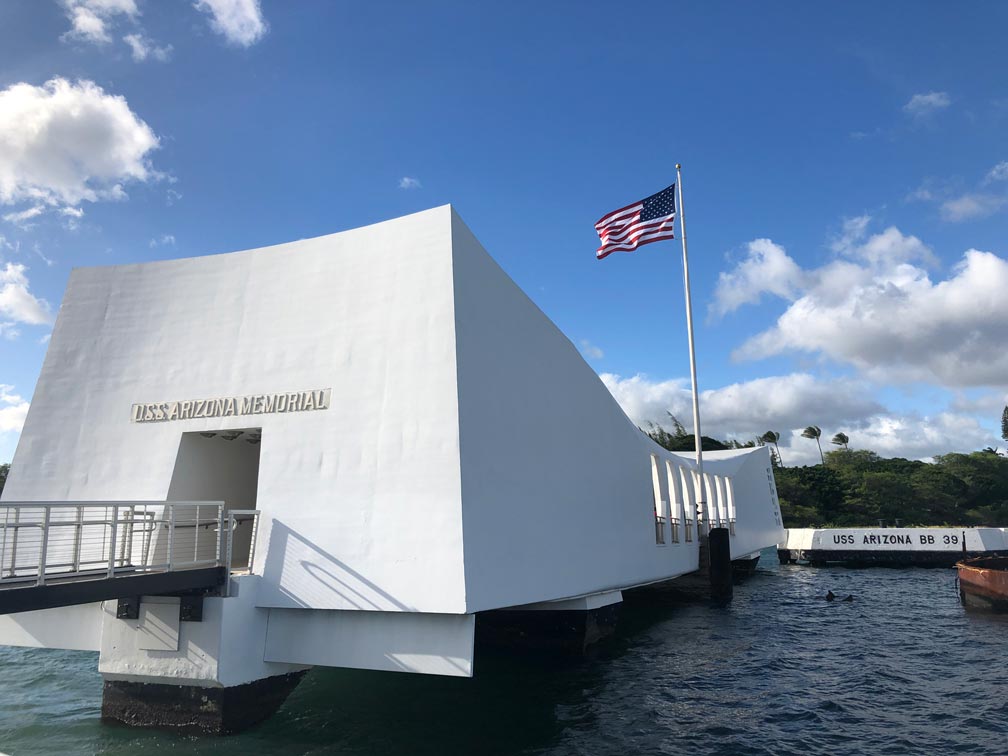 Growing up in a family where many have served in the Air Force, Army, and Navy, military history is something that intrigues me. Last year, prior to the COVID-19 pandemic arriving in the United States, my husband Ryan (who serves in the Army National Guard) and I visited the islands of Kauai and Oahu in Hawaii. My brother-in-law currently serves active-duty in the Army and was stationed at Joint Base Pearl Harbor-Hickam at the time, so he brought us around the base to show us all the history – including the USS Arizona Memorial. I visited the USS Arizona Memorial back in 2001 (prior to 9/11) when my parents, both retired U.S. Air Force veterans, brought me there and I remember how moving it was; however, seeing it 18 years later had a whole new meaning for me.
The USS Arizona Memorial is located on the water between Ford Island and Pearl Harbor, so you have to take a tour boat out to visit. The memorial is located directly above the sunken USS Arizona (BB-39) battleship, which was bombed by the Japanese Naval Forces on December 7, 1941. The memorial honors the 1,177 sailors and Marines who were killed on that tragic day. According to NBC News, over 900 crewmen were never recovered and remain in their final resting place on the ship.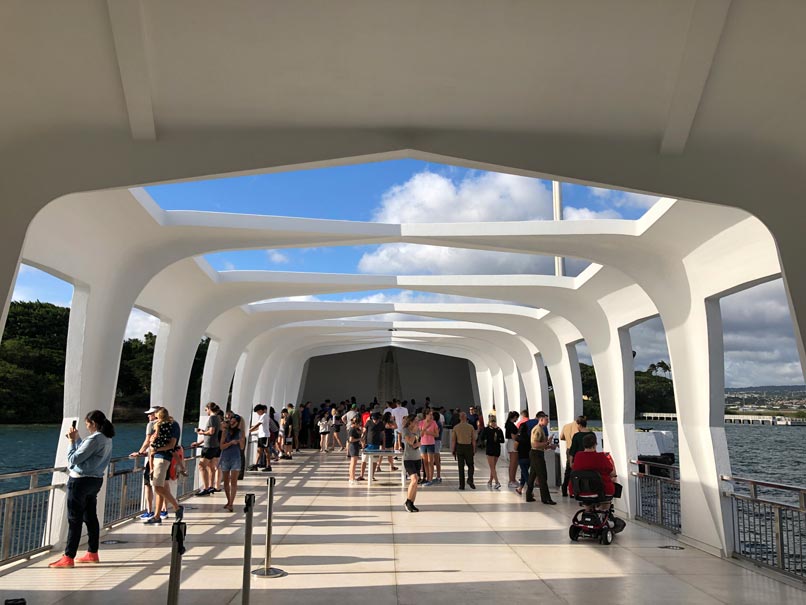 When you walk onto the memorial, you have the ship on either side of you in the water. There are also areas inside where you can look down and see the ship below you. Depending on the day and where you look, you may be able to catch a glimpse of oil still coming up from the ship – hard to believe that can still happen 79 years after the attack.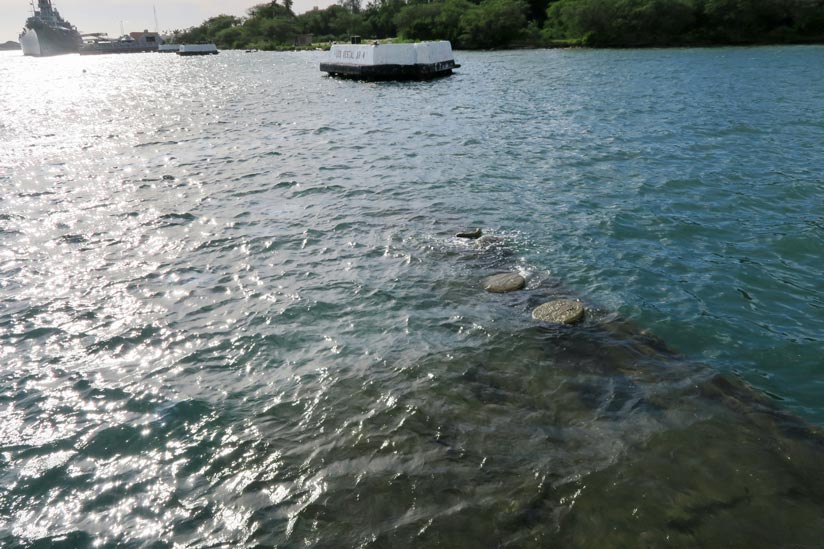 The photo to the left shows the USS Arizona under the water with the USS Vestal (AR-4) memorial closely in the background. The USS Vestal was commissioned from 1913-1946 and was damaged during the attack on Pearl Harbor but went on to serve in WWII. She received two battle stars for her service.
At the back of the USS Arizona Memorial, you'll find the wall honoring those who died during the Pearl Harbor attacks. The wall reads "To the memory of the gallant men here entombed and their shipmates who gave their lives in action on December 7, 1941 on the U.S.S. Arizona". Seeing these names I couldn't help but think about my two grandfathers Army veteran Steve Slachta and Navy veteran Abram Van Vechten and  — and my great uncle, U.S. Army 1st Sgt. Kenneth Thayer, who served in WWII and went on to fight for these men and our entire country after the Pearl Harbor attacks. My uncle Kenny was stationed overseas for approximately four years during WWII. While their service did not go without sacrifice, it's an honor to have family members part of the "Greatest Generation" of veterans. What is even better are my family members, inspired by their service, who went on to serve after them.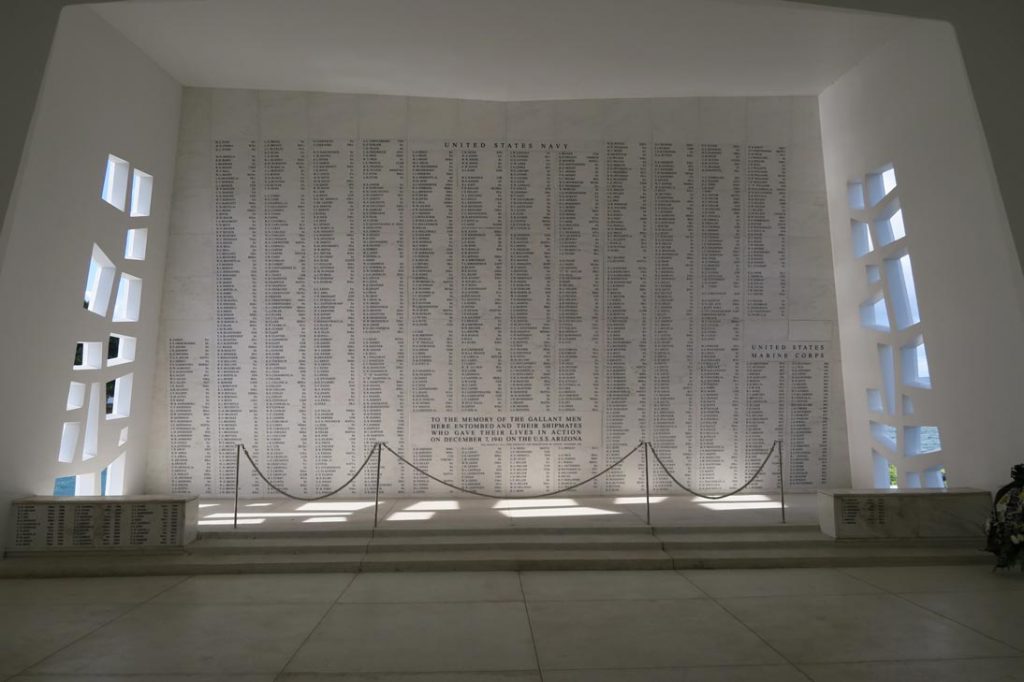 It's important to know the USS Arizona Memorial is one of four Pearl Harbor historic sites in Honolulu. The others include USS Bowfin Submarine Museum & Park, Battleship Missouri Memorial and Pearl Harbor Aviation Museum.
There are a lot of places on Joint Base Pearl Harbor-Hickam that tell the story of the Japanese attacks on Pearl Harbor. One that stood out to me was Hangar 79 on Ford Island – now known as the Pearl Harbor Aviation Museum. The museum itself has a lot of aviation history, but just as interesting is what is on the outside. You can still see bullet holes, broken windows, and other damage from December 7, 1941.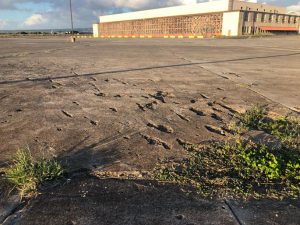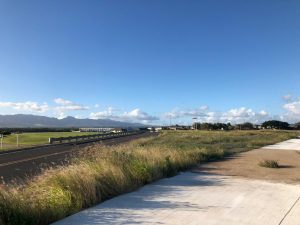 Another place to visit is the Ford Island Historical Trail. Pretty much anywhere you go around or on this trail you can see more damage that has left a permanent mark on some parts of Pearl Harbor. Learn more about the history of Ford Island.
"December 7, 1941 a date which will live in infamy the United States of America was suddenly and deliberately attacked by naval and air forces of the Empire of Japan," President Franklin D. Roosevelt said in his speech on December 8, 1941 – one of the most historic speeches of all time. Seventy-nine years later, this statement still holds true, but we add the horrifying events that occurred on 9/11 and now the catastrophic pandemic that is currently hitting our country and across the globe. All of these events remind us of the men and women who served or are serving in selflessly in defense of our nation.
While I have not served in the military myself, but as a military spouse and child, it is an honor to work at the IVMF and OVMA to give back to those veterans, service members, and military families who give so much – most of the time without expecting any acknowledgment for doing so. I am beyond thankful for our ancestors, including my own, who paved the way for families to become part of the military – reminding each family member to be resilient and understanding the daily sacrifices being made for our freedom. Please take a moment today to honor and remember those who lost their lives on this day in 1941, and never forget the loved ones they leave behind. If you ever get the chance, visit Pearl Harbor to see all of these historic sites – you won't regret it.