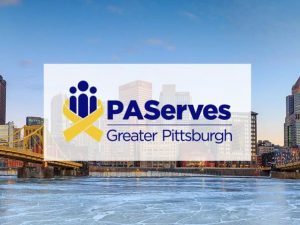 PAServes – one of seventeen AmericaServes networks – recently celebrated its 5-year anniversary in November, 2020. PAServes has over 17,000 service requests from over 5,600 clients and veterans and their families in the community are served by a coordinated network of more than 60 service providers. An indication of the strong local commitment to supporting the network, the IVMF is pleased to announce two commitments to continue local ownership of the network. The Heinz Endowments which concentrates on advancing a sustainable future for the community and the other from the DSF Charitable Foundation that promotes excellence in health, human services, and education have delivered a two-year commitment of $700,000 to support the PAServes network and its new coordination center lead, the Veterans Leadership Program (VLP). The national AmericaServes model is designed to facilitate cohesive community support of veterans to create a lasting and sustainable impact for military communities. VLP will focus on continuing the network's impressive level of performance and these two commitments go a long way in securing long-term, sustainable local sources of funding.
"We're honored to support the groundbreaking work that PAServes has done in the southwestern Pennsylvania region over the past five years in connecting over 5,600 servicemembers and their families to nearly 17,000 resources," said Megan Andros, Senior Program Officer, Veterans and Military Families for The Heinz Endowments. "Through partnerships with DSF Foundation, Pittsburgh Mercy, our 60+ providers, and convener, strategic partner, and evaluator IVMF, the data clearly shows that PA Serves has led to better outcomes for our region's veterans."
"The challenges – and opportunities – facing Southwestern Pennsylvania's veterans are not unlike those found in other regions around the United States, and we're inspired by what PAServes' success tells us about what is possible when the navigation of resources is addressed by both a trusting, unified network and data-intensive technology," said Ms. Andros. "We're excited to welcome Veterans Leadership Program as PAServes' new home as the program enters its sixth year, and to continuing and expanding on the groundbreaking accomplishments of this first half-decade of helping veterans and their families realize their full potential."
PAServes has become a national example of how a coordination center can properly support a community when backed by the powerful resources of generous philanthropy and IVMF's expertise in data and insights. These two additional grants bring the total count to over $2.5 million for PAServes. A testament to the strength, ingenuity, and overall resourcefulness that AmericaServes encompasses as an organization and the dedication PAServes has in supporting the military community.
"Here in southwestern Pennsylvania through PAServes, and across the nation through other AmericaServes initiatives, the IVMF is meeting critically important needs by facilitating the navigation of services and the integration of their delivery. Serving veterans and military families is a high priority of the DSF Charitable Foundation, so we are pleased to be one of the philanthropic partners supporting PAServes over its five years of achievement," said Nick Beldecos, Executive Director, DSF Charitable Foundation.
In addition, the IVMF has an integrated, collective effort in the Pittsburgh market as it works alongside the community to deliver not only this network of care but also expertise in career training through its Onward to Opportunity program for veterans, Guard, Reserves and spouses in the area, entrepreneurship training events for women veterans and spouses, as well as an active employer coalition comprised of more than 60 Pittsburgh businesses all working together to successfully enhance the lives of veterans and their families.