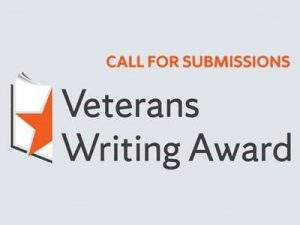 Syracuse University Press, in cooperation with the Institute for Veterans and Military Families (IVMF), is now accepting entries for its 2nd Veterans Writing Award. All entries must be submitted between Dec. 15, 2020, and Feb. 15, 2021, via mail or email. The Veterans Writing Award was established to serve the interests of veterans and their family members, who are invited to submit unpublished, full-length novels or short story collections in manuscript form for consideration.
The contest is open to U.S. veterans and active-duty personnel in any branch of the U.S. military and their immediate family members, including spouses, domestic partners and children. Women veteran writers and veterans of color are encouraged to submit. Although work submitted for the contest need not be about direct military experience, SU Press seeks original voices and fresh perspectives that will expand and challenge readers' understanding of the lives of veterans and their families.
Finalists will be read by National Book Award-winning author and veteran of the United States Marine Corps Phil Klay, and the winning entry will be announced in October 2021. The award includes a $1,000 cash prize and a publication contract with Syracuse University Press. Manuscripts of high merit not selected for the final award may receive honorable mention. Current faculty and staff of Syracuse University are not eligible to enter the contest.
The winner of the first Veterans Writing Award in 2019 was Dewaine Farria for his novel "Revolutions of All Colors." The book recently received recognition as one of Shelf Awareness's Best Books of 2020, the only university press book to receive the honor this year.
Members of the Veterans Writing Award Advisory Board include:
Kyle Bass, Department of Drama instructor, associate director of Syracuse Stage, playwright
Christopher Kennedy, Department of English professor and director of the M.F.A. in creative writing program
Eileen Schell, professor of writing and rhetoric, director of graduate studies and co-leader of the Syracuse Veterans' Writing Group
Daniel Piston, program evaluation manager, IVMF
Kicia Sears, program evaluation manager, IVMF
Suzanne Guiod, director, Bucknell University Press
Lisa Kuerbis, marketing coordinator, Syracuse University Press
For questions or more information, contact Lisa Kuerbis via email at lkuerbis@syr.edu.