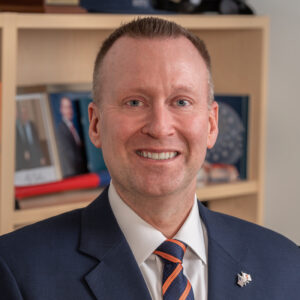 IVMF Director and Syracuse University Vice-Chancellor, Dr. Mike Haynie, recently wrote about the veteran suicide epidemic and how the National Guard suffers the highest rates at 30.6 suicides per 100,000 members. You can read the full article below. 
"I can't continue to hear the 21 shots and watch grown men crying like they are five years old."

That's what Lauren Schellin, a member of the Wisconsin Army National Guard who is also married to a National Guard soldier, wrote to me from Richfield, Wisconsin. Her National Guard unit lost its first soldier to suicide in October 2020. By itself, that loss was hard, but her rural Wisconsin community grew more concerned when in November, another soldier took his own life.

Then just a few weeks later, in December, the unthinkable. It happened again. A third soldier from Schellin's unit committed suicide.

Schellin said that at this point, "everyone is completely shocked, overwhelmed, genuinely concerned and angry … everyone is holding their breath like we are playing some sick twisted game of who's going to be next?"

They did not have to wait long to find out.

On Jan. 19, 2021, a fourth member of this Wisconsin Army Guard took his life. He was just 21 years old. "He was our friend … he was supposed to be at our house next weekend," Schellin said.

I have never met Schellin in person. However, as a veteran and a veteran advocate, I know far too many families like Schellin's — families traumatized by the epidemic of suicide among service members and veterans. The National Guard has been hit the hardest. National Guard members take their lives at a rate of 30.6 suicides per 100,000 members, higher than both veterans and active-duty service members.

Schellin reached out to me on Jan. 23 as she was preparing to attend another funeral. She found a TED Talk I gave several years ago called "The Moral Obligation to Know Our Veterans." In that talk, I implored all people to go beyond public gestures and instead make a meaningful investment toward truly knowing our veterans and military families.

The talk resonated with Schellin because she is, like me and so many others who have worn the county's uniform, dismayed that too often military service has the effect of socially isolating those who serve — from their families, friends, and communities. Sometimes that isolation comes at a traumatic cost.

Schellin gave me permission to tell this story. In fact, she asked me to make you feel uncomfortable.

Too many inside and outside of government believe, wrongly, that this "problem" is solely the domain of the Department of Veteran Affairs. While the VA can certainly do more, so must the rest of government. The departments of Defense, Labor, Health and Human Services, Housing and Urban Development, and many more federal and state agencies have tools and resources that can and should be directed toward addressing military-connected suicide. Meaningful progress will require an enduring commitment from the highest levels of political leadership — and it will require politicians to leave partisanship at the door.

Importantly, the public sector cannot and should not go it alone.

If we are to address veteran suicide, we also need to expand our interventions beyond mental health. As service members transition from military to civilian life, they must be able to reliably access job training, employment services, stable housing, food security, and financial stability. A 2019 study found that the inability to access these things increased the likelihood of suicidal ideation by 64% among veterans.

Community organizations and state-level social service providers are best positioned to address these needs, and Congress did act to create a mechanism to enable robust community-based service delivery. Specifically, the Hannon Act makes it possible for the federal government to fund community organizations to provide care-coordination services. Without access to care-coordination services, too many veterans fall through the cracks.

Finally, government cannot go at it alone. Of the 17 veterans who take their lives every day, 11 are not in VA care. But they are living and working and raising families in your community. If we are to prevent veteran suicide, we must all become engaged in the effort.

This is an urgent challenge. America must no longer tolerate military suicide, and the public must no longer tolerate any elected leader unwilling to do everything in their power to ensure Schellin does not have to endure another funeral for a military friend or family member whose death came by their own hand.

In the aftermath of "Garage-Gate" — the disrespect experienced by members of the National Guard assigned to protect the Capitol Building when they were unceremoniously dispatched to a D.C. parking garage — members of Congress, governors, and others are now dueling on Twitter to win the title of "who respects our troops more."

But what our men and women in uniform really want in this moment is your commitment to changed behavior on the issues that truly matter. So, on behalf of Schellin and the countless families affected by military suicide, I respectfully suggest that the best and only response that any politician should be permitted to offer to any service member for Garage-Gate is a public commitment to support a relentless, bipartisan, whole-of-government campaign to address the scourge of veteran and military suicide.

By a show of hands, who is in?