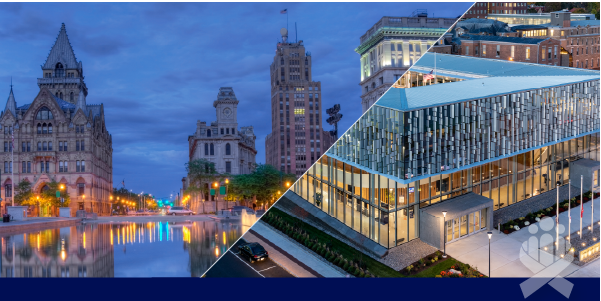 On Wednesday, June 23, AmericaServes, a national initiative of Syracuse University's Institute for Veterans and Military Families (IVMF), will launch in Syracuse. Working collaboratively with the City of Syracuse, the network will connect veterans and their families to local community providers to ensure care, resources and services are easily and successfully navigable. The overall goal is to maximize collaboration and enhance efficiency for the regional network of providers. The Coordination Center will be headquartered in the Daniel and Gayle D'Aniello Building at the National Veterans Resource Center.
The Syracuse network will use lessons from AmericaServes' 17 other communities, including Rochester, New York; Dallas; Seattle; Charlotte, North Carolina; Pittsburgh; New York City; and Washington, D.C. Some services include help with VA benefits, employment assistance, education, transportation, mental/behavioral health resources and housing.
IVMF's research indicates that navigating services is the biggest challenge in transition—rating higher than finding employment, adjusting to civilian culture and overcoming financial challenges.
In addition, military families grapple with systemic challenges of equity and accessibility, as post 9/11 veterans are more likely than previous generations to be persons of color and to have disabilities resulting from their military service. Often, disparate organizations must work together in a community to support veteran families, which leads to challenges collaborating and sharing information efficiently. This creates a confounding process that does not meet a family's needs.