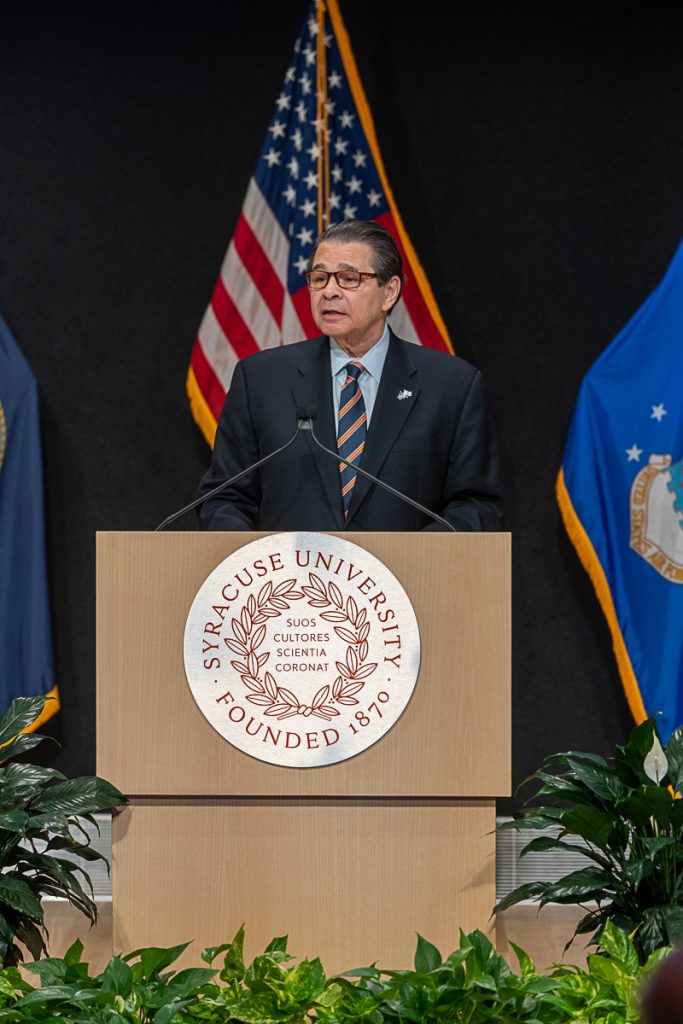 This week the Syracuse University community came together to dedicate and formally open the National Veterans Resource Center (NVRC) at the Daniel and Gayle D'Aniello Building, and to celebrate the 10-year anniversary of the Institute for Veterans and Military Families (IVMF). At the dedication event, U.S. Navy veteran and Life Trustee Daniel D'Aniello '68, H'20 and his wife, Gayle, announced a $30 million gift to secure the future and long-term success of the IVMF. The gift, which builds on the D'Aniello family's $20 million gift in 2018 to help construct the NVRC, will support the creation of an endowment to provide annual operational support for the IVMF, ensuring it remains the nation's leading academic institute focused on the concerns of America's more than 20 million veterans and their families.
"Dan's love for Syracuse University goes beyond alumni loyalty or the responsibility as a trustee," says Chancellor Kent Syverud. "The D'Aniellos are invested in our vision for serving veterans and military-connected families. It is impossible to measure the ripple effect that his leadership and support have had on our community. Thanks to the D'Aniellos, Syracuse University's commitment to veterans will continue to grow, to aspire to new and better programs, and to make a tangible difference to those who have served our nation."
Founded in 2011, over the past 10 years the IVMF has grown to become one of the most influential centers of thought leadership, research and programming focused on the nation's veterans and military families. The IVMF designs and delivers programs—at no cost to veterans, military-connected individuals and families—focused on vocational skills training, career preparation and business ownership, while also conducting actionable research, policy analysis and advocacy. With the support of public- and private-sector partners, the IVMF also works in communities across the U.S., supporting efforts to help veterans and their families navigate the transition from military to civilian life.
The D'Aniello family's commitment to service is at the heart of the decision to extend support of IVMF, the NVRC and other veterans-focused initiatives at Syracuse University.
"The IVMF is doing the kind of groundbreaking work that is vital to understanding and breaking down the barriers facing veterans and their families as they transition from military service to civilian life," says D'Aniello. "The institute's innovative programs and services provide veterans an opportunity to find a meaningful career or launch their own business. In turn, our nation's veterans and their families contribute to their communities and serve their country in new and profound ways. Gayle and I are honored to support this work that is taking place at the University that means so much to us."
Read The Full Story About The Transformative Gift