The IVMF stays in communication with all its alumni including the Veteran Program for Politics and Civic Engagement alumni. The program is not a theoretical one and seeing real results in our alumni is why the IVMF creates these programs to help the military community. Below are a few of the election results from several of our VPPCE alumni.
---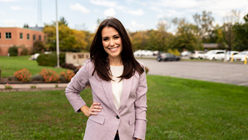 Share Klee-Hood
Election: DeWitt Town Board Member (won)
Presently, Sarah works in non-profit management within the economic development and technology start-up sector. Prior to this current role, Sarah was a program manager for an international tech company.
While in the Air Force, Sarah served as an airfield operations officer (13M3, Captain). She led a team of 140 members across four diverse aviation agencies, managed a $25M annual operations budget, and supported assets valued over $15B. Sarah's ability to bring together competing interests led to federal policy implementations that currently serve as the national models. During her tenure, Sarah earned the stratifications of #4 in the Wing and #1 in the Squadron among her peers.
As a member of the Truman National Security Project, Sarah supports the development and delivery of national policy to national figureheads, as it relates to national security. As a member of the National Transportation Review Board, she reviews research and white papers as they relate to transportation.
Sarah is actively engaged in her community, serving as a board member for a local HUD-managed non-profit agency and serving as a member of the DeWitt Police Commission.
She received her B.S. and U.S. Air Force Commission (AFROTC) through Arizona State University and her M.B.A. through Syracuse University.
_________________________________________________________________________________________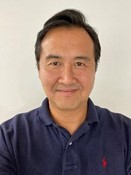 Jonathan Sym
Election: New Jersey State Assembly – District 27 (lost)
Jonathan Sym is a Commander in the U.S. Navy Reserve and currently in his 23rd year of service. In 2018, he was deployed as the Chief of Staff to the Joint Special Operations HQ- North and West Africa. This was his third overseas deployment. Currently he is the Senior Logistics Officer for the Navy Expeditionary Combat Command in Little Creek, VA.
He began his professional career at Merrill Lynch and Company in Boston. He resigned five years later to start his own investment banking firm that he ran for eight years. He closed his financial services business due to military deployments after 9/11. Upon his return in 2006, he began developing biometric software algorithms for iris recognition and was awarded six U.S. and international patents. This launched his venture into the biometrics industry until his next deployment in 2017. Currently he the principal at Auberge Media, LLC, a company that publishes daily news in 11 municipalities in New Jersey.
Jonathan graduated from Boston University with a degree in Economics and Finance. In 1999, he began full-time graduate studies in education at Harvard University as well as receiving a teaching assistantship in the Faculty of Arts and Sciences. He has completed graduate programs at the Darden school of Business (University of Virginia) and is a graduate of the Veterans Program For Politics and Civic Engagement from the Maxwell School of Citizenship and Public Affairs (Syracuse University).
In 2021 shortly after completing the Veterans Program, Jonathan became the Republican candidate for New Jersey State Assembly (Legislative District 27). He garnered unanimous nominations from two New Jersey Republican County Conventions. Running as a first-time candidate, he received endorsements from several municipal mayors, incumbent NJ State Senators, members of the NJ Assembly, two political action committees and three county commissioners. Among his supporters, he also endorsements from regional political radio and news personalities, organizations that support term limits, health freedom, U.S. Constitution advocacy groups and all the NJ Republican municipal committees in his district. Unfortunately, he was defeated by the Democratic incumbents who had held their offices for 20 years.
He is married to the former Agnes Hetty Lee, an attorney with a large financial services firm. He has a son, Tristan, and a daughter, Loveday. The Sym Family resides in Short Hills, NJ.
______________________________________________________________________________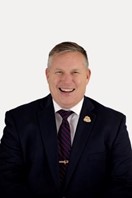 Lou Luba
Election: Town Council Member – Tolland, CT (Won)
Luba Jr., Louis Biography: Tolland, CT – CDR, USCG (ret) – Lou is a Senior Assistant State's Attorney for the State of Connecticut, with 26 years' experience as a state prosecutor. He is a retired Commander from the U.S. Coast Guard (1996 – 2016), with three overseas deployments. He has served as Executive Officer – Port Security Unit 301/MARSECDET GTMO (JTF Guantanamo Bay), USCG Liaison Officer to the Navy Expeditionary Combat Command (NECC), Coastal Warfare Subject Liaison Officer / Subject Matter Expert to Commander, Task Force 56 – Bahrain (CTF 56), and Assistant Operation Officer/Senior Watch Officer to Naval Coastal Warfare Squadron 21 (NCWRON 21)/Commander, Task Group 56.5 – Kuwait (CTG 56.5). His political experience includes being a member of the Tolland Republican Town Committee; Town Council member and Justice of the Peace for the Town of Tolland, CT; campaign manager for Dan Postemski (2018 Congressional candidate, CT 2nd); and campaign assistant for Tom O'Malley (2016 Congressional candidate, MA 9th). Lou is running for re-election for his second term as Tolland Town Council member. He holds a B.S. in Criminal Justice from the RIT, JD/MPA from Syracuse University, and a M.A. in Homeland Security from the American Military University. He is married with one son (SU, CAS '21) and two stepdaughters. He is originally from Buffalo, NY, and is a die-hard Buffalo Bills fan. THIS IS THE YEAR!
_________________________________________________________________________________________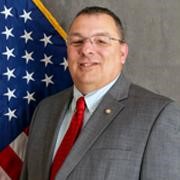 Rodney McCubbins
Election – Fairborn City Council (won)
Rodney C. McCubbins is from Fairborn,Ohio, a suburb of Dayton Ohio and home to WrightPatterson AFB.  McCubbins was born and raised here and returned after retiring from a wonderful and successful 26-year career in the U.S. Air Force. He began his career as an F-15 Crewchief and cross-trained into Pharmacy where he was blessed to earn promotion to Senior Master Sergeant. He currently works at the Dayton Veteran Affairs Medical Center where he is blessed to continue to serve this great nation and its hero's. After spending his entire adult life as a member of the Military he found his transition to civilian life missing something and answered his community's call and was selected to serve on the Neighborhood Betterment Committee. After 4 years in this role he was appointed to the Planning Board and currently is  serving as the Deputy Chair. The most rewarding experience came when he participated in the Citizen Police Academy. In 2017 he participated City of Fairborn inaugural Citizen Leadership Institute. McCubbins was approached by 2 members of City Council and asked if he would consider a run for an elected office thus beginning his quest in political office. He's married to his wife Stacey of 24 years and has three children: Brandy 32, Brayden 16, and Avery 14 and two grandson's age 9 and 1.
_________________________________________________________________________________________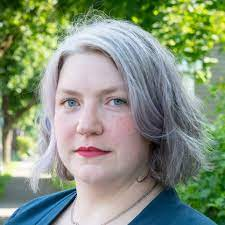 Tara Gaston
Election – Saratoga Springs Supervisor – County of Saratoga (Won)
Tara N. Gaston is an attorney and advocate (they are different!) in upstate New York. She grew up in Alabama the daughter of a police officer and a nurse, in a family with a long military history. Much to her family's chagrin, she grew into a Democrat knowing that many of the stickiest issues her parents experienced could be solved with progressive policies. During her spouse's service as a submarine officer in the United States Navy, Tara attended law school while raising children. In law school she excelled in advocacy and memorizing ancient property laws and completed a thesis on the impact of "Don't Ask Don't Tell" policies on national security. In the summer of 2016, her spouse was medically retired from the Navy after an unexpected diagnosis of multiple sclerosis. After settling in Saratoga Springs, NY, Tara first ran for office in 2017, after realizing that a seat in the county government was going to be unchallenged. Much to everyone's surprise, Tara won that race on a platform of accountability and progressive values. Re-elected in 2019 and 2021, Tara currently represents her city, practices law, parents three perpetual motion machines, and tries desperately to knit and find time for bike rides.