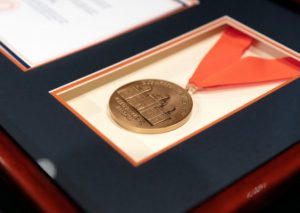 A group of University and community leaders, including the University's Public Health Team and COVID-19 Project Management Office, were recently honored with the Chancellor's Medal for their extraordinary leadership during the pandemic, working as a team and as individuals to help guide the University community through an unprecedented and challenging time. Their efforts made it possible for Syracuse University to offer an in-person experience during the 2020-21 academic year.
During recent ceremonies, Chancellor Kent Syverud presented the individuals with the medal, which is awarded to individuals in honor of their trailblazing and extraordinary contributions to society or to the University.
The medals for the leaders were initially announced at the 2021 Commencement ceremony in May. During his Commencement address, Chancellor Syverud recognized the individuals for their exceptional efforts that led to changes in how the University had to operate to adapt to public health guidelines and ensure the safety of the campus community in dealing with COVID-19.
At one of the medal ceremonies to honor several of the University leaders on Oct. 27, Chancellor Syverud said, "Leadership is difficult under the best of circumstances. The global pandemic created circumstances that none of these leaders—or their teams—had seen in their lifetimes. Nonetheless, these individuals showed up for leadership in each of their areas of responsibility. They supported teams who often faced obstacles. They encouraged each other. They withstood being critiqued and second-guessed. They made decisions that at times, weren't popular but that in retrospect, were correct. They changed course when they needed to. And they helped Syracuse accomplish what many institutions couldn't."