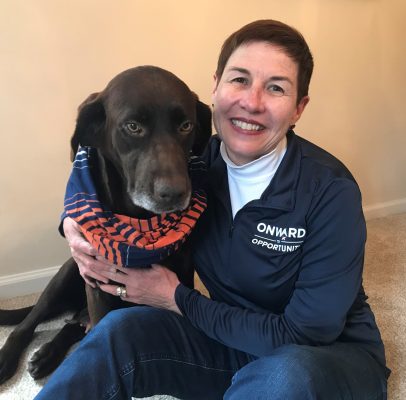 Paulina Thompson has built her professional reputation as the person transitioning veterans know they have to go see. Leaving the military is a challenge for many service members and veterans. Thompson has spent her entire professional life in various human resources (HR) functions and is ready to help. She has more than 20 years of experience in career counseling for service members and families. For the past five years, Thompson has worked as an Onward to Opportunity coordinator with Syracuse University's D'Aniello Institute for Veterans and Military Families (IVMF), showing countless military veterans and spouses training that makes them more marketable.
A perpetual challenge is helping them envision what to do after military service. That's why a big part of Thompson's work is to help identify marketable options, connect service members and spouses with training and program assistance, and help them consider their value in the marketplace. She also counsels people to overcome the challenge of time. She suggests getting started three to five years early, which leaves time for more education or experience."We help them figure out what they want to do on the other side of the uniform," she says. "Despite the sea of goodwill that exists for transitioning veterans and military spouses, the issues I saw 20 years ago are some of the exact same challenges we see today."
Counseling military service members and spouses on how to navigate career transitions is personal for Thompson. Her husband Jeff served as a naval aviator, which demanded a move to a new duty station every two years or less. It didn't make sense for her to go along every time, since he would have to ship out soon after arrival anyway. She was fortunate to keep her career on track and used her undergraduate degrees in math and economics and an MBA working for telecommunications giants on human resources policies and procedures.
"I did some downsizing, labor relations, labor and development and spun around all the different HR functions, which made me more marketable working with people transitioning from the military," she says.
When her husband finished his military service, they settled in the Hampton Roads area, which is home to the largest naval installation in the world.
"There's maybe one person in my neighborhood who's not military-connected," she says.
She found her niche working on base and with other nonprofits to counsel people who were getting out of the military. She also fed her long-held passion for raising guide dogs to become future therapy dogs. And this is where her passions linked up to breed something special.
Read the full story on Paulina Tompson