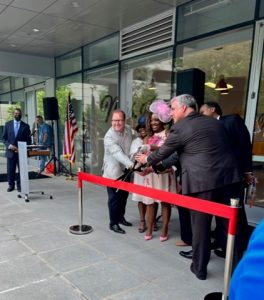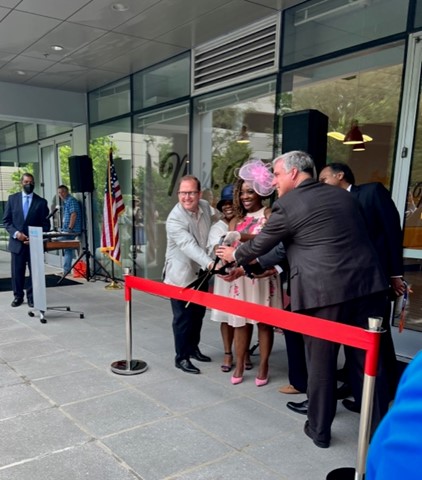 Erinn Roth, owner of Mrs. Jo's Petite Eats Patisserie and Café, attended the IVMF's Entrepreneurship Bootcamp for Veterans (EBV) program and focused on the hospitality industry. She kept making connections and following opportunities and has learned some valuable lessons along the way. Recently, she took time away from planning her new café opening near the nation's capital to share some insights with participants at V-WISE Nashville.
---
These 10 gems of hers will help all military-connected entrepreneurs in their business journeys.
God may laugh at your plan, but you still better start with a plan. You may have to adjust your plan, and that's fine. Nobody has all the answers, but at least have a plan.
Learn to adapt. I've done farm-to-table since before it was trendy. Growing up, you could be playing with a chicken one minute and the next your grandmother is wringing its neck. Be able to quickly adapt to a changing landscape.
Don't sit yourself out. When I got a shot at my dream of opening a storefront, I almost didn't take it. I was the smallest company in the running, and I thought I wouldn't have the resources to improve the space. Then I thought I'd at least try. I'm so glad I did. The building owner offered to make improvements, and my vision for the space won them over. I almost lost the opportunity because I almost selected myself out.
Find people who believe in you, but first believe in yourself. Your vision is your vision. It's not anybody else's vision. You're your biggest advocate for your business, and nobody should be clapping harder than you.
Start small then scale. My desserts had to be not just good, but good enough to meet the high standards of the market. You know how on American Idol; you'd see people who couldn't sing, then wonder why nobody told them before they went out there? I needed to know I was good enough. I worked out of a small commercial kitchen first to see if what I had was viable before I went out to do more.
Step outside your comfort zone. A local corporation was having an event and asked if I also did heavy hors d'oeuvres. I thought, "I do now." You have to pivot and shift when it's necessary. Stepping into catering kept me viable during the pandemic and let me reach a wider audience.
Stay the course. It's easy to give up. We had so many corporate events scheduled and cancelled the year the pandemic happened. I almost quit, but I didn't. You don't know who's watching your grind, so stay the course. In due time, it will work itself out.
Always be ready to learn. I'm a nerd, and I love school. Stay in the mindset of learning. Pastry school gave me a foundation in cooking and baking. Thinking back, it's amazing what my mother and grandmothers taught me. I wish I had paid more attention.
Take good notes and keep them. At EBV I learned about commercial leasing. At the time I thought, 'I'm not going to need that.' Years later, I needed it, and thought, 'this is what they were talking about!' It may not make sense when you receive the information, but it will make sense later.
Realize you are not alone. IVMF programs put you in touch with so many amazing resources and other military-connected entrepreneurs. Before EBV, I wasn't around any other business owners. To be among a whole group, to hear about their wins, struggles, losses and realize I'm not in this alone is just amazing. Whichever program you go through, the IVMF is there to support you. Reach back out to them and keep in touch.