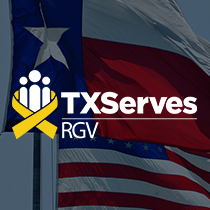 Syracuse University's D'Aniello Institute for Veterans and Military Families (IVMF) has been working alongside Tropical Texas Behavioral Health (TTBH) to connect veterans, service members, and their families in the Rio Grande Valley to services directly in their communities through the TXServes-RGV network.
TXServes-RGV provides clients with "high touch" customer service through a single point of entry into a state and national network of quality service providers. TXServes-RGV has flourished through ethical leadership and moral-based management. All valued team members of the TXServes-RGV, TTBH, and Unite Texas have demonstrated an unwavering dedication to superior service and devotion to taking care of veterans, service members, and military families. The amazing team proved to be a valued asset to military members, veterans, and military families in the Rio Grande Valley.
On July 21, 2022, colleagues from the IVMF attended the 3-Year In-Progress-Review for TXServes-RGV. Terry Crocker, CEO TTBH, welcomed in person and virtual attendees and spoke about the work of TTBH throughout the Rio Grande Valley and working with veterans and military families. Crocker shared, "TXServes-RGV Tropical Texas Behavioral Health has a very special and steadfast commitment to serving area veterans. Helping Valley veterans and their families secure vital services through the TXServes Network is a direct extension of that commitment."
Vincent DelSignore, Program Manager with the IVMF, followed Crocker by providing an overview of IVMF and the AmericaServes network addressing Social Determinants of Health in the military community across the country. Mary Rachel Keville, Research & Evaluation Analyst at the IVMF, went on to speak about the data: over the last three years, the TXServes-RGV Team has served over 1,000 military-connected clients, coordinating about 2,600 service requests. 89% of RGV clients are service members or veterans, and 7% are family members/spouses/caregivers, demonstrating that the network is working to meet the needs of military families as well as military members/veterans. The networks work to serve clients across all military branches – while 56% of military member/veteran clients served in the Army, 41% of these clients served in the Navy, Marine Corps, Air Force, or Coast Guard.
The network has grown to include 81 service providers, filling a diverse range of service needs. The top five most demanded service types for the network are Utilities, Housing & Shelter, Income Support, Food Assistance, and Individual & Family Support. The network maintains a high quality of care for its clients: 73% of service episodes were closed with a favorable outcome. A typical RGV client can expect to be matched with an appropriate service provider within two days and to have their service request closed within 10 days.
Myra Rodriguez, Community Engagement Manager at Unite Texas, spoke about the unique partnership of TXServes-RGV and Unite Texas that bonded together to have an immediate impact throughout the Rio Grande Valley. Anthony Cosby, Director at the IVMF, closed out the IPR reflecting on the past three years and knowing firsthand the lifelong impact that TXServes-RGV has had on veterans, service members, and military families. "I am extremely proud of the hard work and dedication this team has displayed over the past 3 years! We hope to accomplish much more in the future," shared Jorge Morales, TX Serves-RGV – Program Supervisor.