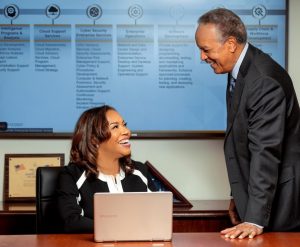 When your mantra is Gandhi's famous, "Be the change you wish to see in the world," you might just have an idea or two on how to tackle a few of the world's problems. Jackie Lopez, President of Premier Enterprise Solutions, has enshrined that mantra into her business model and created one of the country's most successful veteran-owned businesses. This year Lopez was selected for the third year in a row to be a part of the VET100, which includes 100 veteran-owned businesses that are acknowledged for the growing culture and success of veteran entrepreneurs by Inc. 5000 magazine. Lopez and other members of this year's list were honored at the Veteran Entrepreneur Success Summit (VESS) hosted by the Syracuse University D'Aniello Institute for Veterans and Military Families (IVMF) in the nation's capital. Honorees were joined by senior corporate executives, government agency leaders, and special guest speakers.
As an alum of the IVMF's Veteran Women Igniting the Spirit of Entrepreneurship (V-WISE) program, Lopez was joined at the event by 16 other IVMF program alum. "We are all business owners who work very hard and do a lot to be successful," said Lopez. "I was fortunate enough to know several [of the 16 alums], so we were excited to talk before and after sessions."
VESS presented Lopez with a unique opportunity from other IVMF events, because of its scale. With a much more exclusive audience she was able to enhance her networking opportunities and foster relationships with other alum, agency officials, and program speakers in the new format for an IVMF event. One of the things Lopez communicates with first-time veteran business owners is the importance of networking. As she has grown her business over the years much of her success has come through generating new connections. Some of those connections have come directly out of attending IVMF programs, which she attributes to a structure that encourages networking at every event.
Lopez recalled an experience from her first V-WISE conference sharing, "I was fortunate enough at the very beginning of starting my business to go through V-WISE and learn a lot from the connections I made at those conferences."
In addition to the networking opportunities, Lopez has been able to see a plethora of speakers, attend various breakout sessions, and learn more ways about becoming a successful entrepreneur and business owner. Lopez shared, "There are various speakers [at each conference] who not only teach us what to do from a business perspective and professionally, but also speak to us in a way that keeps us motivated and inspires."
"I was able to meet the people I wanted to meet, develop new relationships, and new partnerships," said Lopez.
One of Lopez's favorite moments at VESS was when acclaimed author Daniel Pink spoke to VET100 honorees. During a portion of Pink's speech, he shared with honorees that they needed to generate a failure resume and use that to come up with new solutions and successes, instead of simply dwelling on those past failures. Lopez made a list immediately and is actively working through some ways she may be able to approach old failures and turn them into successes from Pink's conversation.
Lopez wants to keep her streak of being a VET100 honoree next year and is hopeful to connect with some new faces on the list next year. She is encouraged every year by the new veteran entrepreneurs and truly attributes her success and theirs to the preparation offered by the IVMF.
"I just wanted to say that I am so appreciative of what IVMF does," noted Lopez. "I feel that [the IVMF] has gone out of its way to make sure that the veterans are taken care of from the setup of the conference itself, to the way we were treated as we entered, and to giving us the VET100 awards. It was obvious that there was thought put into it and that."