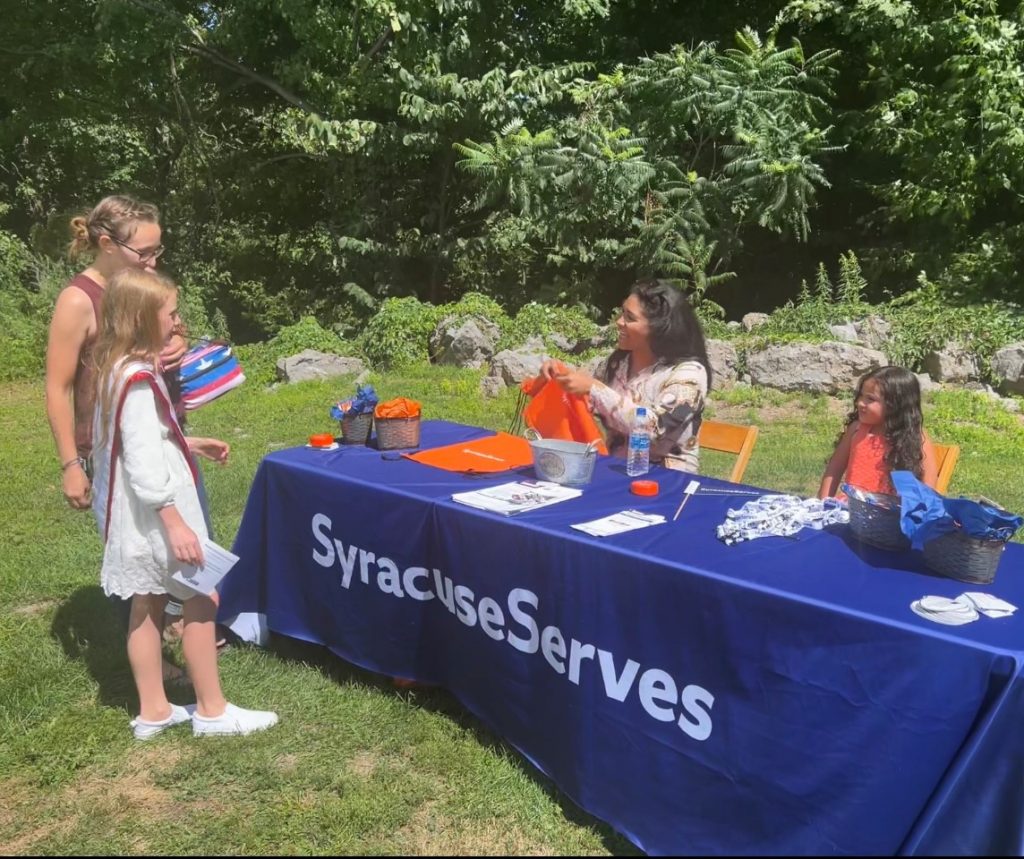 Last Saturday, SyracuseServes joined Clear Path For Veterans as its second Back to School Festival. The event was open to all veteran, military, and first responder families. Guests were able to enjoy remarkable scenery while also participating in various activities such as a bounce house, sand art, dunk tank, and carnival games. 
Clear Path's Food Trailer helped to keep guests fueled for the passport scavenger hunt, where children collected a sticker at each community provider's table. Once completed, children and their parents could turn the passport in for a bookbag with much-needed items for school. Those backpacks and school supplies will be beneficial this year as they are increasing in price and becoming more difficult to find.
Alexander Behm, the executive director of Clear Path for Veterans, says, "We also experienced the same difficulties locating the school supplies at different local stores. So definitely anything we can do to facilitate the direct delivery of the supplies and backpacks and not having families worry about going through those necessary steps."
By participating in our passport scavenger hunt, families can also learn about resources available to them to earn a stamp on their passports. Just a few of the partners at the event were: Madison County Sheriff's Office, Elizabeth Dole Foundation, NAMI Syracuse, Army National Guard FRG, YMCA, Mohawk Valley Community Action Agency (SNAP), VA Medical Center, MVCAA, Chittenango Fire Department, BRiDGES, Le Moyne VA, 4H and more. 
The IVMF recognizes that when one person serves the entire family unit serves as well. That's only one of the reasons an event like this is so crucial for the military-connected community. SyracuseServes connected with over 100 guests at the event, many walking away with a smile and a small piece of SyracuseServes to remember for future connections. 
SyracuseServes Program Manager, Ke'Airah Parker, says IVMF is in the ideal position to support events for the community like the Back to School Festival. 
"SyracuseServes is not only here to support coordinating services for veterans and their families in the community, but also to engage and support the efforts of our partners. The staff really outdid themselves for this event, ensuring everything was in place for providers and guests. Volunteers for Clear Path helped to keep the event running smoothly and were extremely pleasant in all their interactions. It was truly an honor to be able to represent SyracuseServes and look forward to continued participation in their events."