The following is directly from COO Maureen Casey at the Genesis Group which held its 21st annual Community Prayer Breakfast Friday morning, which honors and remembers those in law enforcement, military and first responders ahead of the anniversary of 9/11.
---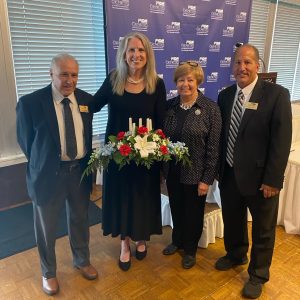 Thank you for the kind introduction – I am honored to be here – and grateful beyond words that you still gather to remember the horrific events of September 11, 2001.  As the years pass, memories sometimes fade – and because there has not been another attack of this kind on the homeland, complacency can set in.  Yet, for those who were there or those who lost loved ones, the memories – the sights, the sounds, the smells – never fade.  I have been asked on a few occasions for interviews about that day – and in one I recently rewatched, the reporter said I told the story with tears in my eyes – that is true – even after all of these years it remains hard not to – perhaps it is due in small part to my Irish roots – we tend to wear our emotions for all to see – but I also think it is the magnitude of the experience – those minutes, hours, days and months were marked by sustained intensity that was profound and life changing in so many ways.
Many say never forget – but sometimes I wonder if some have?  While I think we have not forgotten those who were killed – they live on through their families and friends, and their names are forever etched in stone around the pools at the 9/11 Memorial; I do think some have forgotten the rest of the story – those acts of courage and those feelings of patriotism and the coming together as one nation to overcome tragedy and move forward.  I fully appreciate the magnitude of all that confronts and consumes us today – inflation, a lingering global pandemic, an end to the war in Afghanistan, how it was managed and the resulting moral injury for our veterans, the war in Ukraine, a deeply divided country, and unprecedented natural disasters, to name a few.  Individually, each is compelling, critical, and sometimes life threatening – collectively, almost overwhelming.  Yet we should not let them stand in the way of pausing to mark this important anniversary – and to remember those we lost – and continue to lose – and those extraordinary acts of bravery and selfless service – and those feelings of patriotism.  So again, my thanks to all of you for being here today and to the Genesis Group who organize this each year…you have never forgotten.
I have been asked to spend a few moments sharing with you my experiences during that time and how that experience has impacted my life since – but before I begin, I do want to take a moment to acknowledge the 9/11 and gold star families who are here this morning – you have made the ultimate sacrifice – I deeply admire your courage to be here with all of us as you face this anniversary — and I offer my heartfelt sympathy for your loss and gratitude for your service and your sacrifice.
There are few more notable events in our history than the terrorist attacks of September 11, 2001. Now, 21 years later, most who were old enough can remember where they were when they heard the horrific news.  Almost 3,000 were killed that day – at the World Trade Center, the Pentagon and in Shanksville, PA – to include 23 NYPD officers, 37 Port Authority Police Officers and 343 firefighters from the FDNY.  And there have been more than 2000 deaths since then attributed to 9/11 illnesses.  In addition to the horrendous scenes from those attacks, we also witnessed extraordinary acts of bravery that day by those first responders and civilians as well.  Beginning at 8:46am EST and what occurred over the next 102 minutes, changed forever the world as we knew it.  In addition to a staggering loss of life, the global war on terror began that day, our federal government undertook a transformative reorganization creating one agency out of 23 (DHS) because of what happened, the way we travelled was forever changed, and our emergency preparedness and communications systems were greatly enhanced because of what happened — at the same time, the world came together that day in an unprecedented way, in mourning and in support.
What I did during that time was a result of some of my experience prior to arriving at the NYPD.  I am an attorney by education and spent 10 years working in our State's capital – assuming positions of increasing responsibility – eventually making my way to being lead counsel for one of our criminal justice agencies while also working alongside the Governor's Director of Criminal Justice (who was responsible for overseeing all public safety operations in the state – jails, prisons, probation, parole, State Police) – essentially protecting the safety of those who live, work and visit the Empire State. I worked on budget, policy and programs, and the Governor's legislative agenda.
One significant step we took to protect the public was to pass and implement the State's convicted offender DNA databank law – it required anyone that was convicted of certain offenses to provide a sample for inclusion in the databank so that our law enforcement agencies could run unsolved crime scene samples against those profiles – unfortunately, what we know is that a small percentage of the people commit a larger percentage of the crimes and when they do, they leave behind biological evidence.  And remember, this was long before the days of CSI or Ancestory.com or 23and me – how far we have come.  In my role, I worked with the State Police and others to set up the databank and write the rules and processes to govern its use – and we also helped crime labs across the state collect and analyze that evidence.
Among other things, it was my DNA work that prompted the NYPD to recruit me – initially as Counsel to the First Deputy Commissioner, who ran the day-to-day operations of the Department.  After just 10 months, however, I was promoted to Deputy Commissioner of Policy and Planning, where I commanded an office of 100, mostly police officers, and was involved in all aspects of department operations.  It is an incredible organization but it was not an easy one to assimilate into – particularly being a woman, coming from the outside into a senior position, and having never been a cop.  But that is a story for another day.
Being a part of the Department at the time when crime was being reduced at unprecedented rates was exciting but even more so was the opportunity to leverage DNA.   The Police Commissioner (PC) wanted us to find ways to better utilize this technology in our crime fighting efforts.  In doing this we discovered something shocking – in freezers in the property clerk's facility were 16,000 unanalyzed rape kits.  Imagine, evidence associated with the rapes or sexual assaults of 16,000 people that had never been analyzed.  This fact was not known at the highest levels of the department – and the PC and the Mayor were outraged. We owed it to these victims to try and solve these crimes, so I was directed to find a way to get them analyzed. Our City's Medical Examiner's office did not have the capacity to do it, which was why we had a backlog in the first place; so we embarked on a process to have private crime labs help us. Mayor Giuliani gave us $12 million dollars to pay for the project – and while everyone said it could not be done, we did it…not only did we solve thousands of crimes, but we changed the way law enforcement agencies across the country and around the world looked at crime scene evidence backlogs…and what we learned during this process would, sadly, position us to identify the human remains from the terrorist attacks of September 11, 2001.
On that day I was sitting in my office on the 14th floor of One Police Plaza (One PP); I was the Deputy Commissioner at that point.  I heard and felt the first plane hit the North Tower.  I saw the second plane hit the South Tower.  One PP was evacuated – civilians were sent home, and uniformed members of the service mobilized outside the building to await assignment.
Along with my assistant, I responded to the scene – as we left the garage, I vividly recall thinking of the dairy farm in Washington County, in a village called Hudson Falls just a few hours from here where I was born and raised – and as I had done many times throughout my career, I thought, you are a long way from milking cows for a living; but this time I also thought, I don't think there are any terrorists there.
When we arrived at the scene, it was catastrophic.  Yet, I witnessed first-hand police officers and firefighters running into the buildings, directing folks to safety, and caring for the injured.  Debris was falling all around us and smoke and the smell of jet fuel filled the air.  I was assigned to work alongside the Chief of Patrol to set up a temporary command post – a location where we could organize officers responding to support the search and rescue effort.  We moved from location to location in the area immediately adjacent to the WTC plaza – trying find workable space.  Twice, running for our lives, trying to escape the debris and dust clouds from the buildings as they collapsed.  We ended up at a NYPD facility several blocks north of the world trade center complex – on the West Side Highway.  The temporary command post was established, and rescue efforts launched.  As cops from across the city poured into the location, some also came in from "the scene of the crime" — covered in dust from the buildings' collapse.  And while many should have sought medical attention, all they wanted to do was return to the rubble and continue the search.
It occurred to me at some point during that morning that I should get word to my family that I was ok – but it is important to remember that in 2001 there were not the cell phones and cell towers of today.  I could not get through – I kept trying whenever I could amid all that was going on.  I was finally able to get word to my mom – by way of Florida – yes – Florida – my assistant reached her husband in Queens, who spoke to his brother in FL, who called my Mom in Hudson Falls.
Later that day, I had to make my way back to 1 Police Plaza – the police commissioner had called a meeting of his command staff for 6pm – At 1PP, in addition to taking stock of our losses and learning what the plan was going forward, we were also setting up a space for the families of our missing police officers to gather – and the Command Center was already in full operation.  I worked alongside the First Deputy Police Commissioner in the command center that first night – like many of my colleagues, I was still covered in dust – so I was given a shirt and pants from our uniform division – not the most glamorous but they were clean and they would be the clothes I would wear until the afternoon of the next day.
So much happened during that first night but one particularly emotional moment was when the Chief of our Special Operations Division came in about 11pm still covered in dust, his eyes blood shot – from a combination of tears and dust I think – he had a piece of notebook paper with sketches of the footprints of the north and south towers and x's marking the locations where the missing members of his team were last seen – of the 23 officers we lost that day – 14 were his Emergency Service Unit officers.  It was devastating – there are no adequate words to be found at a time like that to offer comfort or anything else for that matter.  He had to be ordered to take a shower and get some fresh clothes before returning to the site, which is all he wanted to do.
During the next two days, as I worked from the Department's Command Center and what became known as Ground Zero, I witnessed, over and over again, police officers, firefighters and others, climb "the pile" in search of the missing, to include their own. You have seen the pictures – it was anything but easy.   At the same time, we saw thousands of volunteers pour into the city looking for ways to help or truckloads of supplies and food being delivered – it sustained us.
Although I had made it back to my apartment on Wednesday afternoon for a shower and to pack some clothes, there was just so much to be done, I headed back to 1PP.  By Thursday afternoon I needed sleep – I had them put a cot in my office and laid down for a nap about 2pm—at 4:30pm there was a knock at my door – I had to report to a meeting with the Mayor and the Police Commissioner – by that time, we knew the traditional means of identifying the dead were not going to be an option given what we were finding – or more tragically, what we were not.  Suffice to say, given the nature of the attack and resulting destruction, we were not recovering bodies — The Mayor directed a team of us to prepare for the collection and analysis of DNA samples – reference samples from the missing – from their toothbrushes, baseball caps, t-shirts or socks – or samples from immediate family members – so that those DNA profiles could be matched against the remains recovered from Ground Zero.  Without question, truly the most challenging work I have ever done – collecting such personal items from grieving, and often angry, family members.  And then having to make more trips than I care to count to the morgue to meet the Mayor, the Police Commissioner or the Fire Commissioner when the remains of our fallen police officers and firefighters were recovered and identified.
Yet again, though, I had a front row seat to extraordinary acts of bravery, grace, and compassion.  I witnessed Department researchers and policy analysts become proficient in evidence collection and preservation methods; I saw police officers, typically used to patrolling streets and making arrests, consoling the family members of the missing as they collected the most personal of items; and I saw the first responder community and others come together to establish an incredible family assistance center in a pier on the west side of Manhattan – a place that offered comfort and consolation to the family members of the missing, even while they, too, were grieving.
The work done by my NYPD colleagues, the NYC Medical Examiner's Office (OCME), and others to identify those that were killed was unprecedented – and it continues today.  In fact, last year at this time two more victims were identified.  As the technology advances, the OCME reanalyzes those samples.  Almost 22,000 pieces of remains were collected – and 60% of the victims have been identified – but that means 40% of those families have yet to be reunited with the remains of their loved ones.  Painstaking work – but so necessary.  Someone said to me as we were in the midst of this effort — never did I think giving someone so little could mean so much.  That sentiment was reinforced by a mom who was quoted in a news story, she said, "if there is the tiniest little morsel of my son, yes, I want him back. He belongs to me."  The work that was done to identify the remains from 9/11 was a game changer for how this country and the world dealt with mass fatalities.
And sadly, just two months later we would prove this to be true.  On November 12, 2001, American Airlines flight 587 was flying from JFK to Santo Domingo – shortly after takeoff, it crashed in the Rockaways in Queens – 260 on the plane and 5 people on the ground were killed.  We responded to the location – and as the bodies were removed from the plane, we knew, once again, that traditional means of identification were going to be a challenge – to this day I regret my reply to the Mayor and the Police Commissioner when asked about what we should do – I replied, no problem boss, we got this – its only 260 people – sounds horrible, right?  But it was where we found ourselves at the time – As I realized what I said, I teared up but the Mayor and the PC understood my point – unlike 9/11, we knew who the missing were – we had a manifest – we could locate family – it would be much easier to manage these identifications – and it was – we set up another family assistance center – we immediately began the collection process – I sent a team of folks to the DR to collect samples from family members there – and within two months, all of the victims from the crash were identified.  Had it not been for 9/11, that would have been the city's largest loss of life in a single incident.
With mass fatalities come funerals — From September 11th to the end of February – as the remains of the fallen were recovered and identified – I attended more than 30 funerals – one day there were three – for the Catholics in the room, you might appreciate this – as we left the first funeral at St. Patrick's Cathedral and made our way to the second, we realized it too was a Catholic mass – as would the third be — I remember calling my family's priest and asking if we could receive communion at all three masses – he said, under the circumstances, he was sure God would give us a wee bit of grace.
The experiences of 9/11 created an unbreakable bond with the men and women I worked alongside — While COVID interrupted the tradition, we usually got together every year on the 11th – to reconnect and remember – And I know that starting early on this Sunday morning, the phone will ring, and the text messages will come from those men and women who did so much that day and the days that followed.
And now on to how it has influenced my life since – with the little I have shared with you this morning, I think you can appreciate that its impact and influence has been significant – in some ways it is hard to put into words —
Most obviously – living through an experience like that changes how you look at life – it would be unusual if it did not — it reaffirmed my faith – I remain grateful to this day – not just because I survived, but because I was able to be a part of something that helped so many – you try not to take things for granted or sweat the small stuff – and when I do start to sweat the small stuff, remembering it brings much needed perspective –
Another way it impacted my life – it did lead me to meeting the man who would become my husband – in 2002, I left the NYPD and started a new job – yet I needed some time away just to get a break from the city that still was recovering a year later – while lots of folks take to the beach, I take to the hills and coastlines of Ireland – I had been there a number of times before, but that time, I went by myself – and it was during that trip that I met this guy from Buffalo in a pub on a golf course in the dead center of Ireland in a town called Birr – two years later, this man would become my husband – and I am grateful that he is here with me today.
And finally, it is the work I do today and have done for the last 12 years that has also been influenced by my experience during that time.  As many of you may know, so many enlisted in the military because of what happened on 9/11 – and when I was given the opportunity to given back to those who volunteered to protect and defend our country from enemies foreign and domestic – to assist veterans and their families -I jumped at it – and it has been a gift –  it has been the focus of my life – to help position them and their families for success after service.
Our military and the Department of Defense do an incredible job training recruits upon enlistment in the service – they spend months in boot camp – learning to function as a team – to do all those things you need to learn to be a good soldier, sailor, marine, airman, coastguardsman, or guardian – all of those things that make our military second to none.  Yet when it is time to transition back into the civilian world, these same people who have served and sacrificed so much are generally given just two weeks in a transition assistance program and are then discharged from service – some are able to navigate that transition without much issue – others need more.  And we have a moral obligation to ensure they get it – it was Theodore Roosevelt who said a man who is good enough to shed blood for his country is good enough to be given a square deal afterwards.  More than that no man is entitled, and less than that no man shall have — And George Washington said the willingness with which our young people are likely to serve in any war no matter how justified, shall be directly proportional to how they perceive the veterans of earlier wars were treated and appreciated by their nation.
So if we want to provide that square deal and preserve the all-volunteer force, we must offer the programs and services our transitioning service members, veterans and their families need – for it is a family that serves — whether it is meaningful employment or education assistance or housing support or medical care – we owe it to those who have volunteered to protect and defend our homeland and our freedoms.  We have that moral obligation – To do otherwise has consequences – For example – over the past two years, for many reasons the military is not meeting its recruiting goals.  And there consequences more significant, take veteran suicide rates – they are unacceptably high – veterans are at 50% higher risk of suicide than their peers who have not served – since 2001, more than 120,000 veterans have died by suicide – and many believe that number is an undercount – or take veteran homelessness – veterans account for 9% of all adults experiencing homelessness, which means almost 40,000 men and women who served our country are homeless on any given day – while these issues are complicated, complex and deeply personal – there are things that can, and are, being done to help in this regard.
So what have I been doing?  First, I went to JPMorgan Chase in 2011 where I built and managed the firm's military and veterans affairs program – the mission was all about the veteran and his or her family – and positioning them for long term success.  At the time, the firm's strategy was focused on employment, education and housing for transitioning service members, veterans, and their families .  I got to do things like provide mortgage free homes veterans. The firm had committed to providing 1000 of them; when I left, we had awarded almost 800 together with our non-profit partners…when you are able to give a family a home – you change lives and you impact generations — more than 1000 children moved into those homes.  We also launched what is now known as the Veterans Jobs Mission – a commitment by more than two hundred companies to hire veterans – more than 250,000 had been hired by those firms when I left a few years ago.  That number is now quickly approaching one million – and that same mission now includes a commitment to hire military spouses as well.  For we know that if we can connect a veteran or their spouse to meaningful employment, the stability it offers for their family can help in many other ways.
And for the last 7 years I have been privileged to serve as the Chief Operating Officer for the D'Aniello Institute for Veterans and Military Families at Syracuse University – a University that has made an unparalleled commitment to making it the best place for veterans – and their families.  At the IVMF, in addition to our research and policy work, we offer career skills programs, entrepreneurship training and community-based services for transitioning service members, veterans and their families – our programs are free of charge to our participants, they are offered in person or on-line and more than 20,000 per year avail themselves of those programs and services.  Our mission is singularly focused on positioning our service members, veterans and their families to thrive post service.  It does not get better than that.
Inevitably, in my conversations with post 9/11 veterans, the topic of the terrorist attacks of 9/11 comes up – and when I share my experience, they thank me for what I did – I will admit that appreciation is hard for me to accept – when I went to the NYPD, responding to a terrorist attack was not something I signed up for – yet, when that veteran enlisted in the military post 9/11, they knew they were going to war – they knew they were going to put themselves in harm's way – that's different than what I did – that is why we have that moral obligation to do our part – those who have worn the uniform of our nation already did theirs.
As I conclude, just a few more thoughts:
First, I would be remiss if I did not say something about the need to appreciate our law enforcement officers – like on 9/11, at any given moment, the men and women patrolling in our communities could be confronted with an attack or similar situation – and they will be there – they will run to the danger when others run away – and for that, we owe them our support and our respect — I certainly don't have all of the answers for what has become a challenging situation in our country and I know that we have to hold people accountable when things go wrong, but it can't be an either or proposition – or we will not have the public safety resources we need when we need them – just look at NYC for example, cops are leaving at unprecedented rates, even before they are vested for retirement and they can't recruit enough people for the job – I have heard similar stories upstate as well – In the end, what do we have if we are not safe in our homes, on our streets or on the global stage?  Again, all of us who benefit from their service and their sacrifice have to do our part —
Next, we should never forget the moral obligation we have to empower post-service success for the more than 3 million servicemembers, and their families, who have served and sacrificed since that day the War on Terror began; and we should never forget the feelings of patriotism and coming together as one nation that was inspired by the tragedy of that day; and we should always remember that even though the war is over in Afghanistan, on any given day, we have more than 100,000 troops deployed around the globe and in harm's way –
Finally, thank you again for not forgetting – even after 21 years, it remains important to remember those we lost – and continue to lose – and to remember those acts of heroism, bravery, and selfless service that so many witnessed that day and, on the days, and weeks that followed.  Mine is but one story of the many who answered the call to do whatever was necessary in the face of unprecedented circumstance and challenge.
Thank you again for the opportunity to be with you today. I am deeply grateful.