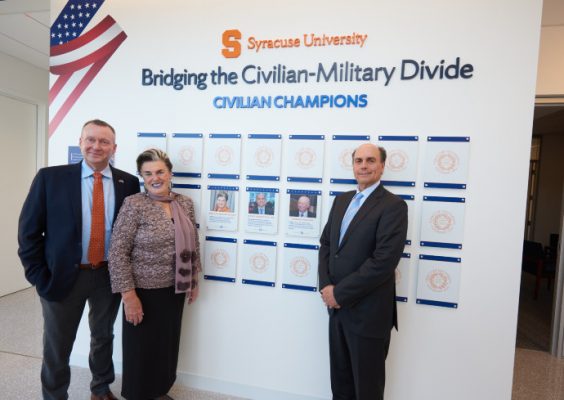 Three alumni were honored for their support of and commitment to veterans as the first members of the Civilian Service Wall of Honor within the National Veterans Resource Center at the Daniel and Gayle D'Aniello Building.
The honorees—Patricia Mautino '64, G'66, vice chair of the Board of Trustees; Steve Barnes '82, H'19, chairman emeritus of the Board of Trustees; and Tom Foley G'81—were inaugurated at a recent ceremony.
The Civilian Service Wall of Honor recognizes those non-veteran, civilian members of the University community who have committed to sustained and meaningful action to advance opportunity and prosperity for the nation's veterans and their families.
In 1973, the U.S. military eliminated the draft and adopted an all-volunteer model of military service. One of the foundational assumptions of all-volunteer military is that those who benefit from the military service of others incur a moral obligation. Specifically, a moral obligation to act to ensure that when it is time for our soldiers, sailors, airmen and Marines to take off the uniform, the civilian services and resources are in place to support veterans as they transition back to the communities they call home.
This same assumption also motivates Syracuse University's commitment to the nation's veterans and the military-connected community, and it is why this month the Civilian Service Wall of Honor was launched.
"The Civilian Service Wall of Honor will forever recognize those non-veteran members of our university community who have committed to meaningful action that provides prosperity for our nation's military families," said J. Michael Haynie, vice chancellor for strategic initiatives and innovation and founder and executive director of the D'Aniello Institute for Veterans and Military Families (IVMF).
Haynie recognized the honorees for their work and leadership in support of veterans.
"Pat's drive and her deep commitment for this University and its rich history of supporting the military-connected, along with her continuous efforts to champion our student veterans, is the reason we are celebrating her today," Haynie said.
Haynie also noted the support of Barnes and Foley in helping to establish the IVMF and other veteran initiatives at the University.
"Without the early partnership and friendship of both Tom and Steve, the IVMF's first program, Entrepreneurship Bootcamp for Veterans, the IVMF itself, the Office of Veteran and Military Affairs and the new National Veterans Resource Center would not exist. Their leadership and support of the University's efforts to be the best place for veterans is instrumental in our success," Haynie said. "More importantly, their commitment to the almost 200,000 service members, veterans and families who have been trained and educated, and are now thriving because of our work is critical to a successful post-service life."