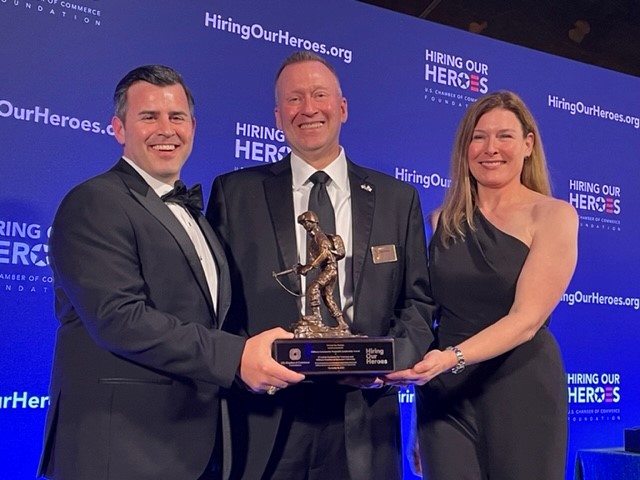 The D'Aniello Institute for Veterans and Military Families (IVMF) was honored with the Non-Profit Leadership Award by the U.S. Chamber of Commerce at the 12th Annual Lee Anderson Hiring our Heroes Awards Gala last week in Washington, D.C.
The prestigious award is presented to a nonprofit organization with a demonstrated commitment to supporting veteran and military spouse employment and economic opportunity. Hiring Our Heroes is a nationwide initiative of the U.S. Chamber of Commerce Foundation to help veterans, transitioning service members, military spouses and caregivers find meaningful employment.
"I'm honored to accept this award on behalf of the IVMF, and most importantly on behalf of the dedicated individuals who make up the D'Aniello Institute team. I could not be prouder of the committed and talented team who work hard every day to set the conditions necessary for our service members, veterans and military families to thrive across all dimensions of their post-service lives," said J. Michael Haynie, vice chancellor for strategic initiatives and innovation and founder and executive director of the D'Aniello Institute for Veterans and Military Families. "The IVMF and the U.S. Chamber's Hire Our Heroes program share a common purpose and common values, and I look forward to our continued partnership. I'm deeply grateful to them and to all our strategic partners, for their steadfast support of the IVMF mission and those we serve."
In addition, at a separate Washington, D.C., event, Haynie, along with Nick Armstrong G'08, G'14, IVMF's managing director of research and data, were both individually recognized for their inclusion on the HillVets100 list.
The HillVets100 is an annual listing of the nation's most influential veterans, service members and veteran-community advocates, representing the best of the best in the veteran community. HillVets is a community of veterans, service members and their supporters interested in governance, international affairs, policy and politics. They strive to open doors for their members and to provide them with contacts, education and resources to continue positive career progression. While Haynie and Armstrong were both added to the list in 2020, this year was the first time HillVets was able to safely host the awards gala since the COVID-19 pandemic.
Haynie, a U.S. Air Force veteran, is a prominent voice in the veteran community; he created the Entrepreneurship Bootcamp for Veterans with Disabilities program in 2006, which provides free training to injured veterans who have recently become, or intend to become, entrepreneurs. In 2011, the IVMF was created under his leadership, and the organization has seen steady growth in both capabilities and impact ever since.
Haynie frequently appears before Congress to testify on policy issues impacting veterans. He has also spearheaded transformation and reform within the U.S. Department of Veteran Affairs and the U.S. Department of Labor after being selected two times by the Obama administration to chair federal advisory commissions on the topic.
Armstrong, a U.S. Army veteran, arrived at Syracuse University to earn a Ph.D. from the Maxwell School of Citizenship and Public Affairs. An alumnus of both Syracuse University and the U.S. Military Academy at West Point, Armstrong directs the IVMF's broad portfolio of social science and policy research, program evaluation, and data analytics initiatives.
Under his leadership, the IVMF was responsible for more than 30% of the externally sponsored research and programmatic funding generated by Syracuse University's academic enterprise in 2019. He also co-led the development and launch of the Veterans Program for Politics and Civic Engagement in partnership with the Maxwell School, a newer program designed to create pathways for veterans seeking a career in public service or elected offices.