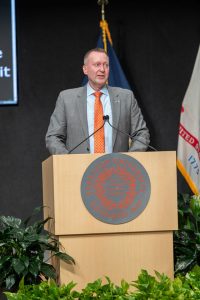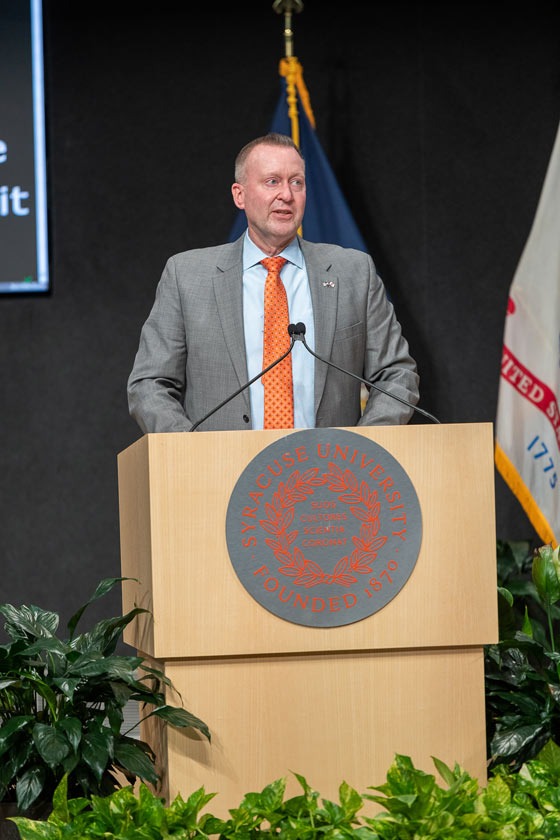 In recognition of exceptional scholarship and innovative academic and professional activities, J. Michael Haynie has been reappointed to a four-year term as a University Professor, one of the highest honors the University bestows on faculty members. In making the announcement, Gretchen Ritter, vice chancellor, provost and chief academic officer, said the reappointment is a testament to the fact that Haynie continues to make unique, valuable and profound contributions to the intellectual life of the University through interdisciplinary endeavors and research in critical areas of societal concern.
Haynie is Vice Chancellor for Strategic Initiatives and Innovation and the Barnes Professor of Entrepreneurship. He is widely regarded as a leading scholar of innovation, entrepreneurial decision-making and business strategy. A former officer in the U.S. Air Force, Haynie founded Syracuse University's D'Aniello Institute for Veterans and Military Families (IVMF) in 2011 as the nation's first interdisciplinary academic institute created to advance the policy, economic and wellness concerns of veterans and families. To date almost 200,000 veterans and military family members have benefited from the IVMF's cost-free career preparation and business ownership programs, significantly advancing the University's national reputation as a leader and innovator in non-traditional educational programming.
In 2013, Haynie's advocacy on behalf of veterans with disabilities was the subject of a feature story on CBS News program 60 Minutes, and in 2020 Time Magazine identified Haynie as one of 16 national leaders working to create a more equitable America. He has also served on multiple federal advisory boards and commissions and is frequently asked to provide expert testimony before Congress on issues related to small business and veterans. Most recently, Haynie was appointed to the Federal Veterans' Advisory Committee on Education for the U.S. Department of Veterans Affairs. In 2021, Haynie was awarded the Chancellor's Medal for his leadership of the University's response to the COVID-19 pandemic, and last year he represented Syracuse University on the statewide team that successfully courted Micron Technology to locate a new, $100 billion production facility in Syracuse. Haynie now leads a program office coordinating the University's engagement with the chip manufacturer.
"Mike is a visionary who is masterful at identifying significant societal needs and then applying entrepreneurial principals, policy development and leadership strategies to meet those needs," says Ritter. "His innovative solutions, particularly in support of veterans and military families, have far-reaching impact, transforming lives and opening new opportunities for individuals and entire communities to thrive."
Fewer than 20 individuals have been awarded University Professor recognition over the University's nearly 153-year history. Currently, 10 other faculty hold the title. The designation is awarded by the Chancellor and Board of Trustees.