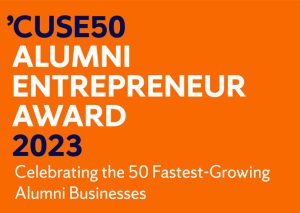 The spirit of entrepreneurship is alive and thriving in the Orange community. To recognize the entrepreneurial accomplishments of our graduates, Syracuse University is excited to announce the launch of the 'CUSE50 Alumni Entrepreneur Awards, a new annual celebration of the 50 fastest-growing businesses founded or owned by Syracuse alumni.
"Syracuse University is home to one of the first academic entrepreneurship programs in the U.S., and we have a longstanding tradition associated with supporting and elevating the entrepreneurial aspirations of our students," says Vice Chancellor Mike Haynie. "The 'CUSE50 Alumni Entrepreneur program is a natural extension of that tradition, and a unique opportunity to connect our alumni entrepreneurs with our current students and and faculty."
'CUSE50 recognition is open to alumni of any school or college, graduates of Syracuse University executive education programs and alumni of entrepreneurship programs operated by the D'Aniello Institute for Veterans and Military Families.
"Syracuse University alumni are doing extraordinary work all over the world, and I am thrilled that we are going to recognize the business acumen they developed at Syracuse. What I'm most excited about is that our honorees will return to campus to pass along valuable insights to the next generation of Orange entrepreneurs," says Tracy Barlok, Syracuse University's chief advancement officer.
Awardees will be honored on campus on Thursday, Nov. 9, in the K.G. Tan Auditorium in the National Veterans Resource Center at the Daniel and Gayle D'Aniello Building. While on campus, 'CUSE50 Awardees will also share insights with each other and current students, as part of a series of cross-campus engagement sessions planned for Nov. 10.
The deadline to apply for recognition is Thursday, Aug. 31. To learn more about the 'CUSE50 awards and nominate your company for recognition, visit cuse50.syr.edu.