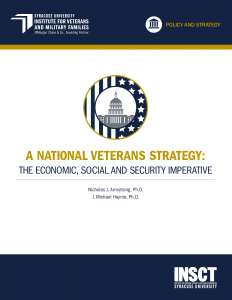 Authors:
Nicholas J. Armstrong, Ph.D.
Michael Haynie, Ph.D.
Published: February 19, 2013
This initiative develops a research-based case and call to action to develop a whole-of-government National Veterans Strategy that aligns public sector efforts, resources, and programs—in partnership with the private sector and communities—to better supporting veteran health and well-being. The central premise of the lead report is that developing, articulating, and institutionalizing a National Veterans Strategy is both necessary to serve important social, economic and national security objectives, and consistent with the inherent social contract between American society and its veterans.