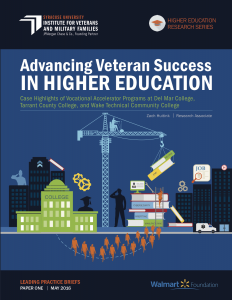 Author:
Published: May 26, 2016
The first of our Leading Practice Briefs highlights Del Mar College, Tarrant County College, and Wake Technical Community College, who exemplify how institutions committed to advancing veteran employment can leverage external funding to design, develop, and deliver accelerated vocational instruction to veterans and transitioning service members.
With support from the Vocational Acceleration Grants Program, a project funded by the Walmart Foundation and led by the IVMF, these schools created unique continuing education programs focused on equipping veterans with skills highly sought after by local and regional employers.
Each case highlight reviews and distills the best practices of these colleges, demonstrating how each program blazed a trail to success and how others can learn from their successes.
Key Highlights
One of the primary ways that schools can increase impact is by leveraging staff, programs, and resource structures that are already in place on campus – building from success rather than attempting to build from the ground up.
Many campus veteran programs have the effect of increasing the dialogue between civilian and veteran students. All of the above schools noted that as a result of their activity, there was increased awareness on campus of veteran issues that – in some cases – led to wider veteran-friendly programming.
Skills-focused programs like these were found to benefit from instructors carefully assessing participants' prior military occupational specialties (MOSs) and tailoring instruction accordingly.