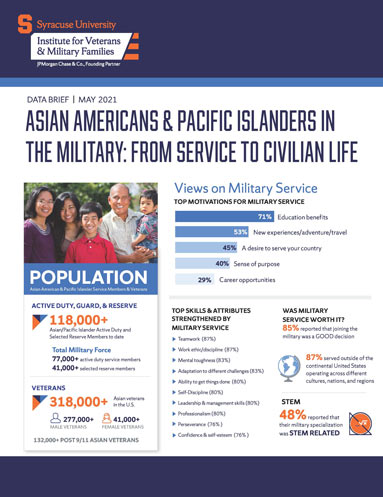 This data brief provides key highlights for Asian American and Pacific Islanders service members and veterans. The information and statistics in this document are from various data collection efforts centered on military life, transition, employment, entrepreneurship, and higher education. Asian Americans and Pacific Islanders are one of the most culturally and linguistically diverse groups in the country (their heritage traces to over 30 different countries and ethnic groups and include over 100 languages and dialects). [1]
Active Duty and Selected Reserve
85% reported that joining the military was a GOOD decision.
Skills attributed to the military: 
Work Ethic/Discipline
87%
49% indicated they pursued a career DIFFERENT from their military specialty.
30% indicated they pursued a career SIMILAR to their military specialty.
Top 3 Transition Challenges: 
Navigating VA administration or benefits
63%
In 2020, Asian veteran
unemployment was at 5.1%
Average earning for Asian /Pacific Islander veterans in 2019.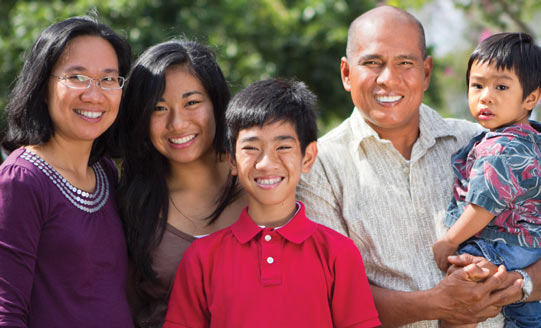 Top 5 industries in 2019
Educational, Health and Social Services

Public Administration

Professional, Scientific, Management, Administrative, and Waste Management Services
In 2019, 9% of Asian/Pacific Islander veterans were self-employed. 

Current Barriers in 2020:
Current Economic Situation
Federal regulations and policies
Procurement Technical Assistance Centers (PTAC)
Small Business Development Centers (SBDC)
81% indicated that the military experience left a lasting impression in their education success.

In 2019, Asian /Pacific Islander post 9/11 veterans have achieved:
| | |
| --- | --- |
| 47% bachelor's degree or higher | 35% some college or associate degree |
See the full infographic to learn more about in Asian American and Pacific Islanders in the military. From their service experience to their post-military life.