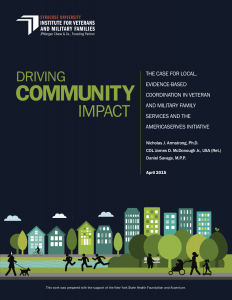 Authors:
Nicholas J. Armstrong, Ph.D.
Col. James D. McDonough Jr., USA (Ret.)
Daniel Savage, M.P.P.
Published: April 3, 2015
This paper addresses a prevailing view that a lack of coordination, collaboration, and collective purpose among veteran and military-family serving organizations—public, private, and nonprofit—poses a serious risk to long-term veteran and family well-being. The authors show that collective impact, an innovative approach to cross-sector collaboration on complex social problems, presents an opportunity for communities, in partnership with the VA, other government agencies, and private industry, to improve outcomes for veterans, transitioning service members, and their families. In addition, the paper outlines the Institute for Veterans and Military Families' (IVMF) ongoing collective impact initiative, AmericaServes, and highlights preliminary outcomes from its first pilot network in New York City.
Key Highlights
Research points to a greater need for addressing the social determinants of health and well-being in the communities in which people live, work, and play.
Nearly 45,000 nongovernmental, nonprofit entities are largely going it alone in their efforts to address the needs of returning veterans and their families.
Because they are necessarily community- and evidence-based by design, collective impact initiatives present public and private sector funders opportunity for smarter and more efficient use of resources and a better alternative to advance veteran wellness compared to supporting individual programs or organizations of various quality and impact.