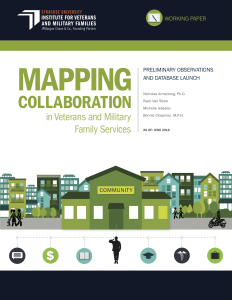 Authors:
Nicholas Armstrong, Ph.D.
Ryan Van Slyke
Michelle Isbester
Bonnie Chapman, M.P.H.
Published: April 3, 2015
Starting in late 2015, the IVMF research team took a first step to build a database of more than 70 veteran-serving organizational networks, collaborative initiatives, and higher education institutions active in veteran and military family research. Given the evolving nature of collaborative activities across the country, we aim for the database to serve as a 'living tool' that (1) facilitates learning and the diffusion of best practices between veteran and military family serving organizations and (2) informs future social science research on community collaboration, public-private partnerships, and network structure and governance on vexing policy challenges that span both organizational and sector boundaries.
Key Highlights
An initial working paper was released in June 2016 to officially launch the project and summarize preliminary data collection efforts, observations, and plans to develop the database into a public resource.
The first scan resulted in more than 75 collaborative initiatives with a range of locations served, demographic characteristics, functions and services provided, and governance structures.