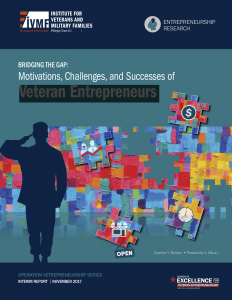 Authors:
 Nyasha T. Boldon
Rosalinda V. Maury
Published: November 3, 2017
Veterans have launched businesses at higher rates than civilians for many decades. Just ten years ago, few programs for veterans taught entrepreneurship or provided tools to help them create sustainable businesses. Fast forward to 2017: hundreds of organizations and programs across the country are aimed at propelling veteran entrepreneurs forward, including many accelerators and incubators. Both transitioning service members and veterans now have access to a sea of information on business ideation and creation. Still, despite the proliferation of veteran entrepreneurship programs and services, in recent years, little research has been done on the motivations, challenges, and successes of veteran entrepreneurs. The result is a gap in understanding how to design and deliver effective programs and support for veteran business owners.
Given the changing demographics of veteran entrepreneurs and the increased number of programs and services, it is imperative that research address these gaps and assist organizations that are serving current and aspiring veteran entrepreneurs.
In 2016, the Institute for Veterans and Military Families (IVMF) at Syracuse University launched an extensive qualitative research study on the experiences of veteran entrepreneurs, entitled Operation Vetrepreneurship. This exploratory study seeks to better understand veterans' business journey experience. As a result, this research study spans several areas of the business ownership, including finances, mentorships and networks, educational and learning styles, and challenges/barriers. Through this research study, the IVMF hopes to further inform veteran and entrepreneurship service organizations on factors most influencing veteran entrepreneurs today, particularly related to resources, tools, and trainings.