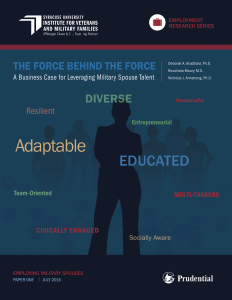 Authors:
Deborah A. Bradbard, Ph.D.
Rosalinda Maury, M.S.
Nicholas J. Armstrong, Ph.D.
Published: July 22, 2016
Companies interested in hiring transitioning service members and veterans may not intuitively understand the business case for hiring military family members—or even that the business case for hiring spouses is unique. Certainly, a spouse focused business case may share some similarities with that of a transitioning service member or veteran. But companies should not assume they are identical. Because there is limited research and data available about the employment of military spouses, a targeted business case has never been fully articulated.
In this first paper we review some of the available research and outline a business case for hiring military spouse employees.