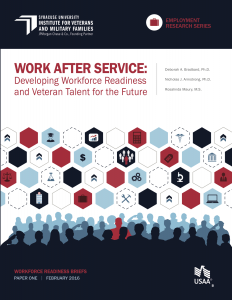 Authors:
Deborah A. Bradbard, Ph.D.
Nicholas J. Armstrong, Ph.D.
Rosalinda Maury, M.S.
Published: February 2, 2016
With the help of employer coalitions like the Veteran Jobs Mission (formerly 100,000 Jobs Mission), related public and private sector programs, educational benefits such as the Post-9/11 GI Bill, and a steadily improving economy, veteran unemployment has hit a seven-year low.  Simultaneously, military downsizing continues, and it is estimated that (1) roughly 200,000 service members are transitioning from the military each year and (2) just under 1 million have transitioned over the past five years.1
Upon military separation, veterans often enter the civilian workforce to either extend their career in a similar civilian role or embark on an entirely new and unrelated career path. Stakeholders such as the Departments of Defense, Veterans Affairs, and Labor, the Small Business Administration, state and local governments, and employers all have an increased focus, and arguably an increased responsibility, to provide relevant and timely workforce readiness support across the entire military service lifecycle from initial recruitment to transition from service.
The first paper in this workforce readiness series sets the framework to understanding how the concept of workforce readiness applies to transitioning service members and veterans.